Football's 10 Most Flamboyant Goalkeepers Ever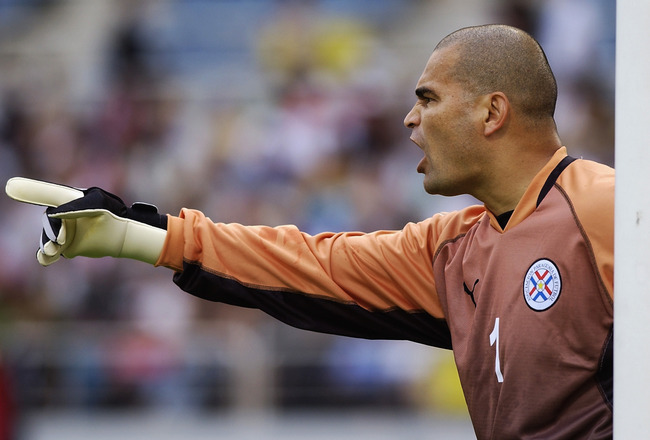 Paraguay's legendary goalkeeper José Luis Chilavert was known for a lot more than just his skills between the sticks.
Shaun Botterill/Getty Images
All goalies are crazy, it's just some goalies are more crazy than others...okay maybe crazy is a bit of an exaggeration, but there is no denying that goalkeepers are some of football's most flamboyant and interesting characters.
You probably need to be a little different in one way or another to take up a position that requires flinging your body about and throwing yourself, often head-first, at the feet of players looking to get to the ball before you.
Of course it is also the most pressurised position on the football pitch. It's inhabitants knowing any moments of brilliance will often be barely acknowledged, but the slightest of mistakes are scrutinised and criticised for days, weeks, months after.
Here are 10 of those men who are arguably the bravest, craziest, most captivating and generally most flamboyant of their breed.
José Luis Chilavert
Ben Radford/Getty Images
It was not the whole story on José Luis Chilavert, but having spent the majority of his club career in his native South America, the overriding reputation of the Paraguayan (outside of that continent anyway) was that of the goalscoring keeper.
Of course Chilavert was much more besides, and enjoyed success too, winning titles throughout South America as well as the Copa Libertadores with Vélez Sársfield in 1994. He was part of the Paraguay side that competed at the 1998 and 2002 World Cups, playing a big part in his country's progress to the second round in both.
The special nature of this tournament means that when it does come around everyone is looking for possible stories on the players taking part, so the tale of the goalkeeper who scores free-kicks and penalties stood out.
Crucially Chilavert was good at them and had an excellent goalscoring record for a goalkeeper. Coupled with his fiery and passionate temperament he most definitely stood out.
René Higuita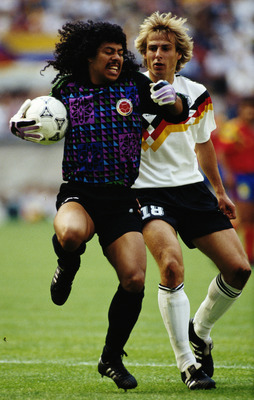 David Cannon/Getty Images
Like Chilavert, René Higuita enjoyed partaking in a dead-ball situation or two. But the Colombian's most extravagant tendencies were reserved for the art of goalkeeping itself.
Higuita had his own unique style, one that made him synonymous with risk-taking of the highest order. When it came off it could result in moments bordering on brilliance, such as when he did what would become known as the scorpion kick against England in 1995.
Then there were the not so clever moments, like in the 1990 World Cup when against Cameroon he was caught out dawdling on the ball by Roger Milla who went on to score the goal that put his country through to the quarterfinals.
That old saying about there being a thin-line between genius and insanity was never more apt in football than in describing Higuita.
Fabien Barthez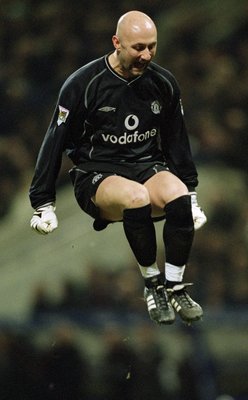 Michael Steele/Getty Images
It should be remembered that at his best, Fabien Barthez was a darn good goalie. You don't win the World Cup, among other trophies, if you're just all show and no substance.
With that said, there was definitely a lot of 'show' about Barthez. From the pre-match routine of the kiss on his bald head by Laurent Blanc, to the eccentric in-game habits and foibles that were as much a part of him as his ability to pull out a fantastic save.
As goalkeepers go, Barthez was one of the more entertaining ones of the past couple decades. For the teams he was playing for, his eccentricity wasn't always a positive thing, though.
Manchester United lost a famous FA Cup fourth-round tie to West Ham United when Barthez failed to play to the whistle when he assumed Paolo Di Canio was offside. The Italian promptly took advantage and scored the Hammers' only goal and winner.
David Seaman
Ross Kinnaird/Getty Images
In terms of the overall flamboyance on this list, Seaman is comparatively low down compared to the likes of Higuita, but the former-England goalkeeper stood out more than most among his own countrymen.
Sometimes that wasn't of his own doing. One of the kits he wore for England at Euro '96 drew comparisons at the time with something Ronald McDonald might have worn, and was definitely in keeping with the trend for garish goalkeeper kits of the 1990s.
Later on, Seaman famously grew out a ponytail, remarking humorously at the time it was to help Arsenal fans get over the departure of Emmanuel Petit who had just left for Barcelona. It got him some stick from opposing fans and probably players too, but it didn't do him any harm as he continued to perform well for the Gunners.
In the end, it helped raise some money for charity, too, when Seaman chopped it off in 2005.
Bruce Grobbelaar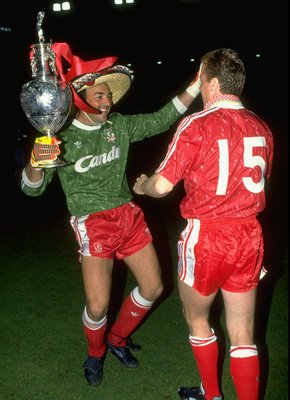 Dan Smith/Getty Images
Bruce Grobbelaar was important as nearly anyone in the successful Liverpool sides of the 1980s, and the achievement in itself of becoming the No.1 for one of the world's biggest clubs should not be underestimated.
Back then it wasn't so commonplace for foreign players to play in England (bar a few notable exceptions), or anywhere for that matter. Even less so for African players to venture elsewhere.
It is a testament to the strength of Grobbelaar's character that he came in and became an integral part of Liverpool Football Club. Because make no mistake, in a squad full of personalities, Grobbelaar was among the biggest.
The Zimbabwean was not afraid to express his feelings to teammates, and he backed it up with an athletic and unique style of goalkeeping.
And unique he certainly was, most famously demonstrated in his performance in the 1984 European Cup final against Roma. In the penalty shootout Grobbelaar's wobbly legs looked to have put off the opposition takers as the Reds came out on top, 4-2.
Jens Lehmann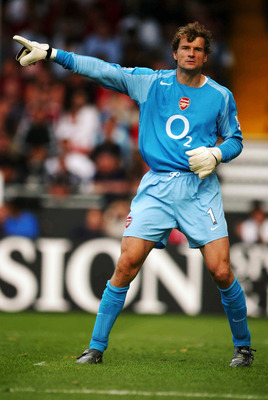 Christopher Lee/Getty Images
Jens Lehmann had a lot going for him as a goalkeeper. Tall and strong, he was an imposing figure physically and had the all-round game that meant he could certainly be classed as a top-level keeper.
The German also had an unfortunate tendency to not just let the red mist fall over him, but sometimes completely envelop him. Opposition players would know they could get a rise out of Lehmann with often little more than the minutest of annoyances.
It made for a captivating watch to the neutral, but for all those with something invested in his performances it was frustrating.
This negative side to his character was outweighed on the whole by the positives, and he had some interesting character traits besides giving in too easily to anger. It takes someone with a lack of self-conciousness to go and urinate behind the advertising hoardings, as it appeared Lehmann did during a Champions League game for Stuttgart against Unirea Urziceni two years ago.
Jorge Campos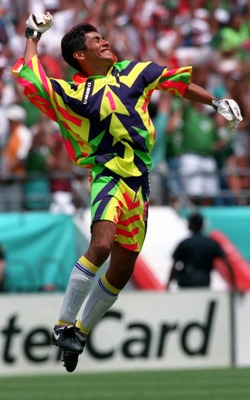 Billy Stickland/Getty Images
Jorge Campos was well under 6', and you would think undersized for a goalkeeper, but he more than made up for it with his acrobatic style. With great spring and speed the Mexican could propel himself towards the ball and was able to make up most differentials in space that his lack of height cost him.
Campos was not afraid to venture out from the comfort zone of the penalty area either and was, in general, a player who embraced the extremes of being a goalkeeper.
And there were those kits.
Unknown to the wider world beforehand, Campos became a household name after World Cup '94 in part thanks to the astonishingly bright kits he would wear. They were fluorescent and extravagant, and were meant to be all of his designing, too.
Now Campos probably didn't pick up match style kudos, but he certainly got noticed.
Harald Schumacher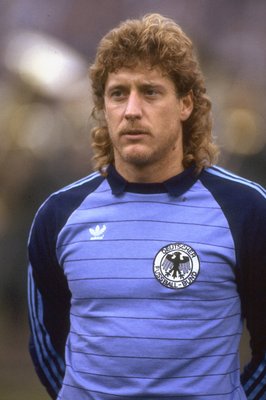 David Cannon/Getty Images
Okay, Harald Schumacher, now there was a goalkeeper who had a definite air of craziness about him.
This, of course, is based especially on one notorious incident, that crazy excuse for a 'tackle' on France's Patrick Battiston in the semifinal of the 1982 World Cup. Click here, the video does all the talking on this occasion.
David James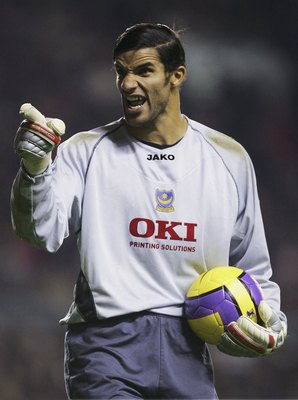 Laurence Griffiths/Getty Images
In an ideal world more footballers would be as captivating as David James is.
On the pitch you get the goalkeeper who has been one of England's top players in the position for the best part of two decades, his spell at Portsmouth in particular epitomising him at his most effective and commanding. Yet this was also the same player whose mistakes at club and international level also earned him the unfortunate nickname of "Calamity James."
Off the pitch you get the young man who in his Liverpool days may or may not have damaged his ability to perform by playing too many computer games, who later on became one of football's most famous arts lovers, started his own Malawi-aiding foundation and also wrote a weekly column for The Observer newspaper that displayed his own intelligent and passionate take on many different aspects of football.
Somewhere in between all this there were a vast range of hairstyles that would give David Beckham's penchant for changing his hair a run for his money.
Bert Trautmann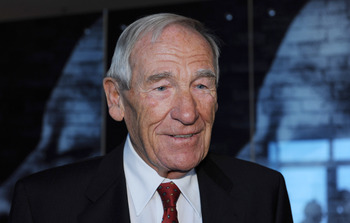 Pool/Getty Images
If you're not familiar with Bert Trautmann, his is a story well worth looking into beyond this little entry here.
The former German prisoner-of-war remained in England after World War II ended and in 1948 joined Manchester City, going onto enjoy a fine career with the club.
Now Trautmann is of a different era to most players on this list, but his entry on it is not because of any real flamboyance, crazy playing style or general appearance. It is because in one famous match he epitomised why goalkeepers are truly a different breed.
In the 1956 FA Cup Final against Birmingham City, Trautmann and his side were 3-1 up when with around 15 minutes to go he dived at the feet of Peter Murphy as they both went for the ball. In the process, the German keeper broke his neck.
Trautmann was not aware of the extent of his injury, but having been momentarily knocked unconscious he played on regardless, knowing there were no substitutions back then. Not only did he stay on, he continued to perform heroically to keep his City side in the game.
Fortune was on his side that the injury was not worse, and rather than a terrible tragedy it became a tale that has been passed on down generations of English football fans. Simply extraordinary.
All goalies are crazy, but yeah, some are definitely crazier than others.
Keep Reading