Arsenal: Gunners Need to Replace Per Mertesacker to Be Great Team
November 19, 2011
Jamie McDonald/Getty Images
After their 2-1 win against Norwich City at Carrow Road, it has become clear that Per Mertesacker is just a stop-gap solution for Arsenal.
Arsene Wenger's men are one centre-back away from being Premier League title contenders.
The Germany and former Werder Bremen defender was seemingly a panic-signing, with Wenger merely papering over the cracks.
It was evident again today against Norwich, as Mertesacker misjudged a routine long ball which should've been shielded back to 'keeper Wojciech Szczesny with ease.
Instead, the 6'6" German was out-muscled by a player smaller and lighter than he, which left his goalkeeper in no-man's land.
The experienced 27-year-old was by far Arsenal's poorest player on the pitch and seemed shaky throughout, with his lack of pace and positioning sense again being undone by standard Premier League strikers.
While the Gunners are looking like a top team in midfield and up front, with Robin Van Persie proving his worth as the league's best striker and the likes of Theo Walcott, Gervinho, Mikel Arteta and Alex Song again looking decent, it seems that Arsene Wenger's only real problem is in central defence.
Thomas Vermaelen is indisputably the Gunner's best defender and one of the best in the league, while the only reason Laurent Koscielny isn't his regular partner at the back is due to his disciplinary issues, injury niggles and versatility.
Take those first two out of Koscielny's game, and he has the potential to form a solid understanding with the Belgium international.
However, while the Frenchman has those aspects to his game, Mertesacker will always be first-choice alongside Vermaelen.
And that's where Arsenal are being prevented from reaching the top; they don't have two world-class centre-backs who can strike up a decent partnership.
They have the goalkeeper, one of the full-backs (Bacary Sagna), the wingers, the central midfielders and the striker. But in possibly the most important place of all, they don't have that second all-important top centre-half that they need.
Mertesacker may be good and is an established regular for Germany, but there's a reason that Arsenal were the only team significantly interested in him.
His Bremen team finished a lowly 13th in the Bundesliga last season, conceding 61 goals in the process—the fourth highest in the league.
Mertesacker was responsible for a significant amount of those goals, playing in 30 of Bremen's 34 league games last term.
And despite his big frame, the German also won a much lower than expected amount of aerial duels.  This is something which he has followed up in the Premier League, winning only 50 percent of challenges in the air.
To put that in perspective, this season Koscielny has made more aerial duels and won 73 percent of them, while full-back Andre Santos, who is a lot smaller than Mertesacker, has also made more aerial challenges and won 93 percent.
Last season, the slower pace of the Bundesliga meant that he was able to hide his weaknesses by putting in more tackles, as he was the league's third-best tackler, winning 76 at a success rate of 71 percent.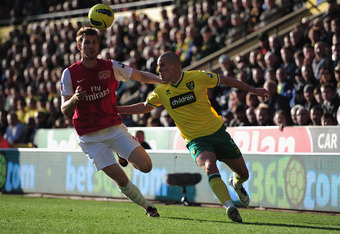 Jamie McDonald/Getty Images
However, as forward plays in the Premier League tend to be much faster, like all centre-backs Mertesacker doesn't get the time to put a tackle in, meaning his lack of positioning and his pace—two vital elements for a top defender—are brutally exposed.
It's why Arsenal have conceded more shots when Mertesacker plays, and why they've conceded in six of the eight matches he's played for the Gunners, with the only clean sheets being at the Emirates against promoted Swansea City and a more-than-lacklustre Bolton Wanderers.
Overall, the Gunners have conceded 13 goals in the eight league matches Mertesacker has played in.
If they want to reach the top, it's clear that a new centre-back is needed alongside Vermaelen. The £8 million signing from Werder Bremen is a top-class backup player, but he is not good enough to be a successful regular starter.
Either Gary Cahill or Christopher Samba (faster players who know the Premier League inside and out) would be a good purchase, while the likes of Thiago Silva, Mats Hummels, Neven Subotic, Mehdi Benatia, and Iñigo Martínez (quicker, stronger players with top-class positional awareness) would also be very good signings.
In any case, Arsene Wenger again has the makings of Premier League title contenders.
All he needs is a suitable partner for Thomas Vermaelen—and it's clear that that man isn't Per Mertesacker.
If Wenger replaces him with a big-name centre-back, Arsenal could well be back in business.