Sepp Blatter Racism Remarks: Why Football, FIFA and Blatter Will Never Change
November 17, 2011
Harold Cunningham/Getty Images
Following widespread condemnation of his remarks about racism on the football pitch, not least of all from Manchester United's Rio Ferdinand, FIFA president Sepp Blatter has faced calls to resign.
When asked by a CNN reporter whether there is racism on the football pitch, Blatter said: "I would deny it."
"There is no racism, there is maybe one of the players towards another, he has a word or a gesture which is not the correct one, but also the one who is affected by that, he should say that this is a game.
"We are in a game, and at the end of the game, we shake hands, and this can happen. On the field of play sometimes you say something that is not very correct, but then at the end of the game you have the next game where you can behave better."
His comments caused outrage across the world, with Rio Ferdinand leading the backlash against Blatter by responding to the FIFA president on Twitter.
Many other public figures have also condemned Blatter, with Labour (a political party in the UK) leader Ed Miliband, during his speech on the economy, saying: "I think Sepp Blatter's comments are a disgrace frankly and I think that football needs new leadership."
Former Crystal Palace striker Mark Bright was another to take to Twitter to air his displeasure at Blatter's comments, as he wrote: "Mr Blatter, the football pitch is a place of work, racism in any place of work is unacceptable. You beggar belief with your archaic views."
While Stoke City manager Tony Pulis hit the nail on the head when he commented: "I think one thing it proves is that he is miles away from what is actually happening in football and in the world.
"I'm amazed that he has come out with the comments, but the big question is who is actually going to take him to task?
"I've heard Gordon Taylor (head of the Professional Footballers' Association) saying he should resign, but who is above Blatter—is he all powerful and almighty?"
And that is exactly the problem with Sepp Blatter and FIFA, there is no accountability in the most important area of the sport—the top of the hierarchy where all key decisions are made.
In world football's governing body, there are several committees which regulate different areas of the game, such as the Disciplinary Committee, the Referees' Committee, the Finance Committee, the Women's Football Committee, etc, with all these committees accountable to the FIFA ExCo, the Executive Committee.
However, the major issue is the FIFA ExCo is accountable to nobody. 
This is the only committee which has the authority to impose sanctions for key issues such as racism and homophobia, so it's clear to see where the problem lies.
While Blatter and his cronies in the ExCo all cosy up together with the same ideas and views, nothing will change until they all choose to call it a day and quit FIFA.
After all, the media and outsiders to the FIFA ExCo can moan all they want, it makes no difference to the job security of these men.
During the recent 61st FIFA Congress, Blatter was able to use his power to pick off opposition from Qatar's Mohammed bin Hammam, and was also able to use it to convince 186 of the 203 member associations to back him, primarily due to the FIFA funding he guaranteed them and their crippling finances.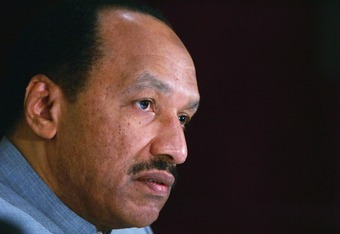 Robert Cianflone/Getty Images
But having used his power to defend his own position, it doesn't seem like Blatter has any interest in using his authority to stamp out racism or homophobia.
And considering he's the most powerful man in football, his yes-men cronies at the ExCo aren't going to challenge him, either.
After all, Blatter has had a history of making major PR mistakes, airing what seem to be his honest views, which had he been the leader of a democratic organisation, would have seen him overthrown in an instant.
When he childishly commented about the issue of homosexuality being illegal in Qatar, who are the 2022 World Cup hosts, hardly a comment was made from anyone within FIFA, let alone the ExCo, suggesting they have similar views.
The same goes for when he degradingly said women footballers should "wear tighter shorts and low-cut shirts...to create a more female aesthetic" as well as today with the comments on racism.
The only person within the ExCo to speak out on the issue was vice president Jim Boyce, who tried to paper over the cracks by praising Blatter.
He said: "I was very surprised to hear the president's remarks but have been pleased that both he and FIFA have come out to try to clarify the situation."
So until the structure of FIFA and its ExCo changes—which won't happen while Sepp Blatter and his cronies are still in charge—there will be no difference in regards to racism and homophobia in football.
A solution to this corruption within the governing body could be a shadow ExCo with an opposition leader whose job it is to scrutinise Blatter and the ExCo, hold them to account and make recommendations on where they can improve.
This would create a more open, transparent working environment which currently, and deleteriously for football, does not exist.
But until such a day, football will never change when it comes to deep issues such as racism.
Unfortunately for the beautiful game, it's main governing body has become too powerful for its own structure.