England National Team: Steven Gerrard and 5 Players Who May Have Lost Their Spot
Michael Regan/Getty Images
It's coming up to the crucial few months before a big tournament.
Fabio Capello will be watching more closely than ever as his England stars try to play their way into the Euro 2012 squad both in international friendlies and club games.
The likes of Joe Hart, Scott Parker, John Terry and Ashley Cole have likely booked their plane tickets already.
But who looks to be rapidly falling out of favour? There are several players with a lot of ground to make up between now and June.
Who could have lost their spot in the team?
Steven Gerrard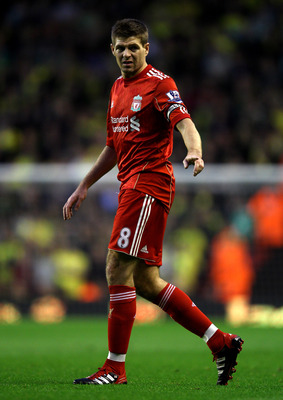 Richard Heathcote/Getty Images
At one point this season, it looked dire for Frank Lampard. Dropped by club and country, people were questioning his future—but foolishly so.
But now it's Steven Gerrard that will be looking over his shoulder. He has been injured for what seems like an eternity and is being gently re-integrated into the Liverpool squad.
Fabio Capello utilises a lone striker with three central midfielders. Currently, Scott Parker looks a shoo-in with Lampard, Jack Wilshere and Phil Jones also looking impressive.
Steven Gerrard will, for the first time perhaps, really have to prove he deserves a spot in the squad.
In all honesty, he is still a quality player, and I fully expect him to take his place. But it will be a challenge for him no doubt.
Peter Crouch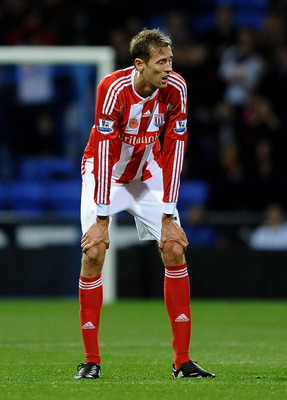 Laurence Griffiths/Getty Images
Peter Crouch's place in England's strike force is under serious threat from two very young, talented players.
The experienced international is now 30 years old and having moved to Stoke, he will have been hoping that regular first-team football would have seen him into the finals squad.
But the emergence of Danny Welbeck and Daniel Sturridge has leant weight to the idea that Fabio Capello could go for a youthful look this summer.
After the friendly against Spain, many were impressed with Welbeck, and Sturridge will get his chance to shine against Sweden.
Aaron Lennon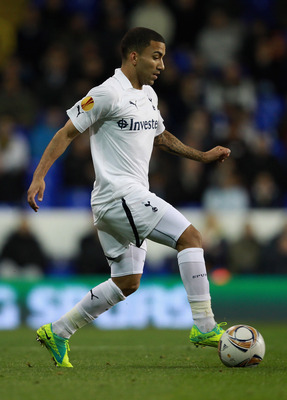 Ian Walton/Getty Images
Aaron Lennon is, in my books, still a very talented winger.
However, recently, it seems the wings are booked up by the likes of Stewart Downing, Ashley Young and Theo Walcott. Even Adam Johnson gets a look in ahead Aaron Lennon.
Shaun Wright-Phillips is absolutely nowhere near the squad either and Lennon's electric pace and agility could be missed.
In truth, he's not the best crosser and Wayne Rooney thrives on the deliveries of Ashley Young, a partnership growing by the day at Old Trafford.
Rio Ferdinand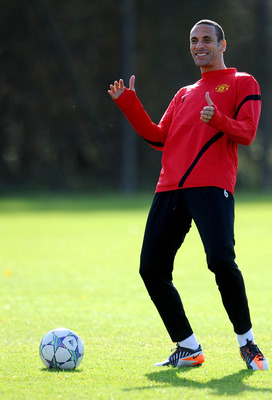 Clint Hughes/Getty Images
Rio Ferdinand appears finished, internationally speaking.
He's been plagued by injuries and his form this season has been poor. He isn't fit and he's losing his abilities fast.
The veteran centre-back is extremely unlikely to land a place in the Euro 2012 squad and his place was further threatened when compatriots Joleon Lescott and Phil Jagielka excelled against Spain.
England's defence will carry on just fine without him.
Micah Richards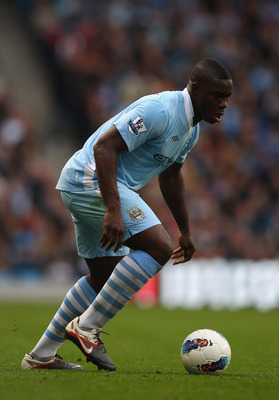 Clive Brunskill/Getty Images
He's not even in the squad or apparently in Fabio Capello's thoughts—but no one knows why.
Micah Richards has been a stand-out performer this season with Manchester City, playing first-team football for the table toppers whilst gaining Champions League experience.
With Glen Johnson continually under-performing for England it's baffling to think why Richards still isn't getting a look in, but it's nice to see youth getting a chance.
Chris Smalling and Kyle Walker have had and will have the opportunity to show what they can do.
Keep Reading

England (National Football): Like this team?