Liverpool Transfers: Top 10 January Targets for Kenny Dalglish
As November begins the transfer gossip intensifies as fans and pundits alike try to predict who will be bought and sold in the January window.
My previous article identified two central defenders who I felt would strengthen Liverpool in an area where I feel we are lacking quality cover, particularly long term cover. I have opted to leave them out of this article to save repeating myself.
That aside, this article is geared towards players that fans have identified to me that they would like to see in a red shirt, players that have been mentioned in the media as apparent targets and players I would like to see grace the hallowed Anfield turf.
It's a real mixed bag of players and positions so let me know your thoughts on who—if any—out of these 10 talked about players you'd hand a starting position to.
Follow me on Twitter @petercwebster
Begin Slideshow

»
Jasper Juinen/Getty Images

Jan Vertonghen is the current captain of Dutch team Ajax. The Belgian defender is a name that many Liverpool fans seem to have on their wish list for the January window, and from what I know of him he would definitely add some depth and cover to the squad.
Vertonghen is primarily a centre back but is adaptable enough to also play as a defensive midfielder who likes to get forward and assist in attacks. A signing such as this could make Jamie Carragher's retirement seem an easier transition in the future.
Some people believe that any player is available given the right price, but Manchester City's pursuit of Kaka proved otherwise. I think it may be a transfer window too soon to get Ajax interested in selling, but with Liverpool having reached an agreement for Luis Suarez in January, it's possible that they may be able to reopen lines of communication with the Dutch team and use their previous relationship to negotiate.
Phil Cole/Getty Images

Another name that has been mentioned to myself is that of Mats Hummels of Borussia Dortmund. The highly thought of defender has formed an impressive partnership with Neven Subotic in the Bundesliga, and at the age of just 23 he is only going to improve.
Similar to Vertonghen, Hummels also has the ability to play in a defensive midfield role, but at 6' 3" I think centre back is his best position. Again, he is considered by some as a more than worthy replacement for Jamie Carragher.
With 10 appearances for the German national side, Hummels' stock has increased well over the past few years. I expect Borussia Dortmund to demand a hefty fee before they even consider letting him leave, which might make him too expensive given the often over inflated prices January brings.
Leandro Damiao da Silva dos Santos is a striker who currently plays for Campeonato Brasileiro Série A team Internacional.
The Brazilian has a good strike rate of 20 goals in 47 league appearances and earned a call up to the Brazilian team for the first time in March of this year.
Unfortunately with increased status comes increased fees, and strikers are never cheap if they're of a good standard. An extra striker is certainly something that Liverpool need and Tottenham Hotspur are also reported to be tracking him.
At the age of 22, Damiao could represent a good long term purchase if Liverpool could agree the right fee.
Laurence Griffiths/Getty Images

Newcastle captain Fabricio Coloccini has been linked to Liverpool during the last week if you believe what you read in the newspapers.
Despite seemingly sharing the same hair stylist as David Luiz, for me Coloccini doesn't possess half of Luiz's abilities. At the age of 29 I would find Coloccini a strange signing for Liverpool given his potential lack of longevity.
I do think we need another centre back, but if Newcastle stick to their guns as they did with Andy Carroll, then Liverpool could end up paying way over the odds for an average player.
If Coloccini was so highly thought of, I would assume that he would have been mentioned a few seasons ago, whereby Premiership teams could have offered to take him out of the Championship at a much lower price.
Have his performances been so impressive this season that teams have suddenly taken notice? I don't believe so.
Alex Livesey/Getty Images

French defensive midfielder Yann M'Vila adds to the ever growing list of DM's that Liverpool fan's are interested in.
When I sought out info on potential signings that fan's would like to see, I wasn't expecting to write the words "defensive midfielder" so often, but Javier Mascherano has never really been replaced.
Lucas has definitely improved from his days as a jeered laughing stock, but his passing still lacks any cutting edge, which may be why Anfield wants a new ball winner.
M'Vila is a young player at 21 years of age, but he has already found himself part of the French national team on 15 occasions. Ligue 1 club Rennes aren't the most financially well off team, so a deal for M'Vila could be on the cards.
Originally touted by the media as a summer target for Liverpool is Mamadou Sakho. The Paris St Germain centre back could be available for £20 million if you believe what the Daily Mail print.
Known for his crazy hairstyles as much as his footballing ability, Sakho is another up-and-coming player in the French Ligue 1 division and has plenty of footballing years ahead of him at the age of 21.
His price tag could be enough to see off fellow suitors Arsenal, as Arsene Wenger doesn't generally splash cash around in that sort of price range. He could be a real option in January.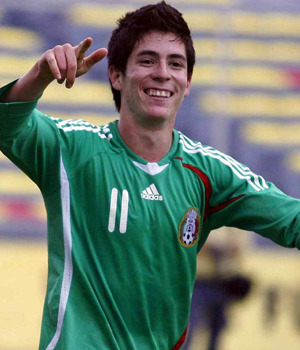 Mexican starlet Marco Bueno has been called the next "Chicharito', but anyone who has seen him play can tell you that comment is wide of the mark. Bueno has a much different style of play to that of Javier Hernandez despite the fact they are both strikers, but Bueno is still very much a gamble at the age of 17.
Real Madrid, Barcelona, AC Milan and Arsenal were all reported to be taking an active interest in Bueno, but the mere fact none have bought him may be a warning sign that the clubs don't feel he is ready, or they haven't seen enough potential.
Definitely one to watch for the future but not a viable option for first team football at Anfield currently, which means Liverpool should wait until the summer before showing their hand.
Clive Brunskill/Getty Images

Having mentioned him in a previous article, I still think that Adam Johnson of Manchester City would be an excellent signing for Liverpool.
Since his big money move from Middlesbrough, Johnson has struggled to hold down a first team place and a move to Liverpool would surely afford him more opportunities. A pacy winger who plays mainly on the right hand side, Johnson would provide balance to the wing play of Stewart Downing, and would be able to interchange wings should the need arise.
If Manchester City were able to recoup most of their undisclosed fee for Johnson, then I think they may be willing to listen to offers.
With Johnson having only seen 366 minutes of Premier League action out of a possible 900 so far this term, he may also be willing to move to a club that now has clear direction and guidance despite the no offer of European football. Euro 2012 is lurking and Johnson needs to cement a place in the England team.
Ian Walton/Getty Images

Whilst Roman Pavlyuchenko might not represent the best striking option Liverpool could purchase, he might represent a good bargain, having slipped down the pecking order at Tottenham Hotspur.
With Emmanual Adebayor having signed on a season long loan and Rafael Van Der Vaart scoring goals for fun, even Jermaine Defoe's impressive form hasn't merited him a starting place.
Pavlyuchenko finds himself only having played 19 minutes of Premier League football this season and will be looking for that to change as he approaches his 30th birthday.
I would imagine that if Adebayor continues to impress, Harry Redknapp will look to sign him permanently, which means any money from a Pavlyuchenko deal might help grease the wheels.
I don't think that Pavlyuchenko would be an automatic starter for Liverpool, but he would provide a further option in the out and out striker role, something that Liverpool lack beyond Suarez and Carroll.
Mario Carlini / Iguana Press/Getty Images

Keeping in theme with our ties to Uruguay is winger Gaston Ramirez, who is currently playing for Bologna in the Italian Serie A division.
Being part of the Uruguay national team means Ramirez probably would seek advice from Suarez and Coates on life in Merseyside, which could smooth the transaction if an offer was made.
Aged 20, Ramirez has plenty of his career ahead of him and a winger is something Liverpool need to provide balance and a bit of spark to our attack. Downing has the ability to switch to the right wing if Ramirez needs to be accommodated on the left.
Ramirez has had contract disputes with Bologna in the past which could mean he might be slightly unsettled at the club. With Bologna paying $7.61 million (approximately) for Ramirez in 2010, any profit on that fee would probably be seen as good business by the club.
Follow me on Twitter @petercwebster