Luis Suarez, Patrice Evra and 13 Alleged Examples of Racism in World Football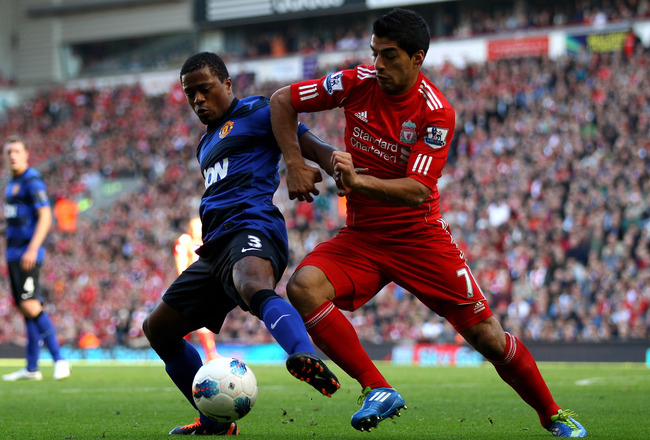 Clive Brunskill/Getty Images
According to BBC Sport, the FA will investigate Patrice Evra's claims of being racially vilified by Luis Suárez.
Liverpool have gone on the record to say Suárez categorically denies any claims of racism.
Meanwhile Evra told Canal Plus, "There are cameras, you can see him [Suarez] say a certain word to me at least 10 times."
It's always one man's word against another. Racism should not be tolerated and footballers who use racism as means of psychological warfare should have the book thrown at them. That being said, footballers who falsely accuse other footballers of racism should also have the book thrown at them.
However, let's look at 13 other examples of racism in world football and how they were resolved. Interestingly, this isn't the first time Evra has claimed to be the victim of racism.
Patrice Evra Brawling with Chelsea Staff Member Sam Bethell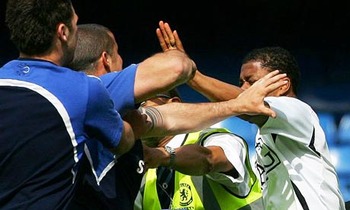 About three and half years ago, the tag Battle of Stamford Bridge was the storyline, as Patrice Evra was involved in an unsavoury incident with Chelsea staff member Sam Bethell.
Now you ask yourself why Evra, a pretty cool-headed player, was involved in a brawl with some obscure staff member.
According to a report from the FA in The Telegraph, Bethell allegedly shouted "I'll f***ing have you, you f***ing immigrant," at Evra. However, the Chelsea staffer responded by saying he called the Frenchman a "f***ing idiot."
The FA charged Chelsea with racism, then dismissed the charges, even though Manchester United first team coach Mike Phelan and goalkeeping coach Richard Hartis testified that they heard Bethal racially vilify Evra.
For more information, please read The Telegraph's text of the FA report regarding this incident.
Black Blanc Beur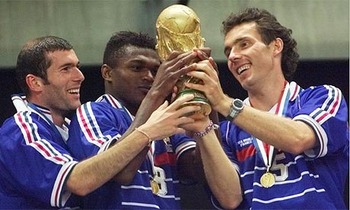 The 1998 FIFA World Cup winning French team was described by many as "Black, Blanc, Beur," which translates to "black, white, Arab," because of the multi-cultural diversity within Aimé Jacquet's squad.
Last year, French investigate website Mediapart uncovered French manager Laurent Blanc allegedly giving the go-ahead by introducing a 30 percent quota on the amount of young black and Arab youngsters allowed to train at some of France's football academies like Clairefontaine.
To be more blunt, Blanc was introducing institutional racism.
Blanc was reportedly quoted as saying, "The Spanish, they say 'we don't have a problem. We have no blacks.'"
Remarkably, Blanc is still the French manager.
Racism in Sofia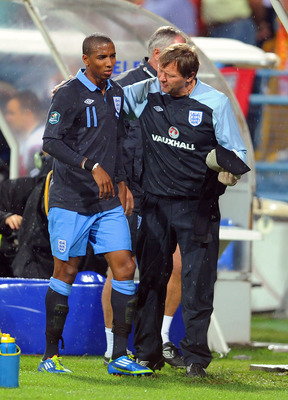 Michael Regan/Getty Images
When England comprehensively outclassed Bulgaria 3-0, Ashley Young had to endure racist chants from the Bulgarian fans.
Then Bulgaria manager and former FIFA World Cup winning captain Lothar Matthäus apologized on behalf of Bulgaria.
UEFA have opened a disciplinary case against Bulgaria, and the case is scheduled to be heard on Nov. 17.
Mario Balotelli: Chants Directed at Him Due to His Persona or His Skin Colour?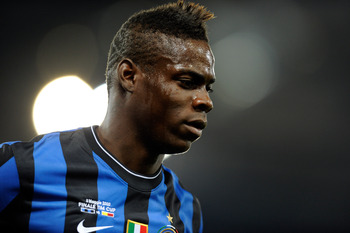 Claudio Villa/Getty Images
As a 19-year-old, Mario Balotelli says he was exposed to racist chants from Juventus supporters.
The chants revolved around the aspect of real Italians not being black. Juventus were forced to play a home game behind closed doors.
One absurd theory came up during Balotelli's time of petulance that the chants were directed at him due to his persona not his skin colour.
Chants like a "A negro cannot be Italian" has nothing to do with Balotelli's persona, and everything to do with his skin colour.
Sergio Busquets: Mono Mono or Mucho Morro?
UEFA dismissed the charges of racism against Sergio Busquets due to weak evidence.
I guess weak evidence is video footage blatantly catching Busquets in the act of muttering mono mono, which translates to monkey, monkey, and doing a half-assed job of covering his mouth.
Busquets claimed he said mucho murro which was a question of Marcelo's nerves or something.
My question is, why did Busquets cover his mouth?
He did so because he wanted to hide what he was saying and what he was saying was racist.
Luis Aragonés' Motivational Methods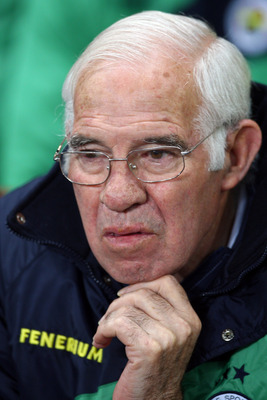 Phil Cole/Getty Images
One of former Spanish manager Luis Aragonés' ways of motivating a talented but inconsistent Antonio Reyes was captured in this quote,
"Tell that [Thierry Henry] negro de mierda [black s***] that you are much better than him. Don't hold back, tell him. Tell him from me. You have to believe in yourself, you're better than that negro de mierda."
To be fair to Aragonés, he probably isn't as racist as the quote makes him seem out to be. Why? Well he was the manager that made Marcos Senna Spain's first black international.
Ron Atkinson Reveals What He Really Thinks About Marcel Desailly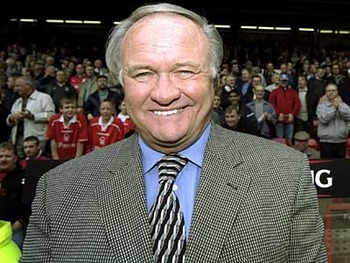 During the Monaco vs. Chelsea UEFA Champions League semi-final first leg match, ITV pundit Ron Atkinson was not aware of his mic being on, and said this about Marcel Desailly,
"He's what is known in some schools as a f***ing lazy thick n****r."
Atkinson was sacked by ITV and has since defended himself by stating he signed many black footballers pointing to his managerial days at West Bromwich Albion.
Nii Lamptey, football's biggest wasted talent, spoke how Atkinson had saved him from being ripped off again by a parasite like agent.
If Atkinson really applied what he said about Desailly to Lamptey, who lack of education resulted in him being ripped off by agent after agent, then Atkinson would never have helped Lamptey.
In Lamptey's own words,
"There are other players whose agents have been even worse, one man who tried to destroy me because I would not sign for him. Ron gave my account number to the office and they paid it in direct. I hadn't even been told I was due a fee. The manager [agent] was very upset. Big Ron [Atkinson] has been a good man in my life."
Samuel Eto'o's Defiance Toward Racism
The season before, Real Zaragoza fans had racially abused Samuel Eto'o. In this particular game, Eto'o had enough and attempted to storm off the pitch, but he was convinced not to.
Imagine if the entire Barcelona team walked off in support of Eto'o. Think of how powerful that image would have been.
Though it seems £350,000 per week will make Eto'o grow some thick skin, because Russia is one of the most racist countries in the world.
Marco Zoro's 15 Seconds
Sadly Marco Zoro is known not for his footballing abilities but for being the man who had enough and exposed to the world Italy's hidden epidemic—racism.
In a game against Inter Milan, as seen in the video to the left, the then-Messina defender could not take the racist taunts anymore, picked up the ball and attempted to exit the game.
He was stopped and convinced to do otherwise. Like Samuel Eto'o, I can only imagine what would have happened if he did walk off.
I'm telling you, in these coming years, one day a player will walk off the field and hopefully spark some real action to combat racism.
Roberto Carlos Getting Acquainted to What Is Norm in Russia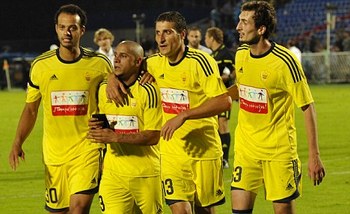 Earlier this year, whilst raking in the cash toward his pension, Roberto Carlos got acquainted to a sickening Russian social activity—racism.
If Peter Odemwingie was racially abused by his own fans, Carlos had no chance.
In a game against Krylya Sovetov, according to the Daily Mail, a banana was thrown at the direction of the Brazilian veteran.
It was so distressing to him that he broke down in the dressing room.
Said Carlos, according to the Mail:
"You know when that sadness hits, that feeling of being powerless? I left there sad, hurt. So many kids there. That has to be banned from football. When I got to the locker rooms the guys hugged me and sang for me. It was a very interesting thing. The guys on the team really like me."
Aaron Hunt Bailed out by UEFA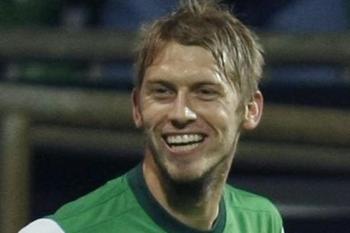 Only a month earlier, UEFA bravely dished out a five-game ban to Nikola Mijailović for racially abusing Benni McCarthy. However, the Aaron Hunt case saw UEFA go backward in its fight against racism.
The FA launched an official complaint to UEFA after Anton Ferdinand and Micah Richards complained about Hunt racially abusing them in an under-21 game.
UEFA investigated the claim, suspended Hunt for two games—and then overturned the suspension.
The cynic in me can't help but point out that both sides gained a symbolic victory.
Ferdinand and Richards had their complaints heard. Hunt had his name cleared. The only loser in this was UEFA.
UEFA officials should have stuck to their guns.
Also how can you ban someone for racism and then overturn the ban?
Roman Weidenfeller Caught in the Heat of the Moment
Roman Weidenfeller was given a three-game suspension after he allegedly called Ghana-born German striker Gerald Asamoah a "black pig."
Asamoah offered a diplomatic view:
"In the heat of the moment, things are often said which people later regret, and tensions were high for that game."
A year later the German FA banned Torsten Ziegner for five games after he racially abused Nigerian Kingsley Onuegbu.
Zola Matumona Quit After Racism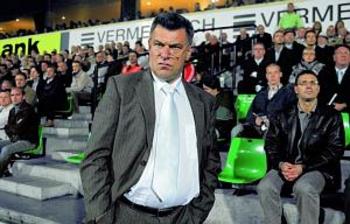 Keep Reading