Arsenal vs. Sunderland FIFA 12 Simulation: Lineups, Gameplay and More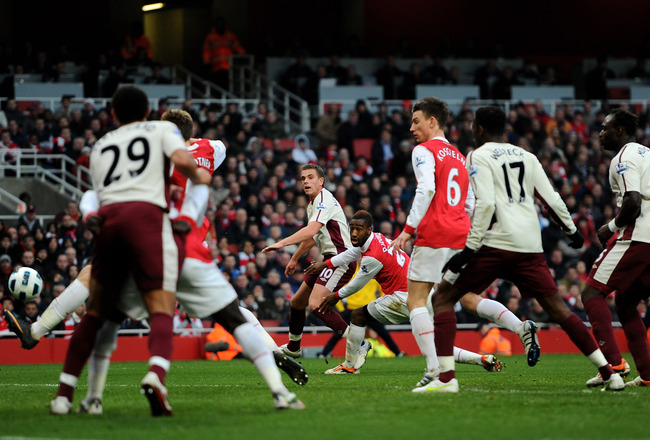 Mike Hewitt/Getty Images
With Saturday games out of the way, we look forward to an interesting Sunday with Arsenal playing Sunderland at the Emirates.
This is a must-win for the Gunners, as they must stake their claim against lesser opponents in order to start climbing their way back up the table after their dismal start to the campaign.
This is not going to be an easy one, however, as Sunderland have surprised in a few matches this season and have played strong since their recent acquisition of Nicklas Bendtner on loan from Arsenal.
Bendtner is not eligible to play against the Arsenal side this weekend, due to an ineligibility clause in his loan contract, but let's see how they could play against each other on Sunday.
How might one do that without some sort of time machine, you ask?
Through FIFA 12, of course!
Arsenal Lineup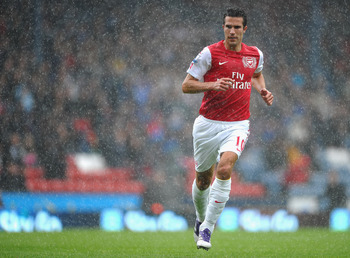 Laurence Griffiths/Getty Images
We're looking at an Arsenal side with an alternate version of their standard 4-3-3 formation; the one they have run for the past two years.
In goal for the Gunners is Szeczeny, after appearing to have healed up from his back issues that kept him out of games for Poland over the international break.
Across the back, we have Jenkinson at right-back, Mertesacker and Koscielny holding down the middle and Andre Santos making his Premier League debut at left-back.
Arsenal have a very mobile midfield with Arteta at a holding midfield position, with Ramsey and Walcott looking to play out towards the flanks.
At supporting winging forward roles, we have the the lackluster Arshavin and the Ivory Coast international Gervinho.
Up top, looking to put add to his century of goals for Arsenal is captain Robin Van Persie.
Sunderland Lineup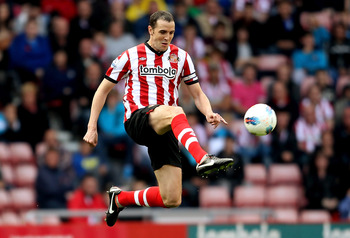 Scott Heavey/Getty Images
Sunderland come into this game with a stock and standard 4-5-1 formation.
In goal for the Black Cats we have Mignolet, in for the injured Gordon.
Across the back, we have El Mohamady and Richardson on the left and right, respectively and holding down the middle of the back are former Manchester United men John O'Shea and Wes Brown. Phil Bardsley and Titus Bramble are both out on club suspension.
In the midfield, we have Larsson and Colback out on the wings, with Vaughn running the middle of the field. Gardner and Sessegnon both playing at attacking midfield positions.
And, finally, the target man up front, filling in for the ineligible Bendtner and injured Frazier Campbell, we have Connor Wickham.
1st-Half Statistics and Comments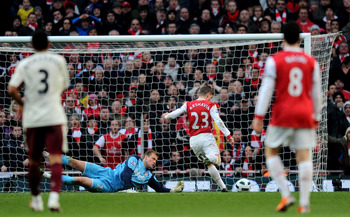 Mike Hewitt/Getty Images
At the end of the first half, it was nil to nil.
The shot count was even at four a piece, but Sunderland had one more shot on target than Arsenal with two on target, testing the acrobatic ability of Szeczeny.
Arsenal were way ahead on possession, playing their usual weaving passing style, lots of passes back and containing 66 percent of the possession, compared to Sunderland's 34 percent.
Sunderland had one foul of consequence, committed at the top of their box. What should have been an easy Arsenal goal, turned into another free kick turned aside.
Sunderland looked a lot more dangerous on the break, playing on the frailties of Arsenal's weak defensive line.
Full Game Statistics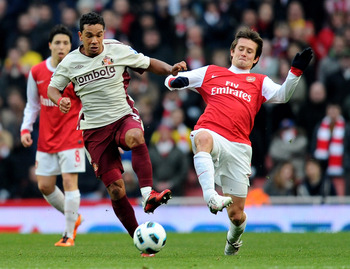 Mike Hewitt/Getty Images
What a game!
Match Stats
Shots: Sunderland led Arsenal 12-7 in shots.
Shots on target: Sunderland led Arsenal 7-3 with shots on frame.
Shot Accuracy: Sunderland led with 58 percent shot accuracy juxtaposed to Arsenal's 42 percent
Possession: Arsenal led in this department with 54 percent to Sunderland's 46 percent overall, but Sunderland definitely had the lion's share of the second half possession.
Pass Accuracy: Both teams had a high passing accuracy percentage, at 90 percent each.
Tackles: Only four major tackles a piece, creating a much more technical game for both sides.
Fouls: Only the one from the first half to really speak of. A very clean game played for both sides.
No yellow cards, red cards or injuries to speak of. .
Substitutions
Arsenal: Rosicky in for Ramsey, Song in for Walcott
Sunderland: Cattermole in for Vaughn, Meyler in for Gardner.
Final Comment and Thoughts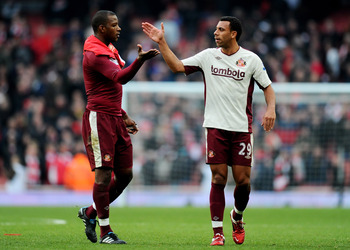 Mike Hewitt/Getty Images
Final Score: Arsenal 1-1 Sunderland
What should have been a walkover for Arsenal turned out to be a rather close match.
Sunderland definitely came into the second half ready to make a statement, as they held the ball for the majority of the time. The Gunners' defensive frailties came to a head as they failed to shut down numerous opportunities from the Black Cats, mostly coming on the break.
Then heartbreak in the 90th minute. A small pass across the box wasn't shut down and led to a sweet shot for Sessegnon. One-nil to the visitors with the match all but wrapped up.
Arsene Wenger and his men were not willing to settle though. With just a few beads of sand still left in the clock, Arsenal swept forward. Arshavin ran it down into the corner and played it back to Arteta, who shot an off-balance shot between the legs of the oncoming Sunderland defender.
One all.
Not long after, the final whistle blew, and Arsenal had dropped two points at home to what should have been an easy game.
In Conclusion...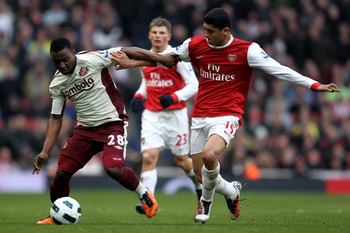 Paul Gilham/Getty Images
Keep Reading

Arsenal: Like this team?