World Football: Footballers and Charity, the Good Work of a Few
October 14, 2011
Lintao Zhang/Getty Images
The story of football mad Jack Marshall is an upsetting tale of a young brave boy,  who was diagnosed with a brain tumour at just four-years old, a form of cancer which kills more kids in the UK than any other variation of the disease.
At just six-years old Jack passed away earlier this week, but lived life to its fullest and his story has touched many people, including some of the Premier League's biggest stars, Wayne Rooney, Rio Ferdinand and his biggest supporter Arsenal's Jack Wilshere.
The Arsenal and England midfielder is a shining example of the massive impact that the privileged stars of the football World can have on those less fortunate. The individual effort from Wilshere, only 19-years old himself and father of one-month old Archie Jack Wilshere, is quite frankly astonishing.
Among spending a day with Jack and the rest of Marshall Family at Wimbledon, and inviting their whole family round for a barbecue, Wilshere has gone to great lengths to support Jack, his brother Josh and the whole family through this difficult period.
Many of his supporters have gone to great lengths to support Jack, with Rio Ferdinand arranging a visit for him and his family to come the Manchester United training ground and Wayne Rooney has even worn a Jack Marshall wristband to raise awareness.
But it was Wilshere who after finding out that Jack's older brother, Josh, 12, was being bullied and beaten up in a park, Wilshere came down and had a kick about in the park with Josh as his bullies looked on in disbelief.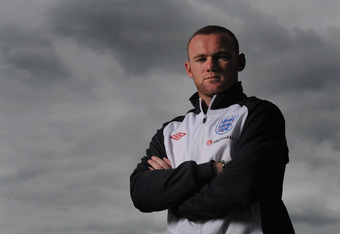 Michael Regan/Getty Images
The amazing commitment to Jack Marshall's cause and his charity fund by Wilshere is a true example of how a topflight Premier League footballer should behave, particularly when Wilshere didn't have to help the family. He just wanted to do whatever he could for Jack.
It is especially refreshing to hear the good work of some Premier League footballers, particularly when the biggest stories about them off the pitch, usually involve divorces to famous pop stars, cheating on their wives, or dealing drugs. The good work of footballers often goes unnoticed or unreported by the press in comparison to some of their other sordid antics.
However, it isn't just Wilshere, Rooney and Ferdinand leading by example when it comes to acts of kindness and charity, many players do their bit to help society and the people around them.
Manchester City rebel Mario Balotelli for instance, usually one for hitting all the wrong headlines, whether it's for racking up £100k in parking fines or throwing darts at academy players, has shown a charitable and kind hearted side.
Balotelli often gives £20 notes to homeless people and early this year he gave £1000 to a homeless man after winning in a casino. His Good Samaritan streak continued a month later after he took a bullied child and his mother to school, demanded to see the head teacher and acted as a mediator as the two boys resolved their issues.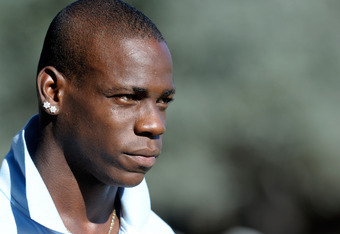 Claudio Villa/Getty Images
Despite to what he gets up to on the pitch, aggravating and enraging fans and managers alike, Balotelli has shown a good streak in him that many others are unwilling to follow.
Then of course there's Chelsea hitman and Ivorian Striker Didier Drogba, a popular figure in his native Ivory Coast, the forward has gone to great lengths to restore peace in his homeland and thanks to his involvement, a cease-fire was called after five years of civil war in the country. It's an accomplishment that put Drogba alongside Barack Obama in Time's list of "100 Most of Influential People."
It may not have quite been on par with Drogba ending war in his home country, it was pleasing to see the entire England squad give their earnings to Help for Heroes and Cancer Research UK at the 2010 World Cup in South Africa. In an era where footballers are paid ludicrous sums, it was nice to see England's finest give back, even if their performances on the pitch weren't the best we'd ever see.
The message of charity wasn't lost on the players either, with Frank Lampard urging more young players to contribute more to charities, whether on official footing with their clubs or solo efforts.
This is where the difference lies between the likes of Jack Wilshere and others.
Many clubs have specific charity schemes which involve their players and for a few, that is enough for them. They'll give back through the club and no more. They won't go the extra mile like Wilshere, but there are still a few more good souls out there doing their individual bit for charities they've either set-up or regularly contribute too.
Liverpool's Dirk Kuyt has his own Foundation (the Dirk Kuyt Foundation) that helps homeless children in Holland and around third World countries, and Stephen Ireland regularly contributes to Francis House Children's Hospice.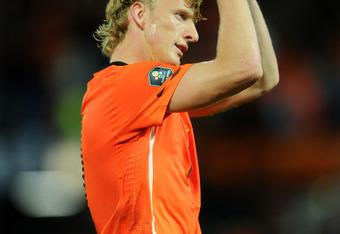 Jasper Juinen/Getty Images
Whilst this article has singled out a few well-known names doing their part for others, there are loads more out there that are either still in football, or have retired that do some excellent work for charity organisations all over the World. Not to mention the hundreds of football associated charities and organisations out there that goes toward helping victims of football violence or just good causes in general.
However we cannot simple forget those that have gone above the call of duty to help others. Jack Wilshere is a fine example of a player has done far more, than many others could possible ever imagine. He like many other footballers that play the beautiful game, are in a position of sensational fortune and wealth, playing the game they love day after day and having millions of adoring fans all over the World.
Whilst good men like Wilshere do not have to help others, it is people like the Arsenal and England midfielder who can give comfort to those who least expect it. Hopefully others will be inspired by the story of Jack Wilshere and the sadly departed Jack Marshall. One life was touched by a star, let's hope many more will be too.