Arsenal FC: The Arsenal Starting XI If Cesc Fabregas and Co. Had Stayed
October 14, 2011
Julian Finney/Getty Images
Arsenal have had one of the roughest starts to a season since their struggles of the 1970s. 
A lot of people will point the blame to the loss of key playmakers Cesc Fabregas and Samir Nasri (or $amir Na$ri, for those feeling the hurt a bit more than others), as well as staple and everyman Emmanuel Eboue. 
Now, as with any sport, the words "What If?" spring to mind when thinking about these key departures from the struggling Gunners. 
What if Fabregas, Eboue and Nasri had stayed? Would Arsenal still be struggling? 
Now those questions will be open for debate, but I'd like to open another avenue of debate. 
What if Peter Hill-Wood and the Board of Directors had a sudden feeling of generosity about them? 
What if these players had stayed and we had acquired the talents that we did? 
That's right. 
An Arsenal squad with Cesc Fabregas, Samir Nasri, Emmanuel Eboue, Gervinho, Per Mertesacker, Mikel Arteta, André Santos, Alex Oxlade-Chamberlain, Yossi Benayoun, Ryo Miyaichi, Chu Young Park and Carl Jenkinson. Not to mention the talents of Robin Van Persie thrown into the mix, for fun. 
That Arsenal future doesn't sound nearly as bleak as the current one does, now does it? 
Of course, there will always be debate as to the usefulness of these new acquisitions, with Miyaichi, Park and others being mostly unproven thus far. I'll leave that to you in the comments.
The question I'm looking to answer is: What would the starting XI look like?
We are venturing deep into the realms of "What If" now, but let's have some fun.
Goalkeeper 
At Goalkeeper, we would keep our in-form Wojciech Szczęsny. 
As of last week, we had word that Pepe Reina was to join Arsenal, but had a moved blocked by his club owners, as mentioned by a fellow Bleacher Reporter, but that's another thought for another day. We stick with Szczęsny!
Defense
Ah, yes. The most suspect part of our club thus far. The one that has been a goal scoring machine! For the other team (as fanatically seen here). 
The flanks of our defense would be run by Emmanuel Eboue and Bacary Sagna. Sagna, being the progressive right-back that he is, and Eboue, being the utility player that he was for Arsenal during his tenure at the Emirates. 
The center of the defense would be controlled by Per Mertesacker and Thomas Vermaelen. With a fit Vermaelen controlling the center of the defense and Mertesacker controlling high crosses and aerial threats, Arsenal's defense would be hard to get past through the middle.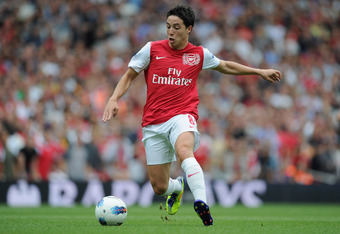 Michael Regan/Getty Images
Midfield
Now, this is where things get interesting. 
With the pack of strong midfield players at Arsenal's disposal in this universe of thought, you're bound to have some interesting combinations. With a fit and in-form Fabregas and Nasri combo, you really can't go wrong. So I'll leave them in the middle of the park, Nasri holding, Cesc pressing. 
On the wings, we're starting to be known for our exuberance and speed. Walcott is rapidly becoming one of the biggest threats to defenders and winging-midfielders alike. So, I'll put him out on the right side, to give some speed to our counter-attacks and fear in the bellies of our opponents. 
For the left side, however, you could have a myriad of choices. With Arshavin and Gervinho battling for a spot in the Starting XI, I would have to put Gervinho. Gervinho is the up-and-comer, with more tenacity to win the ball back than the fading Arshavin, as much as I love the little Russian. 
Now, a lot of you are going to cry, "But...but, where's Arteta?" I have a place for him on the bench, as well as a rotational figure for the inevitability of Fabregas' midseason hamstring pull. He would also get a lot of cup-tie play to add to his experience with the Arsenal side. I just don't have him starting because he is new to the squad and needs some time to integrate into a new system and style of play.
Forward
Julian Finney/Getty Images
With the emergence of the 18-year-old Alex Oxlade-Chamberlain as a true talent, packed with tenacity and goal scoring ability, this will be a little tough to choose. 
For choices, we have Arshavin, Chamakh, Van Persie, Oxlade-Chamberlain, Chu Young Park and even the emerging talent of Benik Afobe. 
I'm going to run a two-forward system. A partnership much like the one that was held in previous successful campaigns. Refer to the successes of Bergkamp and Henry in this system. 
At this moment in time, Arshavin and Chamakh are not viable starters. Chamakh came in last year and impressed in the first half of the season, but has done little since. Arshavin just lacks fitness and the wherewithal to really be successful at the breakneck speeds that the Premier League is played at. 
Given current form and overall productivity within the league, as well as a little bit of risk, I would have to pair up Robin Van Persie and Alex Oxlade-Chamberlain. 
Why? 
Because Van Persie has the eye for goal and Oxlade-Chamberlain has the youthful exuberance to chase down defenders and win back the ball, as well as a rather keen eye for goal. This would create a goal scoring dynamic for Arsenal that hasn't been seen during this six-year drought in silverware success. 
All of this talk is obviously speculative. We lost two great play-makers and goal scorers over the summer. We lost a great utility player and personality within the team. We've picked up some great, solid players in their stead.
Though they haven't had the most successful season so far, one can't help but sit back and wonder...what if?