Premier League TV Rights and Why Ian Ayre Has Let the Cat out of the Bag
October 12, 2011
Laurence Griffiths/Getty Images
According to The Associated Press (h/t Washington Post), Liverpool Managing Director Ian Ayre has called for all Premier League clubs to negotiate their own overseas TV rights deals.
His simple logic is this: Why should the likes of Bolton or Wigan get an equal share of overseas TV revenue when those audiences are only interested in Liverpool and the other clubs with history?
To say that such move would be detrimental to the Premier League is an understatement, and Ayre has apparently failed to grasp that the whole Premier League product is saleable because the likes of Bolton and Wigan are given the money to make a decent enough job of taking on the bigger teams.
Nobody with any interest in football would suggest a move toward the uncompetitive league like those found in Scotland and Spain.
In fact, the threats and complaints from Barcelona and Real Madrid are that if their league remains as weak a sporting contest as it is currently, then they would look to play elsewhere.
So where Barca and Real are is not where Liverpool want to be in terms of competition.
The main reason for Barcelona and Real's complaints is (are you reading, this Mr. Ayre?) that they cannot match the international revenues that the Premier League hoovers up across the globe.
If Ayre were to get his wish, then within a few years the big clubs would likely find themselves in the same boat as Barca and Real, wondering where the money has gone.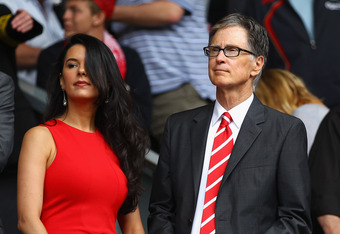 Clive Brunskill/Getty Images
When Liverpool was bought by the current owners, Fenway Sports Group (FSG), there was the usual talk of bringing back the glory days on the back of Liverpool being one of the biggest and most recognisable brands in world football.
And therein lies the problem.
The only reason for FSG buying Liverpool was because they saw an opportunity to leverage the brand.
Of course they have not burdened Liverpool FC with massive debts like their predecessors did, but the money used to buy the club has to create an return for them—that's simple economics.
However the FSG purchase was dressed up, it seems now that they had not factored in the competitive nature of the Premier League and (perhaps like many Liverpool and Arsenal fans) looked at things in an historical context.
They perhaps thought, "Liverpool have mostly been in the Champions League, have won it often and recently, and therefore the loss of that estimated £50 million in revenues for one—perhaps two—seasons is manageable, and in year three all will be well with Liverpool on board the money train that is UEFA Champions League."
It seems now that Liverpool in the Champions League is more a hope than expectation, and as such those revenues need to be replaced for the FSG business model to work.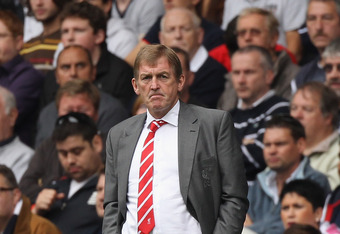 Clive Rose/Getty Images
In very blunt terms FSG want to start earning, and they want to earn more and sooner than many perhaps expected.
The pressure to invest in a new stadium is growing, as each season more income is lost. But a new stadium may cost £300 million—and where is that going to come from?
Ian Ayre's suggestion that Liverpool should be able to jettison the lesser-known teams in order to profit from their brand seems to indicate a bit if panic over at Anfield, or more pertinently over in Boston.
But it is a card that he should never have played, as it simply won't happen. Turkeys don't vote for Christmas, and so the likes of Bolton, Wigan and Stoke won't give up the revenues they currently enjoy. And as every member of the Premier League has an equal vote in these matters, it will never be voted through.
Ironically, some might say Liverpool will not be allowed to walk alone.
The financial pressure on FSG is likely to increase with each season that Liverpool fail to challenge for the Premier League title and gain entry into the lucrative Champions League by finishing in the top four.
But the very brand that FSG are desperate to cash in on is losing its lustre with each season that they don't put their money where their mouth is.
What Ayre's statement is seemingly suggesting is that FSG want Liverpool to start repaying the costs of their buyout.
If I were a Liverpool fan, I would start to worry that things are going to get a lot worse than they are now both on and off the field.