Tony Kornheiser Hates Children (And America's Over-Importance on Scoring)
October 11, 2011
The world's sporting youth is being coddled. Kids are being protected from failure, and in the process of protecting those who fail, those who succeed are being marginalized.
Yesterday, I got call from a reporter at ABC News who was doing a reaction piece on news out of England that a junior soccer league is no longer posting scores for matches, substituting the actual score for divisions age 16 or younger to 1-0 for a victory and 1-1 for a draw. The matches will be played with normal rules and the final score will be the actual score, but the Telford Junior League will post wins, losses and draws without the final tallies in an effort to protect the losing participants from further embarrassment.
ABC News also asked sardonic, orange geezer Tony Kornheiser (love ya Uncle Tony) for his opinion:
"It's idiotic," Kornheiser says. "How does that prepare you not just for life down the road, but how does that prepare you for sports down the road?

"If you don't like losing," he said," score a goal next time."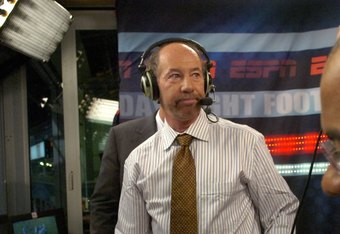 Al Messerschmidt/Getty Images
And there, folks, is the problem with youth sports. That one line, by one of the leading voices in our industry, encapsulates everything that's wrong with how we look at youth sports.
Nobody likes losing, and it stands to reason if a team that loses consistently could simply "score a goal next time," it would. But it can't, because they are losers, or their coach is a loser and doesn't know how to teach them the game. Either way, losing is always involved.
Which is where my quote comes in. I spoke with the ABC News reporter, Sara Just, for more than 11 minutes. Obviously it's impossible for her to get every quote into a reaction piece, so I thought it made sense to put my quotes in a little context and extrapolate on the ideas in her article. First, what I said in her piece:
"I coach 4 year olds and they're stealing the ball from each other in order to score," Levy said. "The thing about soccer is there can be 1,000 touches [of the ball] in a game and only one is a score. But they're all important. The kids need to learn that."

Trying to deprogram kids' emphasis on scoring above all is difficult, Levy said. "I like the idea of a win or a loss; it's like a pass-fail type of grade. I think it's unfair for kids to run up the score."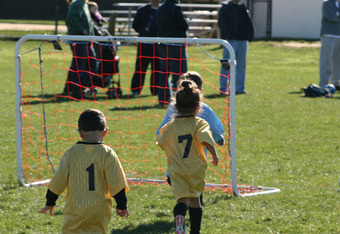 I said all of that. Actually, what I said was that a boy on my team this year CRIED after our first game because he "only scored one goal." That goal came after a girl on our team stripped the ball from a defender and dribbled in for a breakaway, only to have the ball taken from her by a teammate six feet in front of an open net so he could kick it in.
Is that the goal of youth sports?
Kornheiser and I are obviously coming at this from different vantage points. He's an old curmudgeon and I'm, by comparison, a young curmudgeon. Most importantly, his kids are grown and he presumably looked at the question from the teenage perspective, while I'm looking at it from the perspective of being the first coach in a four-year-old's life. No, I don't think teenagers should be coddled, in life or in sports. As I said to Ms. Just, I just don't know the age when you should stop coddling kids.
Come to think of it, I don't think anyone should be coddled at any age. Life is hard. You lose more than you win. Dogs don't go live on a farm in Canada...they die. Shit, as they say, happens. And it happens in sports all the time.
It's not the losing that's the problem; it's how much focus we put on winning that's the problem. Look, kids know how badly they get beaten. Kids know when they lose 8-0 in soccer or 20-1 in baseball. They know it, and everyone in attendance knows it. Does that blowout score need to be in the newspaper or posted on a website for the kids to learn the lesson of losing?
Trust me, I totally believe that people learn more from an 8-0 loss than an 8-0 win. Character is a big part of sports, and there's no better way to test someone's character than to have them be on the losing end of a blowout. But after the game is over, do they need the extra humiliation of posting it for everyone to see? Why is that necessary? That part of the story seems irrefutable, unless you're an old fart like Uncle Tony (still love ya, TK).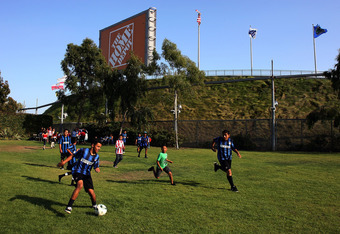 Jeff Golden/Getty Images
While my quote reads like I agree with the decision by the Telford Junior League because I agree that young kids need to be coddled, I was more speaking to the general issue of why scoring goals even matters at all at the youth level. The issue that I keep going back to, and will always go back to, is the over-importance we put on scoring at the youth level.
For reference, ABC News reached out to me because I had written a guest post for the soccer blog Avoiding The Drop back in May about my experience as a youth soccer coach and parent:
[W]e need to teach kids how to pass, play defense and use good sportsmanship. Who the hell cares about scoring goals, especially when we don't even have goalies yet? Soccer isn't basketball, Joe American Soccer Dad. We don't need everyone lining up to score goals at the end of every game like they're shooting free throws to get into the box score.
That story stemmed from a scene where a coach in my league was literally pulling his kids away from the ball so my kids could score a goal. My team, by the way, was one of the better teams in the league, but it just so happened this team we were playing against had all boys to our mix of boys and girls. And look at me, right now, justifying to the reader that my team is good and trying to explain why we weren't scoring that day. I've fallen into the very trap I'm trying to avoid.
That day, my daughter got elbowed in the face by a boy on the other team. Why? Because that boy and his teammates ran into the net to stop my team from scoring, with the four-year-old logic that if goals are so important, stopping goals is how you play defense, even if that means five kids line up from goalpost to goalpost so no ball can get in. This created a scrum in front of the net of five kids taking turns trying to kick the ball past a wall of five other kids, which led to pushing, which led to kids getting hurt.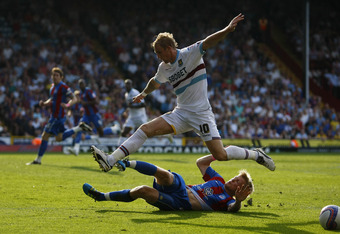 Dan Istitene/Getty Images
Flash forward to last weekend, where two boys on the team we played were slide tackling my players to steal the ball. For those who don't know a lot about soccer, a slide tackle at the youth level is about as dangerous as a clothesline in football. Despite the fact that I stopped the game every time it happened, the kids kept trying it. At one point, a boy tried the move to the delight of his coach.
"Great defense!"
I stopped, looked at the coach (who is a really great guy for what it's worth) and said, "What are you, nuts? He's going to kill my kids."
In a way, it's not the coach's fault. Most of us sign up to coach youth sports because the other parents don't want to. My town does a great job of providing training sessions for kids and coaches, stressing the importance of touches and skill development. But at the same time, we get emails reminding us to give every kid a chance to score during the games.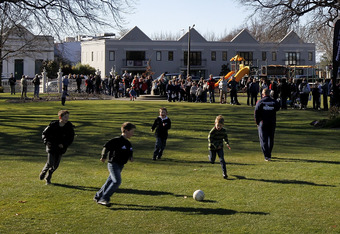 Martin Hunter/Getty Images
Do people just not see the hypocrisy of not keeping score, yet stressing that every kid gets the chance to do so? If the score of the game is not important, why do we keep stressing the importance of scoring? Why not create a game for kids under seven or eight where points for passing, dribbling and playing good defense are just as important as points for goals?
I'm not saying it would be easy. I'm not saying it would even work, but I am saying that it makes more sense than telling kids the score doesn't matter while telling them that scoring does. Kids are smarter than that. Even four-year-old kids.
Fundamentals, at the youth level, are paramount to grow a generation of elite players. If you look hard enough, somewhere in America you will find the next Landon Donovan dribbling down a vacant soccer field or the next LeBron James working on post-up moves in an empty gym. As coaches, it's our job to recognize that talent and cultivate that potential. As parents, it's our job to back the hell off and let our kids have fun while that potential is being cultivated.
At the youth level, the score shouldn't matter as much as it does. Learning how to play should be the goal we aim for.