Arsenal FC: Stan Kroenke vs. Alisher Usmanov and Fan Protests at the Emirates
October 13, 2011
Oli Scarff/Getty Images
The debate that has engulfed the arguments at the Emirates is now reaching a critical point. The issues are now reaching fever pitch, and fans are gathering their pitchforks and torches as the situation at Arsenal can no longer be dismissed.
One set of fans see Arsene Wenger as the problem; six to seven years without a trophy, poor acquisitions, poor tactics, a regression in quality on the pitch, the hesitance in buying players, losing key players, a lack of leadership, a lack of authority, a disgraceful back line, etc.
The other set of fans, which will perhaps be the majority, see the Arsenal board as the problem; A lack of coherence, a lack of ambition, the hands-off approach, hiding behind Wenger, an increase in cost for tickets and merchandise, the lack of spirit, being solely concerned with profit, etc.
There is a majority, albeit small, that want both eradicated from the club. Personally I would see that as extremely hard to do and would put Arsenal FC very much in a black hole. There are issues, however, and action must be taken sooner than later.
The moment David Dein left, you sense that ambition and intent left with him. We know of Dein's desire to make Alisher Usmanov majority shareholder; however, the dinosaurs in the board led by chairman Peter Hill-Wood stood against this, eventually causing the departure of Dein after selling his shares to Usmanov.
The long standing board members were happy to sell their shares to to the American Stan Kroenke, who now is the majority shareholder with 62.70 percent.
Initially the Arsenal board were against Stan having majority share also but were willing to wane to counter Usmanov's takeover bid. Why? Perhaps it is a complex question that only the insiders can answer; however, you feel dislike amongst personalities was put over the needs of the club.
Usmanov is the second richest man in English football after Man City's Shiek Mansour and owns 29.35 percent of Arsenal shares.
His current wealth is £12.4bn compared to Kroenke's £2.1bn. Kroenke has openly stated he does not want Usmanov on the board, but if Usmanov can get 30 percent shares or more, he will then have the right to view the account books and can take a rightful place on the board.
This will put pressure on Kroenke to be more present at the Emirates, rather than his current state of being everywhere but the Emirates.
The sea of opinion has changed drastically and many supporters believe Usmanov would be the change at the top needed to push the Gooners in the right direction; it may even help see the return of David Dein. Usmanov has declared himself a long-standing fan of Arsenal and has suggested that he would invest in the team heavily to steamroll success.
In fact earlier this year, Usmanov said, "Arsenal has all of its major commercial contracts coming up for renewal...to maximise the value of those, you need to invest in building a winning team. This is simple commercial logic."
Since Kroenke took over and even before hand, Arsenal have been acting contrary to this notion and the recent words of Ivan Gazidas, Arsenal's appointed chief executive, have in fact made matters worse. Constantly referring to the club as a model and contradicting his own words and the words of the ever ostricized manager, Arsene Wenger.
For many seasons now, Arsenal's excuse for not winning trophies has been the fact that they have consistently qualified for the Champions League in Wenger's 15 years in charge.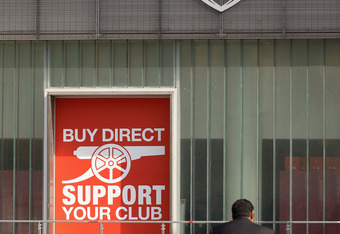 Oli Scarff/Getty Images
However, with Arsenal's ever-questioning ambition and poor start to the season, Gazidis has moved the goal posts stating, "We would rather qualify for it but we have a really sustainable model that can cope without it. Not just cope, but we can do well and compete."
Alarm bells must be ringing in the ears of Arsenal fans because now the board are showing even less ambition and are making allowances for failure. The mentality of those in charge is completely wrong. Arsene Wenger should not have such loose parameters, and the fans should not be let down in such a way.
I fear the worst at Arsenal and it is time for fan power to turn the tide. Teams like Liverpool were able to do it and they have turned a corner.
If Arsenal leave this disease to fester, they may be in danger of leaving it too late as the Premiership is too competitive and the second tier of teams, which Arsenal is now part of, are already faring better than they are.
Who do we want? Silent Stan? A shadow, who is prepared to quietly sit and watch our best players leave in the name of profit? Or do we look to the man we used to dub "Jabba the Hutt"? A man who seems dedicated to turning Arsenal into a power house and is prepared to splash some cash to maintain the competitive nature of Arsenal which has sadly diminished over the years.
As for Wenger, you can despise his mistakes but also feel sorry for him in the same breath, He should only be allowed to deal with matters on the pitch, but it appears he gets involved in things out of his remit.
The current board are happy to give him full reigns over everything such as contract talks and transfer negotiations but this is not what he is best at doing. The board will point at the fact that he is the highest paid manager in the Premier League, earning over £6m a year, but it doesn't excuse him being hung out to dry.
It is time for changes and it is time for Arsenal fans to make their voices heard, if protests are the way then let them be, but we must stand united in doing so, or worse could happen. Worse being no action at all and more players could leave the team.
Robin Van Persie, Theo Walcott and Thomas Vermaelen all have contracts expiring in 2013. Will Arsenal continue experiencing Deja Vu?
Follow me on Twitter: @SamuelMensahLDN