Picking Football's Top 'Small-Guy' XI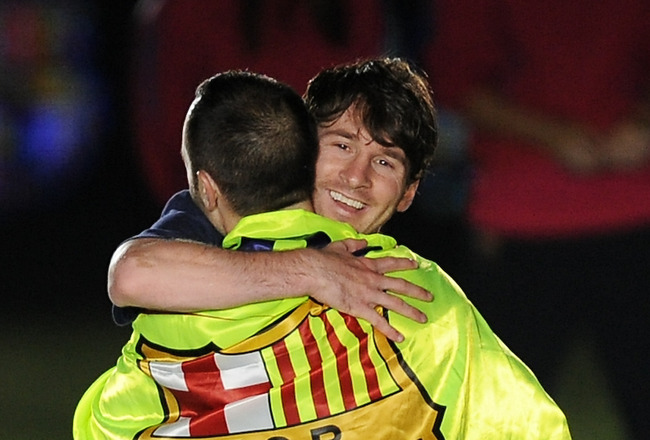 David Ramos/Getty Images
More than many other contests of sport, football has proven that it's not the size of the player, but how you use them.
Some of the game's greatest icons have been on the smaller side, and have excelled on the pitch: René Higuita, Diego Maradona, Kenny Dalglish... all 5'9" or under. Certainly, there are a host of players in the game now who pack a lot of power and potential into smaller-than-average frames.
So here are our picks for the ultimate starting XI under six foot, including a few substitutes (featuring active players only). Spoiler alert: There are a whole lot of Barcelona players.
For all arbitrary intents and purposes, this will be a 4-4-2 formation.
If you have anyone else you'd like to see in the lineup, please tell us in the comments.
Goalkeeper and Defenders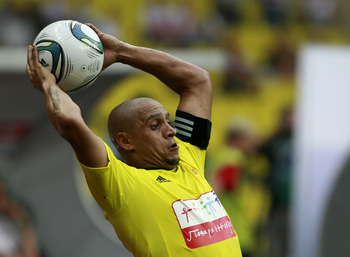 Epsilon/Getty Images
Iker Casillas, 5'11.7" (Goalkeeper): The keeper is usually one of the tallest guys on the squad, so it's extremely rare to see a club put someone in the net who is under six feet. But Real Madrid's Iker Casillas has a stellar track record as keeper and captain for both his club and the Spanish national team.
He was named the world's best goalkeeper by FIFA three timess, and is one of only a few players to win all the major club and national championship titles—after his tenacious goaltending propelled Spain to victory in the 2010 World Cup.
Praised for his killer saves and impeccable reaction time, there's a reason the people of Spain call him 'San Iker.'
Subs: Igor Akinfeev

Patrice Evra, 5'8" (Left Back): The Premiership is filled with talented left-backs under six foot, and Leighton Baines and Ashley Cole were very, very close contenders, as was Anzhi's Roberto Carlos, but Manchester United's Patrice Evra has been called the very model of a modern major left-back.
Lauded for his speed, stamina and boundless energy on the pitch, Evra has been a mighty force in United's back four, and has helped the club win four Premiership titles and a Champions League cup since 2006.

Iván Córdoba, 5'8" (Centre Back): A powerful stronghold in the Inter Milan defense for more than a decade, Colombian centre-back Iván Córdoba has won every possible title with the Nerazzurri, including five Scudetto titles, four Coppa Italia trophies, four Supercoppa Italianas and the 2010 Champions League title.

Micah Richards, 5'11" (Centre Back): The Manchester City centre-back has been at the club since the age of 14, and now at 23. He's beginning to break into the first team and is in the position be a key player this season.
His strength and tenacity have earned him admirers at the Etihad and on the international circuit, where he became the youngest defender to appear for England.

Philipp Lahm, 5'7" (Right Back): A fixture at Bayern Munich for the past few seasons, Philipp Lahm is considered to be one of the best right-backs in Europe, if not the world.
He brings speed, versatility and precision in his tackling to Bayern's defense, and in his time with the club he has helped the Bavarians bring home four Bundesliga titles and a runner-up spot in the UEFA Champions League.
Subs: Leighton Baines, Ashley Cole, Roberto Carlos, Clemente Rodriguez, Bacary Sagna, Carles Puyol
Midfielders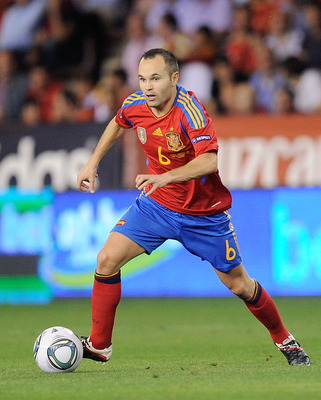 Denis Doyle/Getty Images
Andrés Iniesta, 5'7": Consistently a top performer in La Liga, the Barcelona winger made his mark as the hero of the 2010 World Cup when he scored the winning goal in the final against the Netherlands.
Cerebral, forward-thinking and versatile, Iniesta's style of play has earned him the nickname "The Illusionist." Following Barcelona's Champions League victory at the end of last season, Iniesta came in fourth in votes for UEFA's Best Player in Europe award.
Scott Parker, 5'7": English football fans got to see what Scott Parker is capable of last weekend, when he shone in Tottenham Hotspur's victory over Arsenal in the North London Derby.
When the rest of the midfield got off to a mild start, Parker was a tenacious, tireless force, working to slowly break down Arsenal's attack and make some powerful goal attempts. He has yet to score for his new club, but he's created chances and assists and helped make those around him better.
Xavi Hernández, 5'7": One of the most decorated central midfielders in the game, Xavi has led Barcelona to six La Liga titles and three UEFA Champions League finishes, in addition to being a part of Spain's victorious 2010 World Cup squad.
In January of 2011, Xavi broke the record for most appearances with Barcelona with more than 550 and was named World Player of the Year by World Soccer in 2010.

Franck Ribéry, 5'7": The veteran Frenchman has experienced a recent resurgence at Bayern Munich, where he already has two Bundesliga titles under his belt.
He has provided a number of great goals and assists for the Bavarians so far this season, with more hopefully soon to come. Plus, he would link up well with fellow Small Guy XI teammate Philipp Lahm.

Subs: Andrei Arshavin, Shaun Wright-Phillips, Michael Owen, Kieron Dyer, Alexis Sánchez, Wesley Sneijder, Barry Bannan
Forwards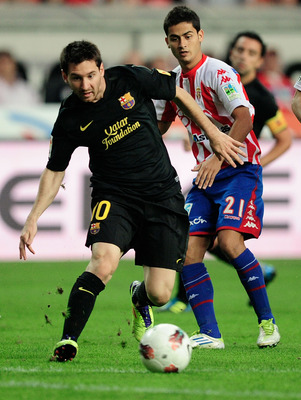 Denis Doyle/Getty Images
Lionel Messi, 5'7": No list celebrating the small but mighty would be complete without the little Argentine wizard himself. Since his arrival at Barcelona in 2004, Messi has won fans the world over with his spectacular goals, innovative assists and inspiring presence on the pitch.
So far this year, he's already poised to continue his hot streak, netting back-to-back hattricks in victories over Osasuna and Atlético Madrid.
Wayne Rooney, 5'9": It was tempting to put the on-fire Sergio Agüero in the starting spot given his breakout so far this season, but it's hard to top Rooney in terms of sheer volume and goals, goals, goals.
With nine goals and two hat-tricks for Manchester United already under his belt this season, Rooney is shaping up to be a high-volume contributor once again.
Subs: Carlos Tévez, Jermain Defoe, Sergio Agüero
Keep Reading

FC Barcelona: Like this team?