Newcastle United: Why Our Fans Are the Best in the World
October 3, 2011
Stu Forster/Getty Images
Many team's claim to have the world's best fans. How you quantify "best fans" is a tricky subject. Is it loyalty, numbers, noise levels or distance travelled?
Certainly since the creation of the Premier League the "Toon Army" (a term that I detest) have developed a good reputation. While the sight of vastly overweight topless men in the depths of winter sporting NUFC tattoos across their bellies may not fill me with pride, they are a reminder of the dedication to the cause that many possess.
Until relatively recently though I didn't think of Newcastle fans as anything particularly special. By Premier League standards we were certainly contenders. While maybe not a fair measure for the more successful clubs, I always felt that turning up in huge numbers despite having not won anything of note for decades was a sign of World Class supporters.
Over recent years though I have re-thought my criteria. For me it became the tolerance, maybe even blind stupidity, of fans that had become my benchmark. If after real suffering, relegation and loss fans are still attending then they are truly great (and arguably stupid).
Napoli fans on a trip to Italy had inspired my change of thinking. Stuck in a hotel room on business I spent a rainy Sunday evening watching local and national football coverage. When the Serie C highlights started the majority of matches were being played in front of tiny crowds, maybe one or two thousand spectators. Then Napoli came on, their attendance was well over 30,000.
Having been reformed following bankruptcy, the team was playing in the third tier of Italian football. After doing further research their fans became more impressive, they had averaged 37,000 fans and in a game against Reggiana had attracted a crowd of 62,058.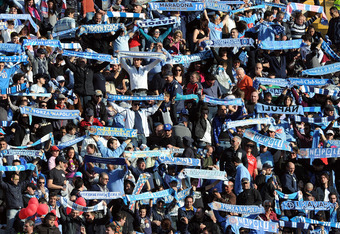 Giuseppe Bellini/Getty Images
It was with great trepidation then that I approached the 2009-2010 season. Having been relegated from the Premier League most pundits and journalists seemed convinced that Newcastle crowds would dwindle to around the 30,000 mark.
Of course it wasn't just relegation that Newcastle fans had suffered. There had been Keegangate, the appointment of Joe Kinnear, the mistreatment of Alan Shearer, the sale of key players—I could go on!
In the end the average attendance in the Championship season was 43,384. This was the fifth highest in the country and notably only 2000 less than Napoli got that year in Serie A. This drop of around 5000 fans from the previous season's average was impressively small given the loss of vast swathes of corporate "supporters" and the general economic climate.
The pain continues to be dished out with the sacking of manager Chris Hughton, the sale of Carroll, Nolan, Barton and Jose Enrique and the failure to spend the "Carroll money." Yet over 6000 Newcastle fans made the trip to Darlington for a preseason friendly (admittedly with unsavory results).
Newcastle fans had passed the test and continue to do so. I'm not expecting fans of other clubs to agree, and I may well be biased, but Newcastle fans are the best in the world!