Everton FC: Why You Should Hope To Be More Like Manchester City
September 26, 2011
Chris Brunskill/Getty Images
I like Everton. I always have.
As a Manchester City fan I have felt a link to Everton for many years.
Both clubs have been too long in the shadow of massively more successful cross-town rivals.
I have real sympathy for the fact that English clubs were barred from European competitions at exactly the point that Everton were in the ascendancy, winning the league twice whilst unable to take their place in the European Cup.
More recently, both City and Everton have been under the cosh financially, both were in desperate need of investment, both had aging stadiums and both were led by a chairman and major shareholder who were a reluctant local heroes.
At Everton, Bill Kenwright was looking for a buyer for his shares almost as soon as he had bought them it seems. At City John Wardle (and his business partner Dave Makin) bought into City more or less putting their money where their mouths had been, as they'd been critical of where the club was going.
Wardle and Makin were never rich enough to take City forwards, although they did manage to pump in many millions of their own cash to keep the club solvent, albeit barely.
Kenwright is in a similar position, as a fan he wants the best for the club but as an owner he simply cannot deliver what his heart no doubt wants.
City have been days, and some would say hours, away from going into administration in the noughties.
Under Wardle and Makin, it was their money that made up the shortfalls for three seasons.
After they had sold the club to Thaksin Shinawatra (Frank), it was a staggering shock for City fans to hear that on more than one occasion Wardle had had to personally transferred over £1m to City as a short term loan to make sure wages were paid.
Frank, you see, had no money. He was a billionaire with nothing buy empty pockets and a desire to get noticed.
Shinawatra's tenure as owner was both the worst possible thing to happen to any English football club, but also the very best.
The fact that feng shui  was seemingly as important to the Thai owner as results was one concern, but most troubling that TV revenues had been mortgaged in order to fund the influx of journeyman players such as Martin Petrov, and pay the wages of ex-England manager Sven-Goran Eriksson.
Not only had Thaksin attacked the clubs values, but he had sold the clubs future for a few column inches in the international press.
Everton haven't had that ugly owner yet, thankfully. I wouldn't wish that experience on any club. But they do find themselves in the same financial mire.
Everton have once again mortgaged next seasons TV revenues to cover this years costs. And that is surely a road to nowhere.
Everton have signed a couple of journeyman footballers on loan this summer, again an echo of where City have been recently.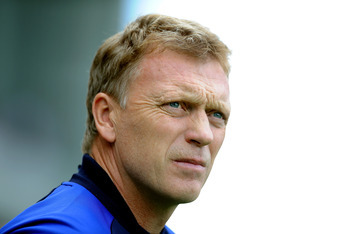 Chris Brunskill/Getty Images
But of course City had more than a touch of good luck when they were sold to the massively wealthy ADUG, bankrolled by Sheikh Mansour (a member of the Abu Dhabi royal family). Without the links that Thaksin had to serious money men across the globe, that buyout may never have happened.
Wardle and Makin could not have done the deal that Thaksin did, so he was a necessary, short term evil.
At that point, City and Everton set off in different directions. City's star has been on the rise since that day in September 2008.
But it could be Everton next in line for some good news?
Can Bill Kenwright see that he is part of the problem?
Can the current money men at Everton offer the links that Thaksin did?
I sincerely hope that the link between the two clubs remain in place and that, just as they both declined together, they can rise together.
But if it happens, if Everton too win the equivalent of the footballing lottery with new, hugely wealthy owners, will the fans sneer at this new found wealth?
Will the fantastically loyal Evertonians shun the investment in both stadium and squad? I do hope they wont.
Money is not always bad, foreign owners can be a Sheikh Mansour not just a Thaksin, Glazer or Gilette. But perhaps the current owners of Everton need to stop looking for the perfect owner.
As a City fan I look forwards to City being first and Everton second in every competition, with our near neighbors lagging just behind.
That for me would be a nice reward for the years of underachievement.