Tottenham v Arsenal: Top 10 Goals in the North London Derby (Video)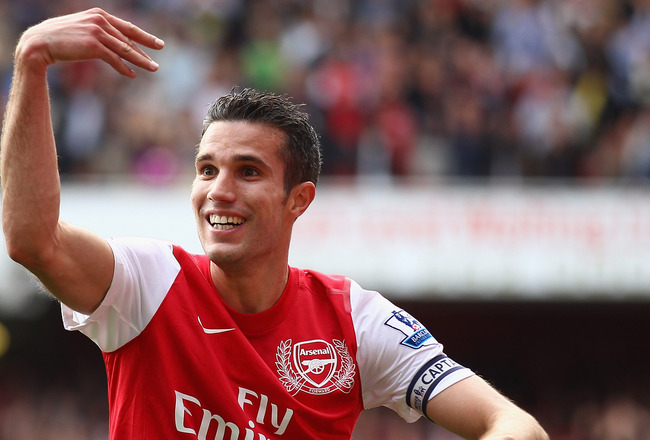 Is a Robin van Persie effort amongst the best derby goals?
Clive Mason/Getty Images
The North London derby plays this weekend.
Here are ten of the best goals scored during this famous fixture, fiercely contested by two of English football's most famous clubs, Arsenal and Tottenham Hotspur. Of course, with striking talent like van Persie, van der Vaart, Adebayor, Arteta and er Chamakh on view this Sunday, we might see another cracker scored to settle this prestigious fixture.
Thierry Henry at His Majestic Best
Who didn't enjoy watching Thierry Henry in his pomp? The Tottenham Hotspur team on the 16th November 2002 I imagine. Displaying his many gifts to the best with this fantastic solo goal in a 3 - 0 win, Henry was a man blessed with pace, skill and brilliant finishing.
Paul Gascoigne in the FA Cup Semi Final 1991
Who can forget this cracker from Paul Gascoigne during the FA Cup Semi Final of 1991?
Gazza was at his very best then and this incredible strike lit up that year's competition. The final was very different for the England star when he injured himself making a reckless challenge on Nottingham Forest defender Gary Charles.
Christian Ziege 2002
Surely lightening couldn't strike twice for David Seaman and Arsenal?
Yes it could, when Christian Ziege's 30 yard screamer nearly burst the net in 2002.
Liam Brady in December 1978
Twas the night before (the night before) Christmas 1978 and Arsenal fans received an early present with a 5 - 0 thrashing of arch rivals Spurs. This sumptuous effort from Liam Brady was the pick of the bunch.
Much has changed in English soccer since the late Seventies but some things will never change. Irish legend Liam Brady's curler is the kind of goal connoisseurs will always treasure.
Kanu Humiliates Luke Young
Manchester United pipped Arsenal to the English Premier League and FA Cup in 1999 but not before Nwankwo Kanu had scored this cheeky goal against Spurs.
Luke Young and Ian Walker won't make any all-time great Spurs line-ups. All the same, the manner in which they were undone by the Nigerian's skill and cute finish was nothing short of remarkable.
Cesc Fabregas Makes It Two
Halloween 2009 became a frightening experience for Spurs fans when, just seconds after Robin van Persie had given Arsenal the lead, Cesc Fabregas scored a terrific solo effort.
Tottenham Hotspur squandered possession from the restart and Spain star Fabregas punished them in the most emphatic way possible.
Kiss from a Rose
Danny Rose's career to date has been nothing special and he might well finish in the file marked "Journeyman". However, on his Tottenham Hotspur debut he scored a goal which will live long in the memory of those who watched it.
There was nothing wrong with Manuel Almunia's punch from Luka Modric's corner. Danny Rose's volley from 30 yards was a thing of rare beauty as it sailed beyond the Spanish stopper and into the net.
Gareth Bale Makes It Three
It seems that North London derbies bring out the best in Tottenham Hotspur's free-kick takers.
In September 2007, Welsh international Gareth Bale scored a beauty, to rank alongside those we've already seen by Gazza and German international Christian Ziege.
Emmanuel Adebayor
Not one but two great goals lit up the North London derby of September 2007. Emmanuel Adebayor also scored this cracker.
On Saturday, Togo star Adebayor will be wearing the white of Spurs. Arsene Wenger will be hoping he doesn't score a similar goal this weekend.
Robert Pires in November 2001
Robert Pires was a fine player. The scorer of many great goals, the Frenchman was Footballer of the Year as Arsenal won the English Premier League and FA Cup double in 2002.
On the way to those honours, Robert Pires scored this cracker against Spurs.
Keep Reading

Arsenal: Like this team?