Thierry Henry And 20 Great Arsenal Goals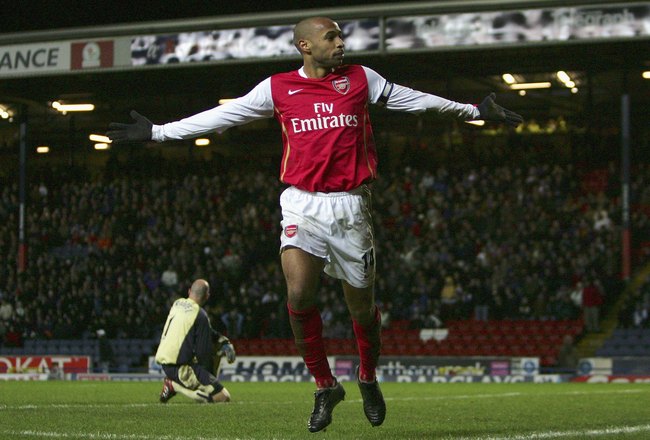 Laurence Griffiths/Getty Images
Consider this Year 5 AH for Arsenal fans.
That is, 5 After Henry.
If you still don't get it, think of it this way: Thierry Henry left Arsenal for Barcelona in the summer of 2007. Since then, the Gunners have played four seasons, with this being the fifth.
Hard to believe, right?
Well, actually, if you've watched Arsenal this season, it's kinda easy to believe.
The Gunners have slumped to three defeats in their first five matches. While the team's offensive production has been fine, it's been nothing like to glory days of Thierry Henry, Dennis Bergkamp, Freddie Ljungberg and Robert Pires.
With that in mind, we've decided to compile a list a great Arsenal goals from years past. They don't necessarily have to come from Henry's days with the Gunners—they just have to be great goals by Arsenal players.
So without any further delay, here are the goals. Enjoy.
Thierry Henry vs. Manchester United, 2000
Our first goal comes from early in Henry's Arsenal career.
In a league match against Manchester United on September 30, 2000, Henry scored what was perhaps the goal of the season.
Henry received the ball near the edge of the box with his back to goal. He flipped the ball into the air and in one motion turned and shot.
A second or so later, the ball had flown into the top corner of the United net, with the goalkeeper stunned. Wait—is that a Fabian Barthez signing!?
The goal was remarkable for a couple of reasons.
First, Henry's first flick of the ball lasted only milliseconds, giving only him the chance to hit it.
Second, he both turned and shot in the same motion. And he struck the ball with the outside of his foot, slicing it away from the keeper.
Dennis Bergkamp, vs. Newcastle, 2002
We think this might be the best Arsenal goal of the last 10 years.
(The fans think so too.)
Against Newcastle on March 2, 2002, Dennis Bergkamp produced a moment of brilliance that must still baffle Newcastle's defenders to this day.
He accepted a pass from Robert Pires at the edge of the box and needed only one touch to play the ball—behind himself and the defender—into the perfect spot to beat the goalie.
All the while, Bergkamp showed the power to shrug off the defender's challenge.
A brilliant goal from a brilliant player.
And as people might forget these days, Newcastle was challenging for the title that season. So this goal came in a big moment for Arsenal, which went on to win the league.
Robert Pires, vs. Aston Villa, 2001-02
But then there's this goal to challenge Bergkamp's effort.
This one came in the previous season, and it came courtesy of Robert Pires.
First, Pires controls the ball with a skillful touch to beat the defender.
Then, he cheekily lobs the keeper.
Andy Gray can't help but say, "Take a bow, son!"
Indeed.
Tony Adams, vs. Everton, 1998
There's only one Tony Adams.
He just didn't score much.
No matter. As a central defender, he wasn't supposed to. But when he did, like this effort against Everton on the final day of the double-winning 1997-98 season—oh my.
Just watch.
Thierry Henry, vs. Charlton, 2004
Henry is usually known for his finesse goals, but here's one that's all power.
In an game against Charlton on October 2, 2004, Henry scored with his back to the goal and a defender literally hanging off of him.
And, oh yeah, he scored from about eight yards with the back of his heel.
That's impressive.
Freddie Ljungberg, vs. Juventus, 2001
Here's a goal that shows off the genius of Dennis Bergkamp and his extra-sensory connection with Freddie Ljungberg.
First watch Bergkamp's skill on the ball. Then watch as Ljungberg waits to make his run until the absolute last second.
Those two must have been separated at birth. You know, a tall Dutch dude and a short Swede. It makes sense.
Dennis Bergkamp, vs. Bayer Leverkusen, 2002
Have you figured out yet that we like Dennis Bergkamp?
Well, here's another reason why we do.
This is from a Champions League victory over Bayer Leverkusen during the 2001-02 season.
As usual, Bergkamp shows off his amazing skill with the ball.
Then he scores with a chip—while he's falling down.
Robin van Persie, vs. Charlton, 2006
Defenses: You can't allow Robin van Persie time and space with his left foot.
Even if that time is a split second, and that space is five feet above the ground.
Don't get it? Watch this clip.
Dennis Bergkamp, vs. Leicester City, 1997
This video is grainy, but with Bergkamp's skill, you can see it all.
Bergkamp actually needs more than one touch to beat a defender this time. But that doesn't make this goal any less special.
Another outstanding piece of work by the Dutch master.
Thierry Henry, vs. Liverpool, 2003/04
Here's an Henry goal that didn't involve a long shot into the top corner.
Instead, he dribbles deftly through the Liverpool defense and scores with a low shot.
As the commentator hints, Henry was on top of the world at this point.
Andrey Arshavin, vs. Blackburn, 2009
Head to the 4:50 mark of this clip.
What you'll see there is an amazing piece of skill from Arshavin and his first goal for Arsenal.
He collects the ball near the byline, beats a defender and scores from an impossible angle.
If only he could reproduce this form all the time.
Michael Thomas, vs. Liverpool, 1989
Certain Arsenal fans don't need an introduction for this goal.
In fact, they know the commentary by heart.
"Thomas, charging through the midfield... it's up for grabs now... Thomas, right at the end!"
If you don't know what we're talking about, watch the whole video above. If you do, fast forward to about the 1:40 mark to experience the goosebumps all over again.
Thierry Henry, 2006-07 Preseason Friendly
This goal came in the preseason of the 2006-07 season, Henry's last with Arsenal.
As he showed here, Henry still had plenty left to offer the club.
Henry needed just three brilliant touches to score after a long pass from Philippe Senderos—one to control the pass, the second to beat the defender tee himself up, the third to volley past the goalkeeper.
That description doesn't do this goal justice. Watch for yourself.
Eduardo, vs. Burnley, 2009
Before the broken leg, this is the kind of goal Eduardo could score for Arsenal.
A volley with the outside of his boot.
Then, well, you know.
Such a shame.
Sylvinho, vs. Chelsea, 2000
Here's another video whose poor quality can't mask the on-screen brilliance.
This time the goalscorer is Sylvinho, Arsenal's former left back.
The opponent is Chelsea in 2000, and Sylvinho runs onto a ball, hits it first time and slices it into the top corner of the near post.
That's just ridiculous.
Thierry Henry, vs. West Ham, 2002-03
This goal was vintage Thierry Henry.
As he often could do, Henry picked up a pass in the midfield during this 2002-03 game against West Ham, and made something out of nothing.
That something was a surgical, powerful strike into the top corner from well outside the box.
Patrick Vieira, vs. Newcastle, 1998
Patrick Vieira served as Arsenal's midfield enforcer from 1996-2005.
Some fans have argued (and we're not disagreeing) that Arsenal's woes since then can be traced to his departure.
Few could control the midfield like Vieira, but one thing he wasn't known for was goalscoring.
But just take a look at this long-distance strike.
Wow.
Thierry Henry, vs. Tottenham, 2002-03
This is perhaps Henry's best individual goal.
With Arsenal playing Spurs during the 2002-03 season, Henry got the ball just outside his own box, dribbled all the way into Tottenham's box and beat Kasey Keller with a fine finish.
Just breathtaking.
Kanu, vs. Chelsea, 1999
It's almost unthinkable that we've made it this far without mentioning (Don't Call Me Nwankwo) Kanu.
Well, here's our tip of the cap to the Nigerian genius.
Arsenal trailed this 1999 match against Chelsea 2-0 heading into the final 15 minutes. A sure loss, right?
Nope.
Kanu scored a 15-minute hat-trick, capped by this cheeky effort.
Thierry Henry, vs. Charlton, 1999-2000
Here's a goal from very early in Henry's career that showed his potential.
We're not sure of the date of this game, but it clearly came from his debut season in 1999-2000.
Why is that clear? A couple of reasons.
Look at his hair!
Also, check out this list of former Arsenal greats pictured in the brief clip: Emmanuel Petit, Marc Overmars, Patrick Vieira, Ray Parlour (OK maybe not great, but really good for a mere Englishman under Arsene Wenger).
Anyway, it's another volley and it came against Charlton Athletic.
Keep Reading

Arsenal: Like this team?