Steven Gerrard: 5 Reasons Liverpool Need Their Captain Back
Clive Rose/Getty Images
Steven Gerrard made a 15-minute cameo appearance for Liverpool at Brighton in the Carling Cup on Wednesday, marking the beginning of the end of another long injury absence. Gerrard has been out since February 27 with a groin injury and has been missed at Anfield.
His return will instantly improve the team. They have lost two games straight, and his return will be very welcome. For all his flaws, he is their leader and has always been (and will always be) a key figure in the hearts and minds of the Liverpool faithful.
The club needs him back. This is why.
5. The Team Is Struggling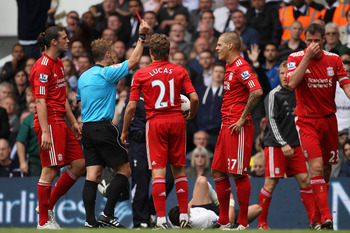 Clive Rose/Getty Images
Granted, we are only five games into the season, but for a team with Champions League aspirations, seven points from a possible 15 is simply not enough. The Reds have lost two and lie in eighth.
The struggles were personified in the 4-0 defeat to Tottenham. The team was weak and never looked like threatening. Defensively, they gave up easy goals, and they did little to stop Spurs' attacks.
Steven Gerrard instantly improves the team and might be the spark plug that sends this team back to where it wants to be. Wins are needed when you have goals like those of the Capitals, and a quick turnaround is important for the Reds.
4. Jordan Henderson's Inexperience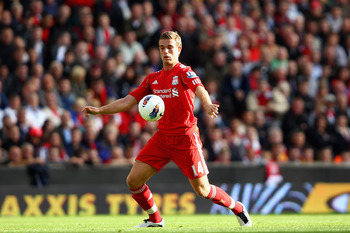 Clive Brunskill/Getty Images
Steven Gerrard has emerged as a key offensive player for the Reds, and without him in the team, the attack often looks stale. The Englishman is in a class of his own, and it is so hard for Liverpool's backup midfielders to try to take over his role.
In Gerrard's stead, youngster Jordan Henderson has been relied upon to be Liverpool's link between midfield and attack, and he has not stepped up to the level required of him. That link represents one of the most important positions in the team, and that player needs to be one of your best. Henderson, who was almost certainly brought in to be Gerrard's long-term replacement, has not stepped up to the task, and Gerrard's return will help ease the fluidity of the Reds' attack.
3. Formation Options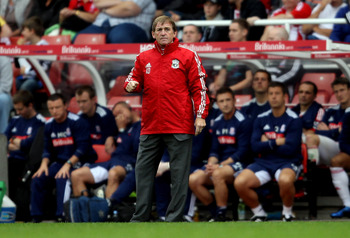 Scott Heavey/Getty Images
READ: B/R Featured Columnist Jake Rodd's analysis of Gerrard's impact on Liverpool's formation options
Wherever he plays, Steven Gerrard drastically improves the Liverpool XI. He adds a whole other dimension to the squad and his unique style changes the look of the team. Simply put, there are so many more options of which formations and tactics to field. Gerrard's versatility makes him a player Kenny Dalglish can field anywhere and expect to see good production in all situations.
It wouldn't be surprising to see Liverpool play a 4-2-3-1, with Steven Gerrard settling in as the lone attacking midfielder, backing up Luis Suarez. It is a well-rounded formation and would give Gerrard the permission to roam and control the attack in his own hands.
2. Offensive Catalyst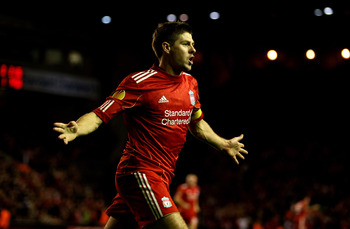 Clive Brunskill/Getty Images
As his career has progressed, Steven Gerrard has become more and more of an attack-minded player. The past few years, he has played in a supporting role to star striker Fernando Torres. With the signing of Luis Suarez, it is difficult to predict how the captain might fit into the squad.
That said, Steven Gerrard instantly improves the Reds' attacking options. He is, when at his best, one of the league's better players, and he would be a vital player on any team. He certainly is a key player for the Reds. Dalglish has heavily invested in improving his attack force since he took over, but his team has scored just six goals through the season's first five games. The missing piece could well be Gerrard.
1. Leadership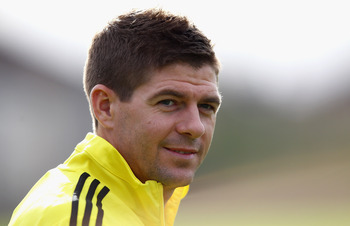 Clive Brunskill/Getty Images
No matter how many veterans you have in your team, only one man is your captain. That man is Steven Gerrard. The 31-year-old lives and breathes Liverpool. He is Liverpool.
The Anfield club have looked somewhat disoriented through the first few games this season. There is no leader there. It is clear more than ever how much they need their captain back. Dalglish's signing was smart and will improve this team a lot, but without the one man to lead the troops out to battle, nobody can make a full impact.
Liverpool will be a significantly improved team with Gerrard back in the Starting XI.
Follow Jake Ware on Twitter at @JacobWare95
Keep Reading

Liverpool: Like this team?