Arsenal FC: Victories a Must Across Next Three Critical Matches
September 19, 2011
Arsenal FC heads into a critical three game stretch tomorrow when they face Carling Cup opponents Shrewsbury Town, a nPower League Two team that is currently holding third on their table. 
Following that are games against fellow bottom-of-the-table dwellers Bolton Wanderers and what was once considered to be the weakest team in their Champions League group, Olympiacos (Arsenal may have displaced them in the eyes of many).  If there was ever a time that Arsenal needed to win and win big, it is now.
Actually, that time has come and past; that time was this past weekend against Blackburn.  Seeing as they lost, however, the new deadline is now.
Success breeds success.  As far as sayings go, it's simple and trite, and pretty spot-on.  In order to recover from a shameful loss in which they handed a victory to the team at the bottom of the Premier League table, the Gunners must show that they are more than the newest laughing stock of top-tier English footballing. 
 Perhaps the most important fact the surrounds these three games is the location.  All three games are home games.  Last year, Arsenal could boast that they had the best away record of all the teams in the EPL. 
Well, it mattered little when they couldn't defend the Emirates.  You have to travel midway down the 2010-2011 EPL table to Fulham before you find another side that lost as many home matches last year (4).  Manchester United didn't drop a single game at Old Trafford. 
With the second largest stadium in the EPL, the Gunners have to turn the Emirates into a ground that teams fear and will be intimidated in.  Highbury once provided us with that edge, and Arsenal must force that fear back into the hearts of their opponents.  Home field advantage cannot be a myth, it must be their 12th man.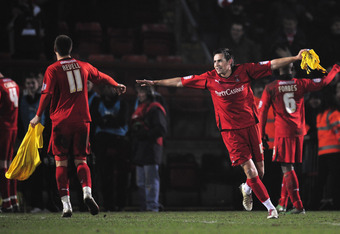 Shaun Botterill/Getty Images
Now, to look at their opposition in the run-up to a showdown against Spurs on 02 October.
While any win in the Carling Cup is still considered a victory, Arsenal cannot afford a debacle similar to that of last season where they were taken to task at Matchroom Stadium and forced into a second leg by nPower League One team Leyton Orient during the FA Cup.
In a similar vein, the Gunners face off against nPower Two's third place Shrewsbury and Arsenal must come out and be convincing, crushing the lower-tier team and imposing their will. 
Shrewsbury Town has started their own season strong and are brimming with confidence, something that a stumbling Arsenal is in dire lack of.  Even if Wenger uses the match to allow some of the younger players pitch-time, the Gunners must lay siege to the opposing goal and unleash a barrage of shots against Benjamin Smith in such a manner that the Shrews' keeper is as lost as Szczesny was at Old Trafford.
They must then follow that up with a resounding punch to the face for Bolton, a team that put the nail coffin for Arsenal's title hopes last season with a 2-1 victory at Reebok Stadium.  Yes, Wanderers are at the bottom of the table, currently only above West Brom, but at one point, so was Blackburn. 
Bolton faced a first four games as tough as any other side in the Premiership, starting with a cakewalk against QPR, but then facing Manchester City, Liverpool and Manchester United in succession before falling to newcomers Norwich City.  Their run of poor form (four consecutive losses) makes them another ideal target for the reeling Gunners to pause, collect themselves and fire accurately at, much like the Rovers game should have been. 
Richard Heathcote/Getty Images
This is a match that Arsenal cannot afford to lose if Arsene wants to keep his job (for those of you who believe his head to be on the chopping block).  It is a game in which the Gunners must once again show that, at the very least, the weaker teams in the EPL need to fear them and their home ground. 
Arteta, and whoever his midfield cronies are this week, will need to control the ball and allow Song to shield the back four from runs by Nigel Reo-Coker, Kevin Davies, David Ngog, Martin Petrov and Tuncay Sanli.  Ball control will be the only way to keep a dangerous Bolton side in check.
The last of these three must-wins probably presents the biggest challenge as well as carrying the largest near-term impact;  Arsenal faces off against Olympiacos Piraeus.  Once considered the smallest minnow in the Group F pond, it is hard to watch Arsenal and not think that their positions could very well be reversed come on September 28. 
The SuperLeague Greece champions are as much of a dynasty (if not more) in their league as Manchester United is to the Premier League, having won 13 of the last 16 league titles, runner's up in the other three instances, and a total of 38 top-flight championships in their history. 
They may be a member of a weaker league, but to underestimate the Greek side and lose this match would jeopardize the Gunners' hopes of advancing to the knockout stages of the Champions League.  At the absolute least, they must not concede a goal to Olympiacos for the import of away goals is tremendous for CL tiebreakers.
Should Arsenal emerge from these three games with victories, it would be immense to their confidence level heading to White Hart Lane on 2 October to duel with their bitter North London rivals Tottenham Hotspur. 
Tottenham is coming off of their own dismantling of Liverpool this past Sunday, where they rocked the Reds for four goals to pass Arsenal on the table.  They're likely still riding high into their Carling Cup match against Stoke (similarly beaten down by Sunderland 4-0 on Sunday), an EPL match against Wigan and Europa League fixture against Shamrock Rovers.
With this crucial stretch the Gunners may be able to stop the bleeding, but time is running out to rescue a season that has begun in disarray.  This fan will be eagerly watching tomorrow as Arsenal go to battle against Shrewsbury Town.  Succeed or Succumb, Gunners... your choice.
Gooner for Life.