Chelsea FC: 5 Reasons Fans Should Remain Optimistic About the Title Race
Julian Finney/Getty Images
We are just weeks into the new Premier League season and already critics have been raving about the scintillating football of the two Manchester sides as opposed to the unimpressive form of Chelsea.
But apart from a disappointing goalless draw at Stoke on opening day, Villas-Boas' men still boast a perfect record and a victory at Old Trafford today would see them leapfrog the Red Devils in the table.
It is far too early in the season to make any serious judgment about Chelsea, who have been grinding out results at a steady pace without setting the world alight.
But all the signs are there for a resurgence and everyone who has already written off the Blues for the title would do well to pay attention to today's match.
Here are five reasons why Chelsea fans should remain positive and upbeat about the season ahead while City and United fans should keep looking over their shoulder.
Strength in Depth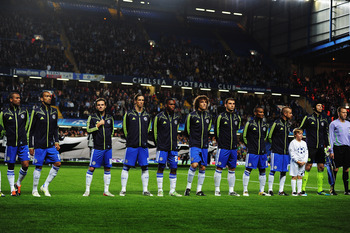 Jamie McDonald/Getty Images
The amount of options available to Villas-Boas, in defence, attack and midfield, gives Chelsea a considerable advantage.
The reincarnation of Bosingwa, who has finally started to once again display the form that made him one of the stars of the side, means that AVB has four world-class centre-backs to choose from in Terry, Alex, Luiz and Ivanovic.
The injury to Michael Essien was initially worrying but John Obi Mikel has been excellent so far this season and he has been supported well by Ramires and Lampard.
The influx of new talent has also given Chelsea a new creative dynamic and a link between attack and midfield that they often lacked last season.
Up front, Torres, Drogba, Anelka, Sturridge, Kalou and Lukaku are all jockeying for a place in the starting lineup, which gives Villas-Boas various different combinations to unlock opposition defences.
New Signings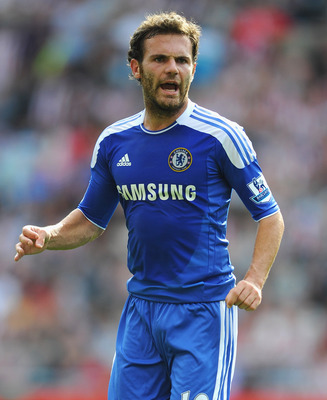 Michael Regan/Getty Images
Juan Manuel Mata has already provided a creative spark in midfield and, with two goals in three matches, looks set to become a worthy investment.
His clever link-up play and wonderful brain make him a player capable of creating chances and bringing out the best in his countryman, Torres.
Raul Meireles, Chelsea's deadline day signing, has already impressed as well and, given more of a first-team role than he enjoyed at Liverpool, he could become a mainstay in the Chelsea team.
The Blues are already looking more of a force in attack with chances being created left, right and centre and there is a feeling that it is only a matter of time before the goals start to flow.
Team Spirit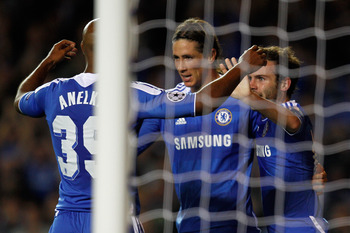 Paul Gilham/Getty Images
It is unclear as to the nature of Fernando Torres' controversial interview where he reportedly criticised his teammates and the average age of the Chelsea squad.
One thing is clear, however, and that is the way the Chelsea players have rallied behind their much-criticised No. 9.
Torres had a hand in both the Chelsea goals in midweek, including a piece of unselfish play where he put it on a plate for Juan Mata.
It was very obvious in the way that both David Luiz and Mata made a point of recognising Torres' contribution that his teammates still believe in him.
Chelsea's team spirit has always been laudable and the core of the team—Cech, Terry, Lampard, Cole and Drogba—are as loyal as they come.
Whereas it could be argued that Manchester City are a squad filled with overpaid mercenaries that care nothing for the club's identity, there is still a pride that all our players show when they pull on the royal blue shirt.
The History Books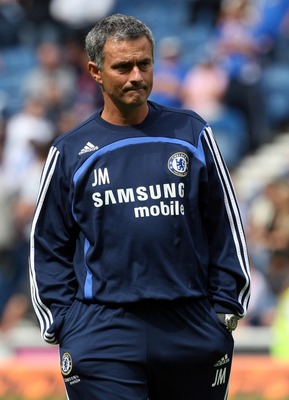 David Cannon/Getty Images
In the summer of 2004, Roman Abramovich splashed the cash to sign a young Portuguese manager who had distinguished himself with FC Porto.
That man's name was Jose Mourinho and he enjoyed a very similar start to Villas-Boas. Chelsea were repeatedly winning 1-0 or drawing games that should have been won.
Meanwhile, Arsenal, fresh from their undefeated season the campaign before, were breezing through their matches, annihilating all in their path.
But it was Chelsea that kept plugging away until finally the goals started to come and Arsenal slipped to disappointing defeat after disappointing defeat.
Mourinho won the title in his first season and there is no reason why Andre Villas-Boas cannot do the same.
In recent seasons as well, Chelsea have historically started extremely well with two 6-0 wins early on last season. But while Ancelotti's side were racking up the goals, United were grinding out results as only they can.
The outcome last season did not go Chelsea's way and it is not set in stone that Manchester United will continue to excel each and every week.
Indeed, this is arguably their first real test of the season and it will be interesting to see how their young side holds up.
Fernando Torres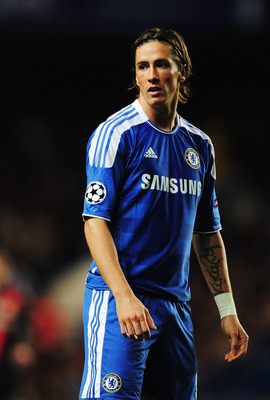 Jamie McDonald/Getty Images
All the pieces are falling into place for Fernando Torres to finally enjoy a goal scoring run with Chelsea football club.
The creativity behind him in midfield coupled with the pace and touch of Daniel Sturridge mean that the club will start to create more and more chances.
It is only a matter of time before Torres starts to hit the back of the net and there is a general consensus that once he opens his account for the season, he will be unstoppable.
Keep Reading

Chelsea: Like this team?