Arsenal FC: Arsene Wenger's Premiership-Lite Gunners Are in Danger of Failing
September 18, 2011
Laurence Griffiths/Getty Images
The Fallout
Five games into the new season and perennial top-four contenders, Arsenal, have only taken four points from a possible 15. In those five games were matches against Liverpool and Man United, two teams Arsenal are expected to contend with up in the higher echelons of the Premier League. In the relegation zone these would be classed as six-pointers and Arsenal failed to pick up any, losing both games comprehensively.
This included the biggest humiliation in Arsenal's history during an 8-2 mauling by the Red Devils. Arsenal's first game of the season was against a mediocre Newcastle team and in the end they were lucky to come away with a draw. The three points gained against Swansea, at home, were hardly deserved; believe me, I was there. I will expand on this later.
After a decent result in Dortmund, confidence was supposed to be at a high and the team were meant to kick on improving on form. However, what happened next was nothing less than a progression in the wrong direction, downwards.
Blackburn Rovers versus Arsenal FC, a fixture that should have been an easier result to read, but instead became a true window into the problems of the Gunners. Blackburn were not without their problems leading up to this game: bottom of the league, one point from four, and the fans calling for the head of the manager. In fact, before the game the Rovers fans had arranged a march outside the gates of the stadium to display their discontent. Steve Keane was under more pressure than Arsene and yet this weekend Wenger was able to lend the Blackburn boss a lifeline.
The first half brought about a decent performance from the Gunners and though they couldn't hold the ball like in seasons of old, Arteta was doing his best to get stuck in and boss the game. Arsenal scored first with a neat finish from Gervinho. However, Arsenal will not learn from old mistakes and soon Blackburn had equalised through Yakubu and a poorly played offside trap assisted by newbies Mertesacker and Santos, Koscielny and Sagna.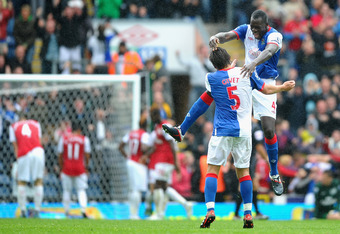 Laurence Griffiths/Getty Images
Before the second half was done, Arsenal were able to hand Arteta his first goal of the season, after some good attacking team play. Halftime came and Arsenal had 45 minutes to see off an important three points, coupled with an improved performance. This would have been Wenger's moment; however, incidents were to prove otherwise and what has now become Arsenal's routine capitulation reared its ugly head yet again.
The game ended 4-3 in favor of Blackburn after some calamitous defending and no less than two own goals. A late comeback was possible after Wenger finally decided to try two forwards up front contributing in actual crosses from the wings which culminated in a great header from Chamakh to give the team hope, but all was too late.
Wenger Can Do No More
This is my opinion and it is something I have documented for the last few seasons so it is by no means a knee jerk reaction:
Wenger is a manager who had done so much for Arsenal's history that he has deserved the right to turn the fortune around for his team despite winning nothing for six seasons. Mistake after mistake has occurred in this time and though his fans will back him to the hilt, the state of the team must fall on his shoulders.
He has let players leave too early, failed to make sure contracts were tied up, failed to purchase the correct players and worst of all, failed to correct the issues on the pitch. His ardent followers fail to see that the grass must be greener, rather than continued failure and a regression in football. His fans buy into everything he says about English players, transfer fees, referees, older players, injuries, luck, younger players and tactics. Now it's time to say Mr. Wenger is wrong.
Transfers
Wenger has got it wrong again this year and his judgement has deserted him over the years. This season he could have purchased Premiership-ready players that would have fit the bill. His fans will always ask for foreign talent from overseas leagues but that is not what this Arsenal team needs and this has been evident for a while.
This season, Wenger had the chance to purchase Cahill, Samba or Jagielka. I would have purchased two out of the three and yet he did not buy one of them, instead choosing Mertesacker from the Bundesliga. Mertesacker was the bargain, but with his decreased speed and lack of Premier League knowledge, was this not a risk the team could not afford?
The excuse of "We do not have a funds" has finally shown itself to be a lie because the money is clearly there. These excuses must cease; explain how Wenger is able to purchase an 18-year-old, Alex Oxlade-Chamberlain if there is no money. Surely, this is a purchase that is not a priority for Arsenal. He spent approximately £17 million on a player who will hardly feature in the first team this year.
Also, Wenger delaying the inevitable with Fabregas and Nasri has had a detrimental effect on the side technically and mentally. In the end, Wenger had to panic-buy and though Arteta and Benayoun were good purchases, they were not of the same ilk of the two to leave. 
Tactics
I think it is time that the tactics be revised because it is now too easy to read for the opponents. No team is afraid to play Arsenal these days and something must be addressed. I witnessed Swansea batter our wing backs with Scott Sinclair and Nathan Dyer; there is simply not enough cover and Sagna and Gibbs were often left one versus two on every occasion. This is especially dangerous with Arsenal due to the weak central pairings which are slow to react to movement and ridiculously inept in the air when it comes to attacking the ball.
Despite the great efforts of the Arsenal captain, Robin Van Persie should not be playing as a lone striker; it is just a waste of talent and also will leave him more prone to an injury. He really should be floating around, linking up and making things happen. Against Blackburn, Chamakh came on and the link up was far better and crosses were coming from the wings. In fact, in Chamakh's goal it was the great cross from Van Persie himself that set him up.
Arsenal would benefit from widening their play and becoming less predictable and that would suggest more of a 4-4-2 formation. I believe it is time to stretch the defenses to the by-lines and whip crosses in to strikers who will make runs across the goal or to the back post. But what do I know? I am not the great one-dimensional Wenger. 
Evaluation
Something has got to change and it must be the ethos. If the players have no confidence and are unable to perform it all stems from the dressing room. Wenger lost his grip a while back now and he is fighting a losing battle. His players show no loyalty to him just as he shows no loyalty to them as soon as they become a certain age.
You get what you give. Where are the legends? They should still be walking around the stadium like they do at Manchester United, made to feel at home, able to transfer the legacy of old to the newer recruitment's. Not at Arsenal. Wenger has created his own legacy and no one can have a part of it.
It used to be that players would leave Arsenal and destroy their careers; however, now it appears a great weight is being lifted and the players are moving on to bigger and greater things. For instance, Traore is now on the top of his game at QPR free of the shackles of expectation at the the Emirates.
Wenger now looks a broken man on the sidelines and this is channeling through to his players. It is not a good sign or a good aura.
My conclusion is that he must go and has had more opportunity than any other modern manager. He can only blame himself as he has made some major decisions which have backfired. Nobody should be making any more excuses for him. It is time to face the truth: his policy of the last six years has failed him.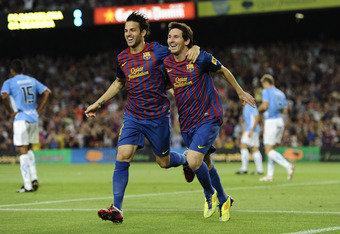 David Ramos/Getty Images
Wenger has only managed 16 points in Arsenal's last 16 games in the Premiership. Those are bottom half of the table statistics; how he can save face and hold onto his job comfortably is perhaps his biggest miracle.
The football has digressed so badly that the team sit 15th in the table after five games. The excuses must be washed out and a new era must be ushered in to save this team from digging their own grave. Wenger must be sacked and the board must be addressed also. It is time for the new library to make noises of discontent because these people have lost a grip on what really matters. Winning.
Follow me on Twitter. I'm new to this... @SamuelMensahLDN