Arsenal FC: Sound the Death Knell? Evidently the Season Is Already Over
September 17, 2011
Laurence Griffiths/Getty Images
Insert the popular phrase, action, or epic face-palm here.
The Gunners suffered a massive shock to the system today by losing 4-3 away to the woeful Blackburn Rovers.  In a game that took Arsenal through the full gamut of emotions, the boys in red and white were shown the door by a side that seemed to suddenly click in the second half.
What momentum Arsenal had built after defeating Swansea last week and drawing at Borussia Dortmund on Tuesday was expended on a rainy afternoon that drowned their confidence at Ewood Park.  
But is it the end already?
Writers around the world are once again exclaiming the death of Arsene Wenger's charges and threatening relegation.  Many of the excuses used to counter these arguments are no longer valid.  Arsenal is largely healthy, although still missing two crucial members of the Starting XI. The new boys have had a couple of games to work themselves into the starting lineup and four of the new transfers were on show today.  Arsenal found its offense, scoring three times after having scored only that many in total in their other four EPL games.  So a lot of things were seemingly right and a victory should have been expected.  So what happened?
Defense.  Rather, a lack thereof.  At times, the Gunners looked coherent and relatively solid in defense.  Mid-week they performed an amazing turtling job against a Borussia Dortmund onslaught, but one thing that is clearly evident is that the back line is horrible at communication.  They don't hold a line.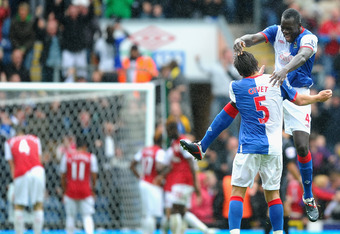 Laurence Griffiths/Getty Images
Two or three of the players have no concept of covering down on their teammates; Santos and Koscielny could have both picked up Yakubu as he slid behind Mertesacker for Blackburn's first goal. Mertesacker forced critics and supporters alike to question his decision-making ability as he attempted to play a high line that he has no business playing due to his lack of pace (don't get me wrong, I think he's an excellent player, but I know his limitations).  
Left back remains a question and, as a reader commented in another article, the solution may lie in abducting a player or two and cloning them in secret.  Andre Santos made his first start and, while he showed his promise, he also showed his flaws and lack of ability to read the game.  Is Santos any better than Gibbs?  Jury is still out, but what is not in question is that the left side of the Gunners' defense is still in trouble.  I'd like to see Santos get a few more games to see if he comes around, but we may be better off dropping the fourth defender and adding another attacker for all the defense that Santos and Gibbs really play (exaggeration, but not by much).
As was the case last year, Arsenal allowed set-piece kicks to find the ground inside the box before clearance and Rovers scored twice as a result.  Alex Song, so strong for the Gunners, was unlucky to knee in one while a missed offsides call was but a nitpick on a play where the Gunners failed to connect high and get the ball away from goal.  One can only ask what Koscielny was thinking for another own goal and a 2-1 halftime lead crumbled to a 4-2 deficit by the 68th minute.  While not so dramatic, shades of a Newcastle comeback echoed through Ewood to see Rovers through to victory.  What a mess.
With that said, Arsenal could have been in even more trouble had the offense not found itself. While not without gaffes and another wasted opportunity on an elementary counterattack, the Gunners still netted three times and would have scored more without Paul Robinson showing his quality in saves against Robin van Persie towards the end.  RvP looked sure to score in the 82nd minute off of a corner but a brilliant save by Robinson parried away the forceful header.  In injury time, another save from Robinson against an RvP strike summed up the day:  "no soup for you!"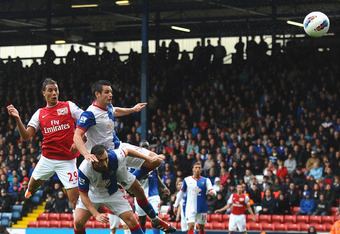 Laurence Griffiths/Getty Images
Brilliant play saw both Arteta and Gervinho score their first EPL goals for Arsenal.  Marouane Chamakh rediscovered some of his touch, rising well on an exquisite pass from the left and heading past the keeper as time dwindled down.  If the Gunners had just been slightly more on point, Mertesacker and Chamakh would have had additional headers, so there is still promise of the offense getting better.  Wilshere will improve this, too.
So what does this all mean?  Is anyone else able to grab a coherent thought from my ramblings?The offense could be on the way back and the defense... well, the defense remains a huge question.  I am definitely concerned for the Gunners and I may have to revisit a previous opinion piece sometime in the future, but I'm not ready to declare Arsenal as a team facing relegation.
At some point, you simply have to believe and my faith in Arsenal remains, however shaken it may be at this moment.  Until I see more evidence to the contrary, however, I find it impossible to believe that the Gunners cannot still find a way back and prove most of their doubters wrong across the next 33 games.
Gooner for life.