Portland Timbers Keep MLS Playoff Hopes Alive, Dominate New England Revolution
September 17, 2011
Tom Hauck/Getty Images
The Portland Timbers are still alive.
The team's pulse was slow and faint just a few weeks ago after a harsh loss to Sporting K.C., but now they are clearly alive and well.
The Timbers have gone unbeaten in their last four matches and kept clean sheets in their last three.
If the season were to end today, they would find themselves in a playoff position—an absolutely tremendous feat for the MLS newcomers.
Portland came out Friday night with incredible energy. They were determined. This was nothing new for games at Jeld-Wen Field, but with every game vital, it was important that they didn't play timid and flat.
This energy turned into an early goal from Diego Chara (9th minute) off a beautiful Lovel Palmer cross. Chara just tapped it past Revolution keeper Matt Reis in a one-on-one situation.
Kenny Cooper had some amazing opportunities to score early but failed to capitalize on them until the 32nd minute. Mike Chabala hit a wide-open cross from the left side towards a streaking Cooper, who was running like a diesel truck toward the goal. Cooper drilled it into the back of the net off his left knee, sending the home crowd into a frenzy.
It was a brilliant first half of from the Timbers. In fact, head coach John Spencer said afterward that it was not only some of the best soccer he'd seen from his squad, but some of the best he'd seen in the MLS this season.
As the second half began, New England came out with a plan to get a goal. They took in the Timbers pressure and looked for counter opportunities. They came close on a few occasions, but the Timbers defense stayed strong.
When Kalif Alhassan found Darlington Nagbe for a header goal in the 66th minute, New England's hopes were done.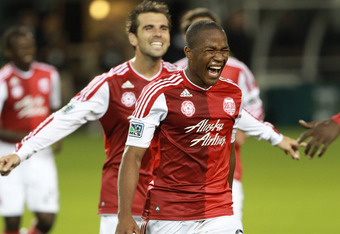 Tom Hauck/Getty Images
Portland had to win this game. Especially with only two more home games out of their final six to end the season.
Timbers players would do their playoff hopes a favor by playing as well as they did in the first half of Friday night's match.
Up next are the San Jose Earthquakes on Wednesday, September 21 at 7:30 pm. The game is at Jeld-Wen, so it will be important that Portland comes out in that game exactly like they did Friday night.
Nothing is said and done yet, but Portlanders can't help but feel optimistic about their team's playoff chances after Friday's win. They are alive and well.
It's going to be a wild finish to the season. Stay tuned.