Arsenal FC: Time for Theo Walcott to Produce European Form in the League
September 16, 2011
Jamie McDonald/Getty Images
Theo Walcott must use tomorrow's encounter with Blackburn Rovers to finally reproduce his promising European form in the Premier League.
Walcott has endured a mixed start to the new season. He is Arsenal's joint leading goalscorer and has shown signs that he is finally ready to lead the front line and be an influential player for the Gunners.
The problem is that Walcott's best moments so far this season have been confined to his outings in the UEFA Champions League.
With two goals and an assist in Arsenal's first three European fixtures, Walcott has made a vital contribution to the start of this season's Champions League campaign.
However, in the Premier League, Walcott has been badly off the pace. Despite scoring at Old Trafford, Walcott failed to consistently trouble the United back line and exploit the gaps behind the raiding Patrice Evra.
He floundered against Liverpool and Swansea, demonstrating a worrying reluctance to put himself in the best attacking positions.
The common defense of such mediocre performances is that Walcott is played out of position.  However, this view has little credibility, given Arsene Wenger's track record with wide players and the fluid style of football he advocates.
Wenger has never utilised wingers and has instead opted for left or right sided midfielders or wide, roaming forwards.
Given the interchangeable nature of Arsenal's intricate passing style, it is inconceivable that Walcott should feel he has to stay on the wing.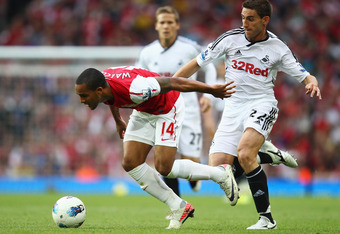 Clive Mason/Getty Images
The requirements of Arsenal's hybrid 4-3-3 also contradict the position issue. In the modern game, wide players in a front three are expected to move around and look for gaps in the defense by swapping positions and varying the direction of their runs.
FC Barcelona duo David Villa and Pedro are the prime examples of this, but there are many more. Today's footballing style and tactics make no room for conventional labels like the "traditional No. 9" or "the out and out winger."
Playing in a fluid front three still affords Walcott plenty of opportunities to attack the central areas he claims to favour.
It is up to Walcott to involve himself more in Arsenal's style, not by functioning as part of the build up, but instead by making the runs to position himself as the perfect foil and end product for Arsenal's slick passing moves.
With his pace and highly accomplished finishing, Walcott would then find himself netting the number of goals any type of forward player would be proud to claim.
Incisive runs and a goal tomorrow at Ewood Park would be a positive step in the right direction.