Manchester United vs. Chelsea: 7 Key Battles for the Match at Old Trafford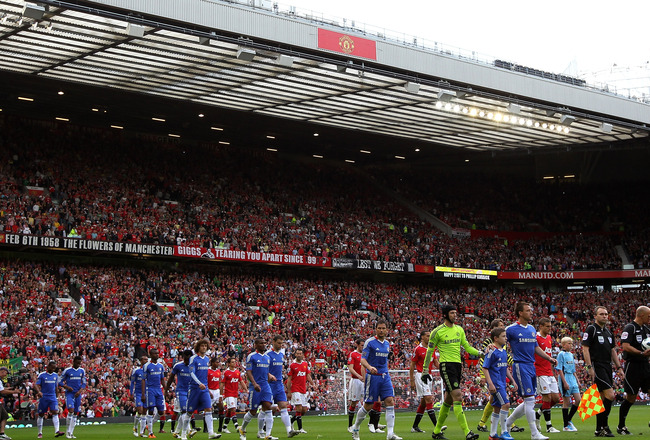 Alex Livesey/Getty Images
The last time these teams met, Manchester United was holding off a late surge from Chelsea to claim a record 19th title. A lot has changed since then for both of these rivals, though the excitement and hype surrounding this match remains the same. When these clashes between the big boys occur so early in the season they just kind of sneak up on you. What a nice surprise to find this on matchday Sunday.

In May, Chelsea were still managed by a rotund Carlo Ancelloti who knew his time was up. I guess getting paid millions of pounds to do nothing gives you time to get back in shape. It is quite remarkable how Abramovich is willing to pay off managers, who were never given enough time to build a team in the first place, while they laugh all the way to the bank.
Now it's the relatively young Villas-Boas in the only hot seat to rival Real Madrid in terms of pressure and expectation. Chelsea's oligarch is still looking for that elusive European title and it remains to be seen how much time the former Porto manager will be given. I have to say it is likely that Villas-Boas will be walking out with a fat check in a couple years time if he doesn't fulfill the expectations of the owner, and quickly. If only we all could be faced with such dire consequences for a sub-optimal job performance.

Chelsea are a side in flux, as are United, but the Blues haven't seemed to have adapted their squad as well as the Red Devils. Of course, few do it better than Sir Alex. For a few years many have said one of the previous seasons is where Chelsea's aging squad would give out. During the slump last season, Abromovich recognized it had finally happened and panicked. The result being £50 million for Torres.
Malouda has faded, Drogba has been less than imperious, Torres is a mystery and Lampard has lost what little place he had. The influx of some proven young talent, and some older, can only improve the squad. Still perplexed why Liverpool let Meireles go, but that is an improvement to Chelsea's midfield and more fits the system Villas-Boas is trying to implement. Mata will provide creativity on the wing and score a few himself.
The return of Daniel Sturridge from loan is a boost to their striking options. Young Ramires looks like a real player. The return of David Luiz from injury bolsters their defense of which their are still questions. It will be interesting to see how this version of the team plays over the course of the season.

Manchester United did their business early and had a great summer tour where you could see the beginnings of the new flowing football. Phil Jones is a standout signing and has proved vital with both Ferdinand and Vidic out injured. Ashley Young, Rooney, Nani, Welbeck and Hernandez have all come together to create a quick, decisive attacking force. Sir Alex was happy to make eight substitutions for the midweek Champions League match with a mind towards this Sunday's meeting. A shame Cleverly will be out, but now we will see just how important of a player he has become so quickly.

This is the first real test for either team so far. Manchester United played a depleted Arsenal and a weakened Tottenham side. Chelsea haven't played anyone that will finish in the top half of the table. The great thing about these matches for a neutral is always the great talent on display so let's look how some of those players will match up in what should be an exciting match.
Anderson and Carrick vs. Ramirez, Lampard and Meireles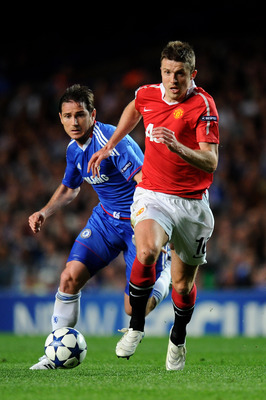 Mike Hewitt/Getty Images
With Cleverly out it will be up to Carrick to display some quality against a solid midfield three. He is a player who can raise his level of play when the players around him perform at their best. With Rooney, Young, Nani and Hernandez as an attacking front four, he should have a decent game sliding balls into the channels.

Meireles created one of Chelsea's goals and moved up from deeper midfield in places to really influence the game. He will most likely be asked to disrupt the play of Anderson and Carrick in this match and distribute the ball to the more advanced midfielders.

Cannot be sure what type of game Lampard will have but you can be certain that Ramires will be the driving force of the Blues midfield. It will be great to see the two young Brazilians come together in a battle for midfield.

This area of the pitch is always a key factor in deciding a match. It is really tough to say who the winner in this subplot will be.
Rooney and Hernandez vs. Terry and Luiz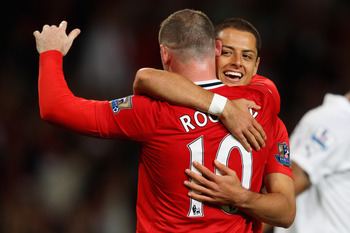 Alex Livesey/Getty Images
Why Hernandez is the first-choice strike partner for Rooney ahead players like Berbatov is twofold. Chicharito likes to play off the shoulder of the last defender and get in behind. This creates space in front of defense for Rooney to roam around and influence the match as he so enjoys. Hernandez scored so quickly the last time these teams met that it really put Chelsea off their game.
Terry and Luiz will be on alert to prevent something like that hampering their chances at Old Trafford on Sunday. Terry has been good so far this season. But he also has not faced a front two like this, while Luiz is coming back from injury. They will be tested and this match will give us a better idea of whether or not Terry has really lost a bit of pace. Luiz is a high-quality player but can end up getting a little too tight to players for his own good. These are the wrong two strikers to do that.
The center-backs would be wise to back off the front two of Manchester United and make them work the ball out wide where they can assert their dominance in the air on any crosses that come into the box.
Rooney has looked a reinvigorated player. Partly because of the summer off, partly because of the new hair and maybe his wife is done being pissed at him for sleeping with a prostitute while she was pregnant (sorry, couldn't resist). Rooney turned 25 this year and it is scary to think that as good as he has been, he is now entering the prime of his career. I would put a fiver on him getting on the scoresheet first.
In this matchup, I think the pair of United strikers has the upper hand. But the Terry-Luiz partnership is more than formidable and the free-ranging front men will have to produce some magic to unlock these two.
Sturridge vs. Evra and Jones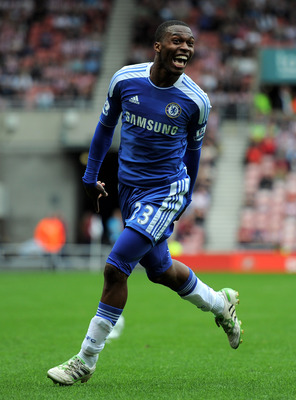 Michael Regan/Getty Images
There is no doubt that Patrice Evra is one of the world's best left-backs—has been for a long time. He rarely puts a foot wrong defensively and is a potent attacking force. After an excellent performance at right-back, Jones will come back in along fit again Rio Ferdinand. Daniel Sturridge is the unknown factor on this new-look Chelsea side. What the talented young striker can produce against Evra will go a long way to determining the potency of the Chelsea front three.
For Bolton on loan last year, Sturridge basically couldn't stop scoring. One of his best attributes is taking what little opportunity he is given and getting the ball in the back of the net. He will need to do the same against the likes of Evra and Jones, whom he will also be bumping into.
The front three of Anelka, Mata and Sturridge just looked more fluid than when Torres has been in the side so that is why I am anticipating another start for the young Englishman. Chelsea would do well to play some diagonal balls to Sturridge that will create space for the likes of Anelka and Mata, along with Lampard arriving from midfield.
Sturridge was I think man of the match against Sunderland followed by new signing Meireles. I think he will cause United some real problems.
De Gea vs. Crosses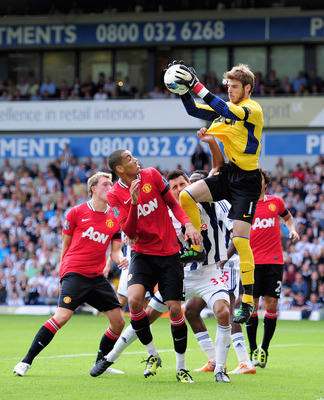 Shaun Botterill/Getty Images
Despite all the criticism for some lax errors on the part of de Gea, he has the most saves of any keeper in the Premier League so far this season. Given that the Spanish goalkeeper is still adapting to the physicality of the Premier League, it was assumed that teams would try and get bodies around him contesting every ball in the air. To the detriment of their chances, I have not seen any team so far really test the young shot-stopper in this fashion.
Chelsea will look for width from Bosingwa and Cole coming down the flanks. Villas-Boas would be wise to instruct his full-backs to get balls into the box early and see if they can rattle the 20-year-old. Chelsea are potent from set pieces and that might be a situation where they can get the ball into the back of the net.
This will be the first real test for United and a stern one for de Gea.
Juan Mata vs. Smalling and Ferdinand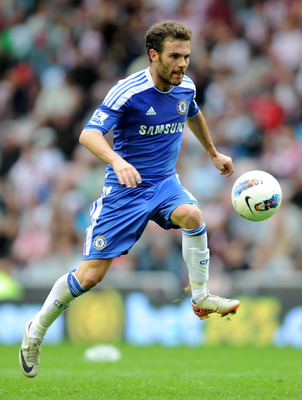 Michael Regan/Getty Images
On the left-hand side of Chelsea's front three will be new addition Juan Mata. Having scored on his debut into the side, much is expected of the Spanish star in terms of creativity and goals. He has been good so far for the Blues and can only improve with more time to adapt in the Premier League.
Smalling has been excellent wherever he has been asked to play by Sir Alex. Like most future great central defenders, he has shone in the right-back position, done well going forward and been stalwart in defense. His task of hindering Mata will be a steep one.
Mata likes to cut inside from the wide left position to link up play with the full-back and central striker. This will mean Smalling and Ferdinand will have to be in sync. Smalling will have to monitor trailing runs by Cole and Ferdinand will have to mark Mata when he comes inside.
As stated previously, getting balls into the box from the wing would be a good way to settle United early on and Mata is more than capable to complete this task. He is silky on the ball and will have to get Smalling turned around to put in the right ball for Anelka and Co. to latch onto.
With Ferdinand coming back from injury, Mata has a chance to sign on the left and influence the match coming into central areas and linking up play. Something to watch for.
Fernando Torres vs. Fernando Torres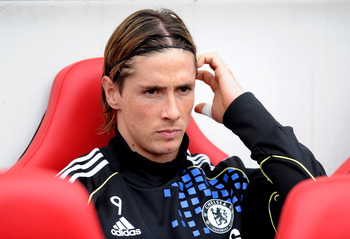 Michael Regan/Getty Images
It was reported that members of the Chelsea coaching staff have been going over the best performances by Torres in a Liverpool shirt to see if there were any positional differences, points of attack or any other insights they could use to get their record signing back to his world-class form. Apparently, they did not find anything of note to report. He is still picking up the ball in the same positions, his movement similar to his better days. The only conclusion then would be that it is mostly mental. For strikers, it is usually the case.
The pressure on Fernando has been building, and building. If it weren't for a puddle on the pitch at Upton Park, Torres would have zero goals for the Blues since his big-money arrival. For a Liverpool supporter, it was heartbreaking to see him go, but it wasn't without the backdrop of already questioning if we would ever see him at his best again. At Liverpool, it was blamed on his disinterest and dissatisfaction of the progress the Reds had made and the squad around him.
At this point, he has no excuse. Price tag aside, the supposedly main striker for a club like Chelsea has to be scoring.
He will get on the pitch during this Sunday's match. If the match is still tight after an hour, he would have a great chance to get King Kong off his back and slot home a winner. Many pundits have said the goals will come eventually. I don't think there would be a better stage to start a habit.
Nani and Young vs. Cole and Bosingwa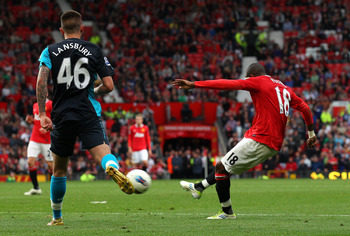 Alex Livesey/Getty Images
With Nani and Young as your first-choice wingers, United have a surplus of speed on the flanks. Both are prone to cutting inside instead of clutching to the byline but that has mattered little, as the Red Devils have easily dispatched all of their Premier League opponents so far. The understanding between their attacking front four is plain to see and scary to come up against.
Nani and Young will for once be coming up against two defenders with equal amounts of pace. Ashley Cole has been quiet for Chelsea so far this season and would do well to push up the pitch as that would require one of the two position-swapping wingers to track back more often than not. This may expose Chelsea a bit at the back but a shift of the holding midfield Meireles will provide cover.
Disrupting the attacking play of United will be paramount to victory away from home. If Bosingwa and Cole can display from attacking intent early on, Young and Nani will have to keep that in the back of their minds lest they get caught out too far up the pitch.
I would anticipate seeing Young and Nani popping up on either side of the front two, with one tucking inside while the other has possession. This movement allows United to attack with the quickness we have seen so far.
This will be one of the deciding matchups in this derby-like fixture.
Shaping Up To Be an Excellent Clash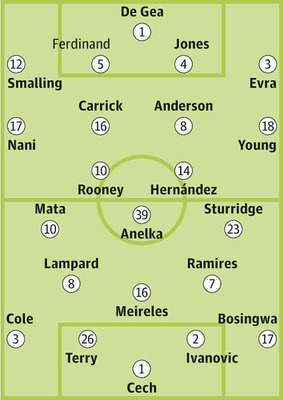 Not a title decider, not a title predictor and maybe not even a sign of things to come. It is too early to draw too much from this match and apply it to the rest of the season. No Cleverly for United and growing pains for the Blues will mean that mostly bragging rights are up for grabs.
A win away for the Blues will slow down the United freight train a bit and give the rest of the top teams insight on how to further impede their progress. United are favored to win the match but historically this is a cagey affair, full of tough tackles and high emotion. I'll go ahead and call it and say 2-2, honors even.
Enjoy the match everyone.
Keep Reading

Manchester United: Like this team?