FC Barcelona: Cesc Fabregas Right at Home with La Blaugrana
September 19, 2011
David Ramos/Getty Images
As an Arsenal supporter, it pains me to admit it, but Cesc Fabregas is finally home and exactly where he was always meant to be.
It may have taken longer than anticipated, the prolonged transfer saga that eventually returned Cesc to his boyhood club, but now that it is in the past, we are witnessing the fruits of that endeavor.
There was no denying that the 24-year-old Catalan would someday return to Barcelona to follow in the footsteps of his footballing idol, Pep Guardiola. Raised at La Masia, Barca's renowned footballing academy, Cesc matured and polished his game abroad, leading Arsene Wenger's Arsenal side as their most influential player and team captain.
Watching the immensely talented midfielder develop throughout the years, there was little doubt that Barcelona's current style and system suited him almost perfectly. Their obsessively organized attack built upon ball possession and deft passing seemed to continually call to him, imploring him to join the most successful club in Europe at the moment.
However, the question lingered whether Cesc was a required piece, or rather an extravagant luxury, considering the amazing collection of talent assembled in Barcelona's midfield.
There were doubts in some minds, fearing that however talented he may be, Cesc may experience difficulty breaking into Barca's lineup, with the irrepressible duo of Xavi and Iniest orchestrating the attack from the heart of the midfield.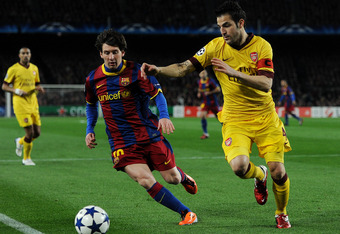 Jasper Juinen/Getty Images
Would such a gifted young player in his ascendancy be willing to bide his time as a squad player, waiting to inherit the crown of Barca's creative force from the 31-year-old Xavi? As Arsenal's captain, could the allure of Barca's technical mastery and esteem within the football world overcome his desire to continue his leadership role in London?
Those questions were finally answered on August 15, when the transfer saga to return Cesc to Barcelona reached a conclusion, as the two sides agreed to a deal of £29 million (€34 million) with a further £4 million (€5 million) in additional fees.
Despite the crippling blow it dealt to their club, most Arsenal fans could not begrudge the player his desire to return home to the club he supported as a boy. With strong family ties to Barcelona, as well as his identity as a Catalan, Cesc's move homeward was a long-developing dream come true.
In addition to his roots at the club calling him home, the current form of Pep Guardiola's side and the opportunity to play alongside lifelong friends and modern legends of the game proved too great to resist any longer.
Almost upon arrival, Cesc merged seamlessly into the close-knit fabric of the Barca midfield, appearing at home in the heart of the dominant Spanish club. In just his second appearance with his new club, he came on as a late substitute in time to score a superb goal against FC Porto to help Barcelona win the 2011 UEFA Super Cup.
The issue of his playing time still lingered, as he was spending significant time on the bench, watching the established midfield trio of Xavi, Iniesta and Sergio Busquets orchestrate the Barca possession game.
Jasper Juinen/Getty Images
He didn't have to wait long, however, as Iniesta suffered an unfortunate hamstring injury in Barca's clash with AC Milan in the Champions League group stage, a blow which will sideline the dynamic midfielder for at least a month.
One man's misfortune is another man's gain, however, and the early season blow to Iniesta opened the door for increased playing time for Cesc, allowing him to fully integrate himself into the Barca system.
Even before the injury, though, Cesc had been gaining increased action on the pitch, as his performances immediately justified his transfer and regular inclusion in the squad.
Handed his first start as a member of Barca's senior team, Cesc contributed another goal and an assist in a 5-0 demolition of Villareal at Camp Nou.
Immediately following his initial La Liga start against Villareal, Cesc enjoyed a successful international break, playing a vital role in Spain's friendly against Chile. Subbed on in the 63rd minute, Cesc sublimely finished two goals, propelling Spain to a 3-2 triumph. Following a substitute appearance in a 6-0 blowout of Liechtenstein, he returned from international duty with a massive contingent of his Barca teammates, who comprise much of the Spanish National Team.
After the international break, Cesc started again, playing all 90 minutes and adding another goal in a 2-2 draw away to Real Sociedad.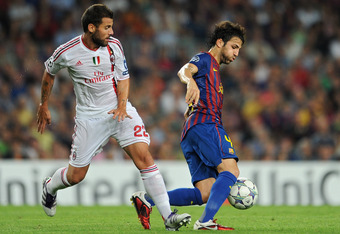 Jasper Juinen/Getty Images
Then came the fateful game against Milan in which Iniesta suffered his injury, perhaps opening the door for Cesc to become an indispensable member of the Barcelona squad,
In their most recent match, Barcelona's new midfield virtuoso again displayed his considerable talents and creative vision when he was at the heart of a devastating assault on Osasuna, in which Cesc and his teammates tore apart the Pamplona club 8-0 at Camp Nou.
During the mauling of Osasuna, Cesc scored a sublime goal on a brilliant, left-footed volley, after latching onto a chip from Lionel Messi.
Cesc returned the favor twofold by providing a pair of assists for Messi, who captured a hat trick in the decisive victory. Barca's newest midfield hero added another assist on a goal from forward David Villa. All told, Cesc's masterful performance netted his third goal in La Liga, and his trio of assists pushed his total to four in three league matches.
Overall, in six appearances for Barcelona, Cesc has netted four times and provided four assists to his new teammates, proving to be a dynamic force for the club who originally raised him. 
The apparent understanding he has with Lionel Messi is a tantalizing prospect for Barcelona, enabling them to dream of countless through-balls and intricate passing displays between the Catalan midfield magician and the diminutive Argentine superstar.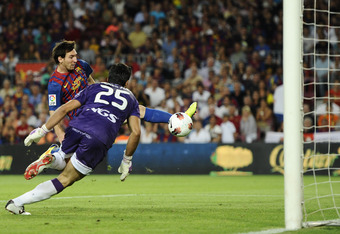 David Ramos/Getty Images
With yet another masterful passer plying his trade at Camp Nou, opponents figure to continue seeing little of the ball, as they can simply on most nights to minimize the damage that Barcelona's powerful attack is capable of inflicting.
Dominant as they may be now, Barca's future continues to shine brightly as well, considering Cesc and Messi just turned 24 years old in recent months.
Along with that dynamic duo, Gerard Piqué and Pedro are 24, Busquets is 23, Alexis Sánchez 22 and Thiago Alcântara is 20, giving Barca an immensely talented core around which to build their next decade of dominance. 
That's a frightening prospect for the rest of La Liga, as the best most teams in the division can hope for is to compete for third place. Barca's supremacy shows no signs of subsiding anytime in the near future. 
While London still mourns his departure, and his former club Arsenal struggles to overcome the massive void at their core, Cesc is well on his way to definitively confirming the world-class reputation that he had forged during his years in the Premier League.
We have seen Cesc perform at an elite level for years as a Gunner, but never in his English career was he surrounded with the caliber of talent that he is at Barcelona. As part of the incredibly efficient and organized Barca machine, Cesc now has an opportunity to elevate his game to even greater heights, transcending the limitations that he was saddled with at times while at Arsenal.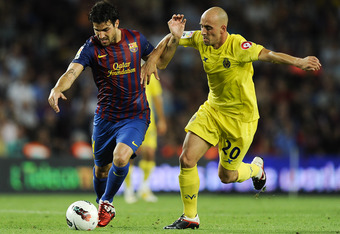 David Ramos/Getty Images
Of course, that's not intended to disparage Arsenal, but merely to recognize that he never had the likes of Messi, Xavi, Villa, Pedro or Sanchez on the pitch with him all at the same time, giving him endless chances to turn his passing magic into scoring opportunities.
As Arsenal strives to figure out new ways to mitigate the damage caused by Fabregas' departure, the former-Gunner is already making himself into a vital component of the Barcelona attack, helping to conduct the relentless attack that has characterized the Catalan club under Pep Guardiola's direction.
His presence will be missed tremendously at his former club, but we always knew this day was coming; we just didn't know precisely when.
Now that the question no longer persists, the fateful day has come and gone, and we have nothing left to do but wish Cesc the best with his new club and move on.
It may hurt Arsenal supporters for some time, and that's only natural when losing a superior talent that had worked his way into our collective hearts.
When looking at the bigger picture, though, as fans of the beautiful game, Cesc's inevitable move to Barcelona is an exciting moment in the sport. Of course, it does nothing for fans of other Spanish teams, nor does it aid competitive balance in the already distorted title chase in La Liga.
If, for a moment, we are able to set aside our passions and allegiances and merely view the transfer within the context of masterful football, the poetry in motion that this current Barca squad is capable of, maybe we can realize that we might be on the verge of witnessing something special.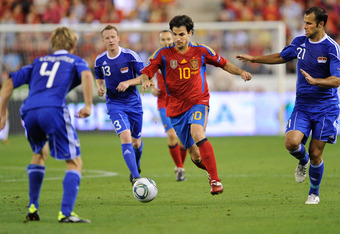 Denis Doyle/Getty Images
Regardless of your rooting allegiance or your feelings about Barcelona, it is difficult to deny the fundamental truth we are faced with: Cesc Fabregas is right at home, in the place where he was always meant to be.