Unproven Youth: The Four Game Review of Jordan Henderson and Phil Jones
September 12, 2011
Clive Brunskill/Getty Images
Jordan Henderson recently completed a move from Sunderland to Premier League dynamos Liverpool, while Phil Jones was eyed up by Manchester United's manager Sir Alex Ferguson in landmark transfers involving hefty sums. Henderson went to Liverpool for the princely total of £20m ($33m), while Jones joined Manchester United for £17m ($28m).
My previous article examined whether such copious amounts of money were justified given their inexperience in the Premier League coupled with their young ages – Henderson being 20 years old, Jones even younger at the tender age of just 19.
However, I have taken it upon myself to re-evaluate their performances throughout the season; labeling them as 'unproven' would not be fair if an assessment was not made concerning their epic journeys with two of the world's biggest soccer clubs.
Henderson made his début against his former club Sunderland in what was sure to be a feisty encounter. The match ended 1-1, with Henderson completing a fairly uneventful 59 minutes, picking up a booking in the process. Henderson's 88% pass completion rate in the match - a team high - was deceptive as he only attempted 31 passes. Teammate Charlie Adam, however, attempted 63 passes, completing 63%. Henderson was afraid to make a mistake and, as such, only 24% of his completed passes were passed forward. His second match was more successful as Arsenal were torn apart (the 2-0 scoreline perhaps not accurately reflecting the day's events) in their own back yard by a Liverpool team which seemed renewed by a youthful exuberance – the energy supplied by Henderson himself, who had a marvelous 90% pass completion rate with 24 of his 59 passes made in attacking positions.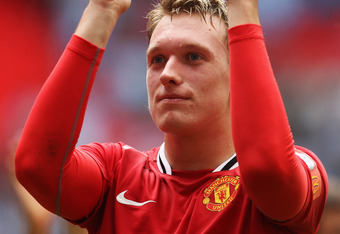 Ian Walton/Getty Images
Their next match against Bolton Wanderers proved to be an historic one for Henderson as he opened the scoring with a brilliant curling effort into the top-left corner of the goal in a 3–1 victory that saw him and fellow Liverpool midfielder Charlie Adam net their first goals for the club. Henderson was certainly an impressive force on the pitch and, at times, controlled the midfield without interference until his substitution in the 75th minute. Liverpool's fourth match of the season was an unforgettable one as they lost away to Stoke City 1-0. Henderson remained anonymous throughout the match and was substituted 66 minutes into a match which saw Liverpool return to the style of play that allowed them to have a disappointing 2010/2011 season.
Jordan Henderson has had a wickedly inconsistent start to this season. At times world class, other times made to look decidedly ordinary, Henderson will need to up his game if he is to prove to the world that he is certainly worth the exorbitant fee paid for his services.
Phil Jones has also played in all four Premier League games for Manchester United this season, with the team winning all four games in their table-topping efforts. Jones played just 16 minutes in the 2-1 win over a weakened West Bromwich Albion – their trigger man and top scorer last season Peter Odemwingie nursing an injury; a somewhat uncertain start to the season for Manchester United. Jones made his full Premier League début for the team in a 3-0 win over Tottenham Hotspur. Playing the entire game alongside central defensive partner Jonny Evans in place of injured duo Rio Ferdinand and Nemanja Vidic, Jones was decisive in his role and helped the team toward their first clean sheet of the season. A magnificent display by Jones helped bolster his bid to become the team's first choice central defender.
Manchester United's third game of the season was an encounter against Arsenal. Jones once again started the match; Spanish goalkeeper David de Gea's concession of two goals aided by poor defending allowed Arsenal to score their first two Premier League goals of the season. Manchester United won the match by scoring eight times in a thumping victory. Jones's performance was average at best; Manchester United's attacking prowess showing that defense becomes superfluous when eight goals are scored. In Manchester United's fourth game of the season against Bolton Wanderers, Jones showed off his vast array of abilities. He started the game at right back and provided the assists for two of striker Wayne Rooney's goals; both assists coming after sizzling runs down the right wing of the pitch. Jones's defending was excellent as Bolton Wanderers were shut out at their home ground in a 5-0 victory for Manchester United.
Phil Jones has offered a little more consistency and has certainly shown glimpses of why Sir Alex Ferguson bought this young defender for a large price. If Jones continues in this fashion for the rest of the season, there is little doubt that he will be a part of a Premier League winning side who have dominated the early stages of the 2011/2012 campaign.
Jordan Henderson and Phil Jones have attempted to prove why they should be playing for two of history's most successful soccer clubs; their attempts will be ongoing and, if their current form is anything to go by, they might just turn out to be wise and shrewd investments by their new clubs. The title of 'unproven' still hangs – albeit by a thread – over their Premier League dreams.