5 of the Worst Penalty Misses in World Football History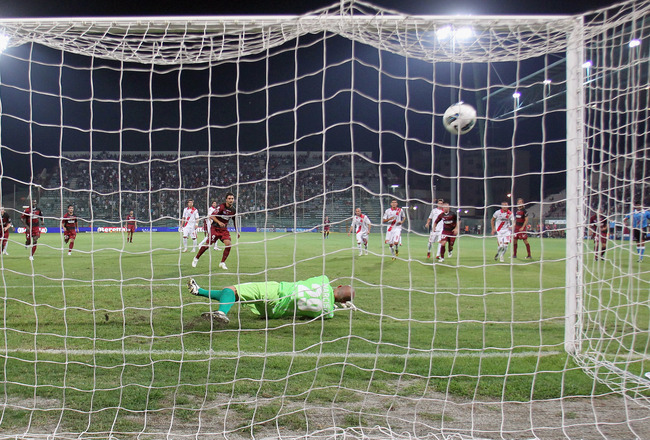 Maurizio Lagana/Getty Images
Scoring a penalty, for players paid a small fortune to play football, should be almost a formality.
When I received a video by email this morning of Amir Sayoud's dreadful penalty kick for Al Ahly, I was inspired to put together a list of some of the worst penalties in Football history.
Some misses at least have the excuse of being in high pressure situations, but all too often it comes down to the penalty taker trying to be far too cocky!
Amir Sayoud
Here is the penalty kick by Amir Sayoud that inspired this list. You know its a bad penalty when you end up getting yellow carded for it!
Luckily for him Al Ahly already had a 4-0 lead.
Neymar
Neymar may be one of the brightest talents in world football, but this penalty is embarrassing.
Cockily chipping the 'keeper from the penalty spot looks great when it comes off. Unfortunately for Neymar, this goalkeeper decided not to dive.
Pires & Henry
Ah the great "penalty pass", pioneered by Rik Coppens for Belgium in 1957 and more famously executed by Johan Cruyff for Ajax in 1982.
Unfortunately when Robert Pires and Thierry Henry tried to emulate it in 2005 they cocked it up completely!
William
Botafogo star William decided to wait for the goalkeeper to move before casually rolling the ball into the net.
Unfortunately, he was a little too casual, and the goalkeeper had time to phone his mum and go for a wee before saving William's ludicrously tame effort.
Diana Ross
Yeah, OK, maybe a bit harsh on Diana Ross! Watching her miss a "penalty" from six yards out and the goalposts "explode" anyway is still my top highlight of the 1994 USA World Cup.
Maybe I'm just still bitter that England didn't qualify!
Keep Reading