Arsenal Transfers: 6 Reasons Gunners Fans Are Glad Nicklas Bendtner Left
Julian Finney/Getty Images
Arsenal have endured a difficult summer, but manager Arsene Wenger moved to bring in five new players in the final two days of the transfer window, which has provided decent depth to the team.
The Gunners have also sold some of the players who were not interested in staying at the club, and also moved on some of the fringe players like Emmanuel Eboue.
Nicklas Bendtner did not get too many opportunities in the last season, and in the few games he did play, he failed to perform very well. The lack of opportunities frustrated the Danish international, who was interested in a move away from the Emirates.
He sealed a loan move to Sunderland on the last day of the transfer window, with the Gunners managing to sign Park Chu-Young from Monaco as a replacement.
Though Bendtner has had some decent games for the Gunners, he has always divided opinion among fans, but his recent comments following his move to Sunderland has meant that most supporters do not want the Dane to return to Arsenal.
"I will never go back to Arsenal", Bendtner said. "If I can have it my way, I will never play for them again."said Bendtner. "I am really looking forward to playing for Sunderland and then we will see next summer. I will find a new club - but I will not go back to Arsenal, that's for sure."
If Bendtner is not interested in playing for the manager who played a crucial role in his development, then it is likely that he will move permanently in the next summer.
Here are six reasons why Arsenal fans are not unhappy about the departure of the Dane.
1. Nicklas Bendtner's Inflated Wages off the Books for the Gunners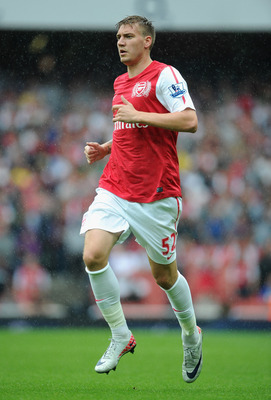 Michael Regan/Getty Images
During the summer the club had to sell many players, including key players like Samir Nasri and Cesc Fabregas. Many fringe players also left the club, including Nicklas Bendtner—who went on loan to Steve Bruce's Sunderland on the last day of the transfer window.
The Gunners signed Park Chu-Young, and with Gervinho and Theo Walcott also capable of playing in a more central role, it was probable that Bendtner would leave this summer.
The problem which Arsenal faced, in offloading many of their fringe players, is that most clubs who are interested in these players cannot afford to match the wages they were paid at Arsenal. It clearly indicates that some players are paid way above what they deserve, which is something that needs to be looked into by the management.
Bendtner is estimated to earn around £50,000 per week, and though it is not too high in relative terms, it is still high for a player who has been injury-prone in his last two seasons, and has not performed to his potential.
He was likely to make more appearances from the bench, which is why getting rid of his wages will benefit Arsenal.
2. No More Moaning from the Striker About Being Played out of Position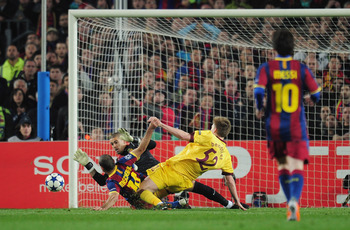 Shaun Botterill/Getty Images
Arsene Wenger is one of the best managers in the world when it comes to the development of young players, and under his guidance many players have realized their potential to become excellent players.
Wenger has utilized the services of Bendtner, and believes that the tall Dane could add value to the team. Though Bendtner is talented, he needs to work on several aspects of his game to become a top striker—but he will have to work hard under the tutelage of Wenger.
Wenger utilized the Danish international on the wings, which did not go down too well with the striker. The French tactician did the same with Thierry Henry, who was converted to a centre forward only later in his career, after playing on the wing for Monaco.
Theo Walcott prefers to play in a more central role, but he has tried to produce his best on the wings, while Bendtner has moaned about not playing as a centre forward.
When Bendtner has had opportunities he has not made the best use of them, and one would certainly remember the miss against Barcelona where, if he had scored, Arsenal would have qualified, and he would almost certainly still be at the Emirates.
3. Bendtner's Inflated Ego Needed a Reality Check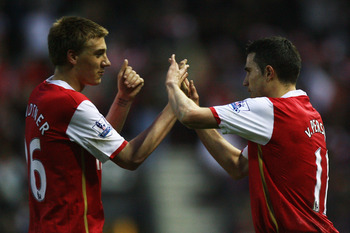 Ryan Pierse/Getty Images
Bendtner is one of the most confident players in the world, but he has the capability to perform much better if he were to realize the need for hard work.
He needs to accept the fact that, as of now, he has a long way to go to become an excellent striker. According to quotes from Goal.com, he feels that he has justified the high high wages offered by the Gunners, and has also said that he is among the best strikers in the world.
"If you ask me if I am one of the best strikers in the world, I say yes," he said. "There is a price to pay as well for us players. Personally, I think I pay a big price with my body, my time and with never being able to have privacy when I am out and around other people. I am not complaining. It's a natural part of being a professional footballer but it is definitely a price to pay when, for example, you can't go out to eat in a restaurant with your girlfriend without photographers chasing you. "
He has not scored goals on a regular basis for the Gunners, and has scored a maximum of nine goals in a league season—despite having the potential to become an excellent player.
The move to Sunderland could be good for his career considering it will certainly provide him a reality check, and he will be under a tough manager who will expect him to produce his best for the side.
4. Bendtner's Poor Work Rate Was the Reason He Departed the Club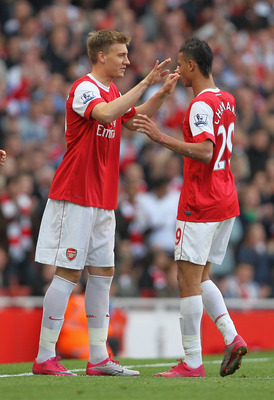 Clive Rose/Getty Images
Marouane Chamakh was signed in the last summer from Bordeaux and, though he had a big impact in the first half of the previous season, he has faded a lot and looks a pale shadow of his former self. The Moroccan international is currently in a bad slump and, to be honest, it looks like Bendtner would perform better than Chamakh as of now.
However, Chamakh is a player who will try his best, and will go about his work without causing disharmony—and without moaning about his future.
The Moroccan is certain to produce his best efforts, and it is still possible that he will find his form and perform well for the Gunners again. On the other hand, Bendtner did not put in his best efforts and, had he done that, he would most certainly have scored many more goals in his time at Arsenal.
Robin van Persie is the only established striker in the squad (Park Chu-Young is still an unknown quantity in the Premiership) and Wenger had to move one of Bendtner or Chamakh. If Bendtner had the work rate of Chamakh, he would not only be at the Emirates, but would also have become a much better player.
5. Park Chu-Young and Gervinho Can Be Better Than the Danish International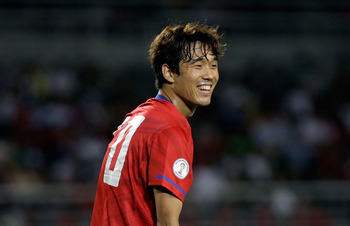 Chung Sung-Jun/Getty Images
Gervinho is primarily a wide forward, but he can play anywhere along the front line. The Ivory Coast international has already shown glimpses of his talents, and could turn out to be one of the best signings of the summer.
Park Chu-Young was signed on deadline day, and will probably be available to the Gunners for their game against Swansea City. The South Korean international comes to the Emirates with plenty of confidence, after scoring four goals in two games, and it is important that he has a good season with the Gunners.
The new Arsenal No. 9 has the talent to do well, and is also a player who will run the channels creating more opportunities for the Gunners.
Both Gervinho and Chu-Young were interested in a move to the Emirates, and even if Chu-Young cannot find a starting place, he could turn out to be an impressive signing and it is probable that they will have more desire to do well than Bendtner.
6. Bendtner's Exit Could Show the Way for a Policy of Moving on Under-Performers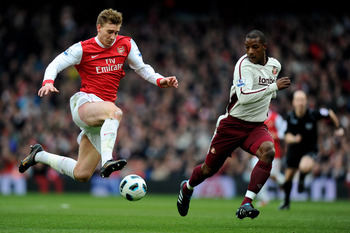 Mike Hewitt/Getty Images
Arsenal have moved on a number of fringe players in the summer, players like Denilson and Bendtner have been sent out on loan, while it is likely that Manuel Almunia will never again be the Arsenal keeper, with the Gunners being unable to move him. Players like Denilson have under-performed for quite some time now and needed to be moved on.
It is important that players do not take their places for granted, and Arsenal must use a policy of "perform or perish", rewarding high performing players and moving on poor players. Sir Alex Ferguson has proved to be one of the most ruthless managers in the past, which is also one reason why he has been very successful over the years.
It is time that Wenger is ruthless in his transfer policies and, if needed, he must shift players who question his authority, or those who do not work enough for the benefit of the team. Bendtner was one of the more talented players at Arsenal, but it was the right decision to let him move, and if he is not interested he should be sold at the end of the season.
Keep Reading

Arsenal: Like this team?