Newcastle United: Mike Ashley's Business Plan and the Futility of Fan Action
September 7, 2011
Dean Mouhtaropoulos/Getty Images
The fact that so many people call it the Mike Ashley "Regime" tells you all you need to know about the majority opinion on how Newcastle United is being run. A term commonly used to describe dictatorships sums up perfectly the way the club is operated.
Decisions are made by Mike Ashley, his plans are executed by Derek Llambias, and it is all done behind a wall of silence. If managers or players fall out of line, or question the regime, they are forced out, while the opinions of fans are routinely ignored.
There have been statements and comments in the past suggesting Newcastle are following the "Arsenal Model" for success, and more recently that the club aims to be run a "break even" point by 2015/16.
In reality there seem to be three key sections to Mike Ashley's business strategy:
1. The first part of Mike Ashley's plan is the transfer policy. Mike would like us to think of this as following the "Arsenal Model", others have compared it to the way he runs Sports Direct. In reality the way Newcastle are running transfers is more akin to playing the stock market.
In the past Newcastle bought established players like Shearer and Owen, mature stocks who's values were unlikely to rise but whom would hopefully pay dividends in what they produced on the pitch, in sponsorship, season ticket sales and shirt sales. Some of these moves were successful, while others were abject failures. Overall this tactic failed to bring silverware to the club, and left the club in a perilous financial state.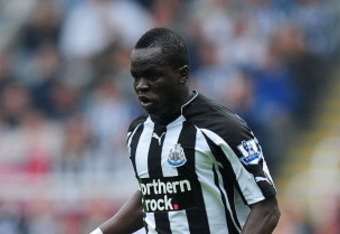 Stu Forster/Getty Images
Mike Ashley's tactic is to buy cheap, undiscovered foreign talent like Cheik Tiote, while also recruiting the best youngsters from at home and abroad. This is classic stock market speculation, investing in cheap upcoming stocks and hoping that they pay dividends (on the pitch) in the short term, before selling them at a huge profit when they fulfill their potential.
If a player fails, the loss is minimal due to the small purchase and wage cost. If they succeed then the club can make a huge profit—£35 million for Andy Carroll is a classic example. Imagine how much will rising stars like Tiote and Cabaye be worth next summer.
While this tactic makes a lot of sense from a business point of view, it does little for the fans who are faced with the reality of never being able to compete at the top of the league, while having to repeatedly watch new stars and heroes emerge only to be sold on for profit and be replaced by cheap imports.
2. With TV money guaranteed as long as Newcastle maintain Premier League status, the next line of business that Ashley has to focus on is ticket sales
A lot of people struggle to understand why, despite needing to sell tickets to fans, the opinions of these customers are roundly ignored, and communication with them is minimal. Mike has learned one important thing during his turbulent Newcastle tenure, the fans turn up regardless.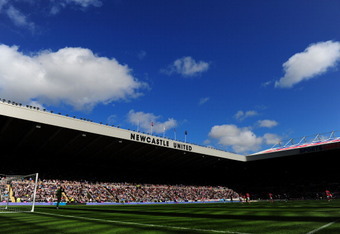 Stu Forster/Getty Images
The Newcastle fanbase aren't like his customers at Sports Direct stores, who could take their custom elsewhere. Fans are more like drug addicts, coming back in huge numbers regardless of the cost, or quality, of the product. Mike Ashley is a monopoly dealer of the drug that is Newcastle United, as a result he can do as he pleases.
Mike has taken some steps to ensure ticket sales. His predecessor Freddie Shepherd would use marquee signings to ensure that tickets were sold every year, in Mike's case the tactics are cheaper and more subtle.
Newcastle's season ticket deadline seems to get earlier each year and typically there is a scheme in place to benefit people who buy before this deadline, such as this summer's 10 year price fix deal. Fans are pressured to make a decision before transfer business is properly underway, in the case of this summer they bought with the expectation that the Andy Carroll money would be re-invested and that the likes of Nolan and Barton would be signing new contracts.
He has also taken steps to increase the size of the family enclosure, a seemingly noble gesture—but seen in the context of the drug dealer analogy it's a move with slightly more sinister motivations.
3. One of the main reasons I believe Mike Ashley purchased Newcastle United was as an advertising vehicle for Sports Direct. The Premier League is an excellent source of  of exposure as Sports Direct look to expand globally—especially with the league's massive Asian TV audience.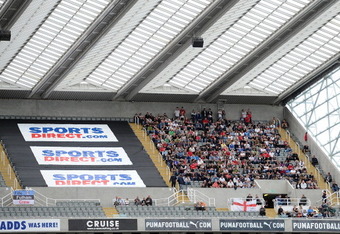 Chris Brunskill/Getty Images
St James' Park displays an increasing number of Sports Direct signs, and the stadium is supposedly now sportsdirect.com@St James' Park—although I have yet to hear anyone call it that.
As yet, no clear figures have been released revealing quite how much Sports Direct pay for all this exposure. I suspect that when the next set of accounts are released the figure will be well below market rate.
Fan Action:
After each and every disastrous move the Newcastle regime make, there is always talk of fan action. There were protests after the departure of Kevin Keegan, and fan groups have emerged seeking to organize action and seek dialogue with the club.
While the goals of such groups are admirable, they have so far failed to unite fans and, based on the business model set out above, only two things are likely to have any effect at Newcastle.
The only thing that can derail the stock market style transfer dealings, and the cheap global marketing of Sports Direct, is relegation—hence Mike Ashley's attempts to sell when Newcastle were demoted. Unfortunately, to remove Mike Ashley a relegation lasting several seasons would be required, and the repercussions for the future of Newcastle United would be disastrous.
The one way in which fans could have an impact on Ashley is an empty stadium, ticket sales do have an influence. The low recent crowd at home against Fulham seems have led the board to agree to answer some questions from fans.
A massive drop in season ticket sales next summer would have an impact. Unfortunately with cheaper season ticket deals, the drug addict like addiction of fans and without a solid, strongly backed, united fan group with the will to try to co-ordinate unilateral action this will never happen.
Newcastle fans must instead hope that a buyer comes in with the finance to take the club off Mike Ashley, if not the club will continue to be run as it is with UEFA's financial fair play regulations as the only potential silver lining.