Arsenal's Just-in-Time Approach to the Summer 2011 Transfer Window
September 5, 2011
Lars Baron/Getty Images
I will say this only once! I was always of the opinion that we should judge the club at the end of the transfer window irrespective of what took place before and the manner in which the signings happened.
Let's not lose sight of the fact that WE ACTUALLY SIGNED PLAYERS. Joel Campbell, Carl Jenkinson, Alexander Oxlade-Chamberlain, Chu Young Park, Andre Santos, Per Mertasacker, Mikel Arteta and Yossi Benayoun all arrived in one window. This is rather impressive for Arsenal in the final scheme of things, given our most recent transfer history. On the flip side, a number of players have also left the club either on loan or on permanent transfers elsewhere.
For ages, Arsenal fans screamed for a defender in the mould of Mertasacker, and now that he's signed some tongues are still wagging. We all cried for Premier League experience, and we've got that in Arteta and Benayoun. Arteta becomes the Arsenal player with the most Premier League appearances. You can't knock that can you?

What's important is for the club to focus on grinding out results over the next few weeks and build the right momentum to challenge for the title.
Perhaps it's key to point out that Mikel Arteta hasn't been injured for a while! He was injured for so long that every one seemed to forget about his amazing quality. Benayoun is considered as some to be cover for Wilshere as his injury seems to be more severe than first thought (this paragraph was written before Jack Wilshere was ruled out for three months).

One school of thought will say that Arteta forced the move and we were lucky to get him on the last day of the transfer window. I disagree with this because as soon as our initial advances were rebuffed, we went elsewhere. Once he saw we were serious he put in a transfer request.

That's what any player serious about leaving does! Everton needed the money and David Moyes never keeps a player who wants to leave (Rooney/Lescott) and so the move was resurrected at the last minute.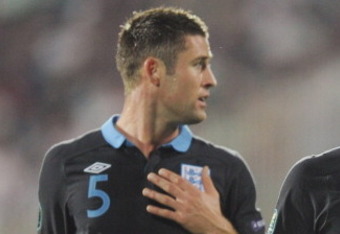 Michael Regan/Getty Images
I don't think we were lucky with the players we signed. We made the right moves at the end of the day. What I consider lucky is the fact that we escaped paying £17 million for a player we can get on a free in the summer or for less than £5 million in January if he still wants to come.

Phil Gartside is the bigger mug this side of the transfer window. We did not sign Cahill because he was overvalued. It's as simple as that. How can you justify Cahill being more expensive than Mertasacker?
I don't personally rate Cahill very highly as I think he's just another overhyped English player. With Phil Jones and Chris Smalling coming up, I doubt if he'll reach 20 caps for England by the time he retires. Let's not forget that Phil Jones was our primary target this summer and we offered a fairly large amount for him. The player just wanted to go to the bigger club. End of story. I'd pay £8 million for Mertasacker every day of the week and twice on deadline day.
Drawing comparisons with the Cesc Fabregas and Samir Nasri situations, I believe that Nasri was sold because the buying club offered a lot of money. We never set a price for our player. At the end of the day, the player is worth what the buyer pays for him.

Barcelona have since admitted that they paid below the market value for Fabregas with the player revealing that the Arsene Wenger had to convince the board to sell him for less due to his overwhelming desire to return home to Spain.
Oli Scarff/Getty Images
On the issue of the club drifting towards the aisles of mediocrity, I choose to disagree. I feel that the statement is not a true reflection of achievements of the club. Let's face it, before Wenger we were pretty much a yo yo club not winning very much in stretches. There were barren years in between great success where we did not even compete at the top level.

Wenger has kept us in the top four in every single season since he's been here. Sir Alex Ferguson may have done it for longer, but not with the 100 percent record of Wenger. Let's never forget that.
Also, 14 years in the Champions League is no joke. Ask the likes of Blackburn, Newcastle, Leeds, Everton and Tottenham how hard it is to qualify. Liverpool have since fallen off and are struggling to get back in even though they are a bigger club than Arsenal.

That is no mediocrity to me! There is a difference between merely participating and competing. Look at the club coefficients and Arsenal are ranked fifth in Europe. That should tell you something; consistency at the top over time.
Let's face it, not everyone can win. The important thing is being able to stand up and be counted among the big boys. If trophies are not important, then why do we always try to win? A side argument is that the club is too interested in profits to care about winning and that fourth place every year is enough.

To be fair, that point of view has some merits but that is a discussion for another day. The club's current structure is to ensure that it is run in a responsible way to ensure there are profits to sustain the sport. Whether that is still sufficient in the current environment is clearly a point of concern to all.
In a discussion with friends just after the loss at Old Trafford, I shared my thoughts about what needed to happen in the next few days.
"We played badly. End of story! Why did we play badly? Poor and weak team! Why do we have a weak team? Indiscipline (Song, Gervinho and Frimpong). Injuries (Vermaelen, Sagna, and Gibbs) and lack of strengthening (loss of Fabregas and Nasri)"

"What is the solution? Frimpong returns for next game. Song and Gervinho after that. Hopefully Vermaelen and Sagna should be fit then too. If we can sign a new CB (Cahill or Dann) and Gibbs is still out, stick Vermaelen on the left and pair the new signing with Koscielny. I feel that Djourou has regressed."

"We've pretty much signed Park Chu Young but we need to get another body in midfield ASAP. Wilshere is out for another two weeks also at the least."

"We need to patch things up and ride out the storm till January and spend big then. Pretty much the same way Liverpool had to do things last year. We've left it late, but there is still time for to make things right."

"The board cannot fire Arsene Wenger as some have called for unless he totally unravels. Until that happens, there is still time for him to make it right. We blame him a lot and I know he deserves some of it but the question is are his employers sleeping? They clearly are if they don't criticise him the way we do."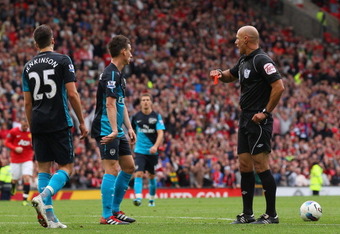 Alex Livesey/Getty Images
Since then we have pretty much done better than I expected and all that is left is for the team to focus on the next few games and work on improving our position in the league at this time. The signings seem to reflect a shift in policy as the youngest of them is about 26. The only choice we have at this point is to move FORWARD.
Tim Payton of the Arsenal Supporters' Trust in his article for the Independent seems to think that Arsenal need to rethink their business model as the club have fallen behind. He says;
"The lack of commercial income and the impact of the investment at City and Chelsea explains why Arsenal can no longer compete with the wages players in the £30m bracket demand. The recent signing of Juan Mata by Chelsea proves this. The club need to rethink their "self-sustaining" business model. This doesn't mean an unchecked sugar-daddy approach but it does mean reviewing options to bridge the gap such as paying down the remaining debt or undertaking a rights issue."

"Modern football has moved on since 1996 although Arsenal still rely on the same triumvirate of Wenger, Pat Rice and Boro Primorac. Arsène needs to take a step back and relinquish control of every aspect of the club's football work from taking every training session through to insisting on the final say on all transfers."
I agree with him on several of the points raised.
Til next time…Victoria Concordia Crescit.