Manchester City Will Win the Premier League This Season, and Here Is Why
September 4, 2011
Michael Regan/Getty Images
I am going to keep this short and will concentrate on the strengths of Manchester City and not the weaknesses of the other title contenders from Salford, London or Merseyside.
The reason I need not worry about the other teams is that it is they have to beat City to win the title and it isn't going to happen.
So let's see the reasons for my bold and confident prediction.
Firstly there is the manager, Roberto Mancini that too many journalists and fans have an embedded attitude of based on his first year at City.
The same old boring and overused cliche about him being a negative Italian manger who would rather fight for a draw than push for a win is plainly wrong.
Whilst he had players, he could not trust to deliver what he wanted he did indeed set his team up more defensively than anyone would have liked. However since he has brought in his own players he has formed a team that is able to defend and defend well but one which is also very attack minded.
The fact that opposing fans and the media are yet to see this will also be advantage during the early part of the season.
I suspect there will be more than just Spurs fans who will watch their team pulled apart either home or away.
The players are key and that is where the lazy world of tabloid journalism is still lagging behind. The very fact that almost to a man the press pack was surprised and amazed by City's start to the season proves to me that they are working from an old City playbook.
Any student of the game would have seen the signs even late on last season where Mancini's produced the first trophy for 35 long years.
So why am I so confident of a City title this season?
Firstly, the best goalkeeper of last season is still there. Joe Hart is getting better and better and settled in as England's first choice. It is highly likely that he will be this seasons Golden Gloves winner again.
In front of Hart, there is a mean, strong and athletic defence that was the joint tightest in the league alongside Chelsea.
Stefan Savic and Gael Clichy adding more options join Vincent Kompany and Micah Richards et al and alongside the return of Kolo Toure it is likely that City will again be hard to score against.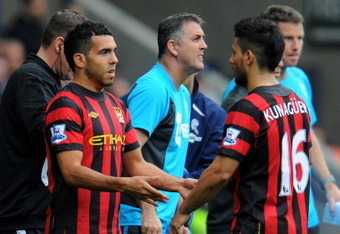 Michael Regan/Getty Images
Even though the goalkeeper and defenders are good, the real strength of City is in the midfielders and forwards.
In a holding midfield sense City have two of the very best Nigel D Jong and Gareth Barry but they are not alone as Yaya Toure is a massive footballing unit. James Milner is more than just an able deputy. The unexpected capture of Owen Hargreaves adds a little bit of mystery and intrigue but if he proves his fitness, it could work out as the signing of the summer.
Alongside the graft and craft of those players City have two of the very best creative midfielders in the game in David Silva and Samir Nasri and only a fool would argue that having both of those players makes City anything but one of the most creative teams in the league.
It is the task of managers to not only stop the midfield maestros but also attempt to blunt one of the most able group of strikers anywhere. I would go as far as to say that City have the best set of forward players anywhere in world football.
The names are enough to scare any opposition into a negative set-up with Carlos Tevez now playing in the same team as the immense Sergio Aguero, the mercurial Mario Balotelli and the in-form Edin Dzeko.
Rarely, if ever has any team ever taken to the field with such strength in depth on the bench as City have this season where there was no need to pick either Tevez or Balotelli.
Other players such as Adam Johnson, Aleksander Kolarov, Pablo Zabaleta and Joleon Lescott also ably assist these headliners
For me, the fluidity of City's play will be the thing that sets them apart from other teams with players dropping deep, switching wings and changing formations in such a way as to negate the plans of other managers.
In short, City are the team that others have to stop. And that wont be an easy thing to do.
So City to win the league with three games to spare is my prediction.