Lansbury Impresses as England-U21s Rout Azerbaijan-U21s
September 1, 2011
Michael Steele/Getty Images
Arsenal's Henri Lansbury was loaned to West Ham yesterday but might make Arsene Wenger question that decision after a superb performance for England U21s at Vicarage Road tonight.
Lansbury reveled in his role off the striker and unlocked the Azerbaijan defense in only the first minute, threading a ball through to Liverpool's Jordan Henderson who, making his first start as captain, was wide with his shot.
Azerbaijan started very nervously, sitting back and getting men behind the ball while England pressed with verve and purpose.
England's superiority was made concrete in the fifth minute as Lansbury sent in an inviting cross from the corner, which West Bromwich Albion's Craig Dawson, up from center back, buried with a towering header.
Dawson could have had a second in the 14th minute as he again bullied the Azerbaijan defense but this time missed with his head.
At times England were too predictable even against a very poor Azerbaijan side. Henderson and Jack Rodwell were outnumbered in central midfield, which meant they were dropping far too deep to get the ball or the defense passed too often from side to side leading to a simplistic long ball from the full backs.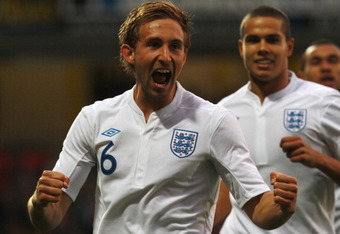 Paul Gilham/Getty Images
This pattern of play was a severe problem in the European U21 tournament, which was roundly judged as a debacle over the summer and Stuart Pearce does not inspire confidence with his tactics against quality opposition.
Fortunately for Pearce, the Azerbaijan U21 side were certainly not making the game a challenge and the superior technical ability, pace and strength of the England side was just too much to handle.
Alex Oxlade-Chamberlain of Arsenal menaced on the wing and it was his dangerous cross on 21 minutes that gave Lansbury a chance to show his excellent technique, running away from goal but still able to volley the ball over his own shoulder and into the net to make it 2-0 to England.
Connor Wickham started up front and the Sunderland player had obvious strength when holding up the ball, but struggled to impose himself on the game, which became even more difficult for him when he was switched to the left to allow Nathan Delfouneso to move centrally.
Henderson had also found it difficult to influence the game from central midfield but his persistence and quality shone through just before halftime when he received the ball from Briggs, who had made one of several good runs from left back. Henderson shifted the ball out of his feet to make an angle and lashed in a curling shot with his right foot into the far corner to make it 3-0.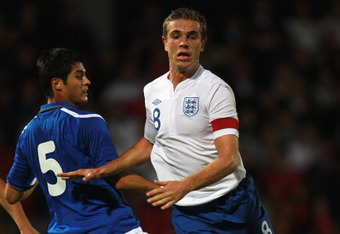 Paul Gilham/Getty Images
After scoring his first goal for Liverpool with his left against Bolton on Saturday, Henderson has begun to silence the doubters who questioned his performance for the U21s in the summer, particularly after the large transfer fee paid to Sunderland for his services.
Azerbaijan improved markedly in the second half, pressing further up the pitch and passing with a better tempo. England began the half sitting a little too comfortably on their three goal lead and let their opponents into the game, Butland doing well to save a solid header from Jihan Ozkara in the 55th minute.
Javid Imamverdiyev, a substitute for Amit Guluzada who almost seemed to be looking for a second yellow card, was finding too much space between England's midfield and defense, spraying passes across the field to link Azerbaijan's attack and threatening to orchestrate an opening goal.
Oxlade-Chamberlain was being doubled up on after his pace and guile had forced Azerbaijan's coach into making special accommodation for the winger's threat. However the dynamic Arsenal player had moved inside on the 65th minute, allowing Henderson to switch to the right and deliver a superb cross, which Oxlade-Chamberlain turned just beyond the far post after bursting purposefully into the box .
Oxlade-Chamerlain and Lansbury soon ended any few remaining thoughts of an Azerbaijani revival. Oxlade-Chamberlain, after good work from Matthew Briggs, received the ball on the right side of the area and delicately lifted a cross hoping to catch out the keeper who inadvertently knocked it down into a dangerous position. Lansbury, who again showed excellent technique, pounced to give the England U21 team a 4-0 lead on 73 minutes.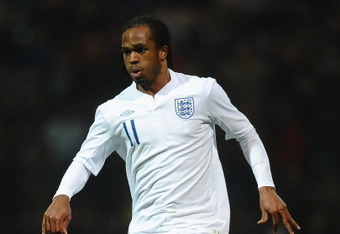 Laurence Griffiths/Getty Images
Although Delfouneso had improved by dropping off the front to get more involved in the game, it was no surprise when he was substituted, along with the very disappointing Wickham, after 76 minutes.
On came Marvin Sordell who added more pace and penetration up front, along with Martyn Waghorn who added better balance on the left.
Oxlade-Chamberlain departed to a warm round of applause from a crowd appreciative of his excellent work. On came Jonjo Shelvey and the Liverpool player showed the depth of talent available at this level, displaying excellent vision and range of passing to add a different threat from central midfield, Henderson moving to the right.
Waghorn didn't take long to leave his mark on the match, having been on the pitch only three minutes, as he hit a screaming left-footed shot from 30 yards which dipped under the bar, leaving Umarov stranded standing six yards off his line.
At 5-0 England were brimming with confidence and pressed for another as the Azerbaijan side must have been pleading for the night to be over.
Unfortunately for them there was one more ignominy to suffer as Dawson came up for a corner in the 90th minute and deftly guided the ball inside the far post. Dawson had showed strength in the air throughout the game and his second goal came after he really should have scored earlier from similar positions.
Azerbaijan wilted under the physical intensity and probing passing of England's U21s and the 6-0 scoreline certainly did not flatter the Young Lions.
After the U21 European Championships in the summer there was much gnashing of teeth over the paucity of young English talent coming through to represent their country. Stuart Pearce will hope this latest crop of players will dispel any such thoughts.
Whether the U21 England team, and particularly Pearce's style of management, will be as successful against stronger opposition remains to be seen, but tonight they can be thoroughly satisfied with their commanding performance.