FC Dallas: George John's Return and How It Benefits Dallas
September 2, 2011
Ronald Martinez/Getty Images
FC Dallas fans can breathe a sigh of relief, as it has been announced that George John's trade to English Premier League side Blackburn Rovers has been called off.
The trade had seemed downright inevitable in past weeks. John left for Greece to obtain his passport, then went to Blackburn to visit and have a medical.
In the time between John's last match with Dallas (a 2-2 draw against the Philadelphia Union that saw him sent off on cards) and his return, the team continued their winning habits in CONCACAF Champion's League play despite suffering tough losses to the Seattle Sounders in both US Open Cup and league play.
On the bright side though, the Hoops pulled off an incredible 3-2 comeback win over Sporting Kansas City in their last league match in August to ensure that the side would not go winless in MLS play during August. It was the first month this season in which they won just one match.
George John returning to Dallas is just what this team needs right now. Many people, including myself, thought that the depth of the squad would allow them to soldier on without John and succeed, but the last couple of matches have proven otherwise. 
If I were to make a general statement about the state of the defense during John's departure from the team, I would label it as ineffective, uninspired and pathetic.
Dallas appeared to be on their heels for the most part, always struggling to play consistent and useful defense, let alone try to mount any sort of attack.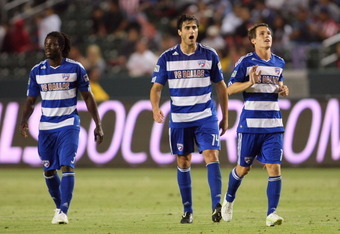 Victor Decolongon/Getty Images
That being said, the players who came in at centre-back to replace John performed rather well. I was impressed by Andrew Jacobson's performance in the match against Sporting KC.
This tells us something about George John, and Dallas as a whole: yes, they are entirely capable of replacing him with other players who can sufficiently fill his position.
But despite that fact, the defense still looks confused and lifeless. This is because John is the heart of this Dallas defense.
Dallas drafted John in the SuperDraft, and since that time he has grown to become arguably one of the best defensive players on the squad.
The fans love him and he is a rock for the defense, forming half of a duo with Ugo Ihemelu around which the rest of the defense forms.
His presence is crucial if you want this squad to perform well. It is not that the squad is untalented; but without John they seem to falter and fail.
Schellas Hyndman is surely aware of this fact.
John's contract ends this season and Dallas has been frantically attempting to sign him all year, to no effect.
As this potential trade showed us, John is already looking to other shores, with his monumental last two years with the Hoops providing a decent resume to any team that might be interested.
For the moment though John is back in Dallas and says he is here to "win championships". Dallas fans will surely love him even more should he deliver on that promise, making his potential departure even more painful.
For now though we should count our blessings and appreciate the time that the Greek Pony will be spending with us in Dallas.