Tottenham 1-5 Man City: Why to Blame Redknapp for Spurs' Atrocious Start
August 29, 2011
Coming into the first two matches of the Premier League season, Tottenham Hotspur could not have asked for a worse schedule.
Matches against mighty Manchester United and spend-happy Manchester City in back-to-back games would not cause optimism in any situation.
When the matches are played six days apart, with two Europa League battles (which are apparently taken seriously) making it four matches in ten days, the outlook is pretty grim.
To add to this, Tottenham's first match with Everton was canceled due to the London riots, leaving their opponents with a game more experience this season (if you don't believe this would cause trouble, look at Everton's form since the postponed game: a 1-0 loss to QPR and a terrible showing against Blackburn, where Tim Howard's heroics and a soft penalty saw them scrape the 3 points).
Add to this some key injuries, and you have a raft of excuses for Spurs losing those two matches.
But losing by a total of seven goals over the two matches? 
Excuses do not cover those sorts of showings.
So who is to blame for this form?
Luka Modric may be the man to whom people point, and for good reason.  The Croat's transfer saga has been a distraction, and his reported actions before the match against Manchester City were unprofessional to say the least. 
However, I'd look somewhere else to place the blame.
Harry Redknapp has been a successful manager for Tottenham. 
I do not dispute that his achievements have been great for Spurs and his tactics have led to success.
What I do believe is that Harry's actions off the pitch are to blame for this horrendous start.
Redknapp's constant chatter that Tottenham needs this player or that player or need to keep this player or that player have clearly been detrimental to the squad.
Don't get me wrong—Tottenham is not the most talented team in the Premier League.  They weren't the most talented team on the pitch in their first two matches.  That much is obvious.
Should they be challenging for the title?  No.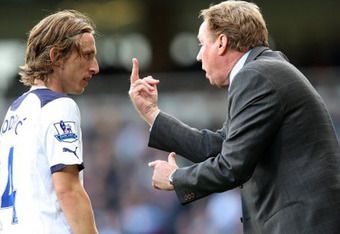 But should they be losing by seven goals to the Manchester duo?  No.
Sure, I understand all of the moves Harry has talked about in the press—they would have made the squad undoubtedly better. 
And keeping their top players, like Modric, is important to Spurs' success.  But why is he talking about these issues in public?
The squad may not be talented enough for a title push, but they are talented enough to challenge for the top four. 
That's clear enough from how they made the top four two years ago and made it to the Champions League quarterfinals last year, all with no one of note that is not now on the roster.
I think it's become clear that talking about how they need this or that or that has affected Spurs' play.  When they don't get what Harry says they need, they're all of a sudden perceived to be missing something that they never had to begin with, causing a dip in play.
If you need any evidence of this sort of effect on Tottenham, just look at last year's quest for Beckham. 
After Redknapp expressed Spurs' need for Becks, the deal fell through, promptly followed by Spurs taking two points out of three matches.
Would Beckham have helped the team?  Probably.  But after not getting him, Spurs played as though they had lost a key player.
Would Juan Mata have helped?  Yes.  Would keeping Modric help?  Definitely.  But Harry's talking about it just means that if it doesn't work out, the team's form plummets.
Redknapp has been a great manager for Tottenham on the pitch, but off of it he has not played the psychological games a football club needs from its manager.
And now, with his latest public relations disaster, telling the press about Modric's lack of desire to play, Harry has set the team up for further failure.
The first two matches have told us one thing about Tottenham:  Harry Redknapp has taken a top-six squad capable of breaking into the top four and turned them into a mid-table club.
There is no one to blame but Harry.