World Football: Talented Attackers Who Spend Too Much Time on the Bench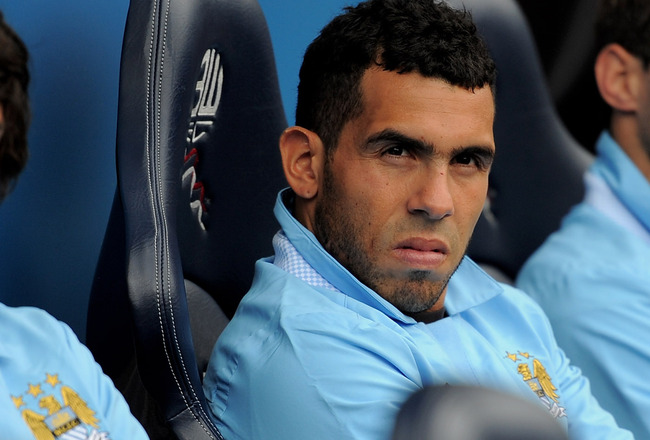 Michael Regan/Getty Images
Too much bench time is caused by one thing.
When a team has too much money, there is an overpowering urge to spend it, and that's exactly what these big clubs like Manchester City, Real Madrid, Barcelona, Chelsea, Liverpool, Arsenal, and Manchester United have done.
After having spent too much money, there is so much depth to the squad that talented players who could be starting on almost any other club in the world are forced to stay on the bench for a while, as a result of better players starting ahead of them.
This is the case with almost all of these players.
Some of them are going to see much less playing time, simply because they moved to a new, deeper squad.
Here they are.
Dimitar Berbatov -- Manchester United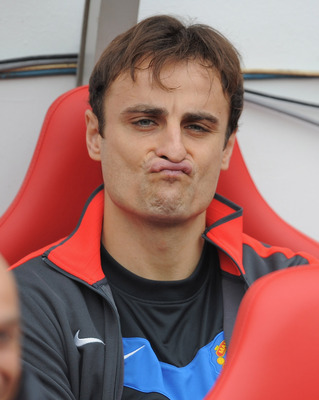 Michael Regan/Getty Images
Upon arriving at Old Trafford in 2008, Dimitar Berbatov has scored 41 goals in 97 appearances for Manchester United. Last year, he was tied for first place for the Premier League Golden Boot, netting 20 goals.
This, however, is no surprise, considering the Bulgarian international is 6'2" and can use his head but can also shoot very well. He has excellent awareness and always knows where to be so that he can slot the ball into the back of the net.
Berbatov transferred to Sir Alex Ferguson's team after playing for Tottenham, where he scored 27 goals in 70 appearances. Before that, he also had great goal-scoring spells at Bayer Leverkusen and CSKA Sofia.
Between 1999 and 2010, Berbatov has scored 48 goals in under 80 games for Bulgaria.
With just him, Javier Hernandez, and Wayne Rooney, Sir Alex Ferguson seemed to prefer the other two, and now that the Red Devils have acquired striker Danny Welbeck, it seems that he will see much less playing time.
Mario Balotelli -- Manchester City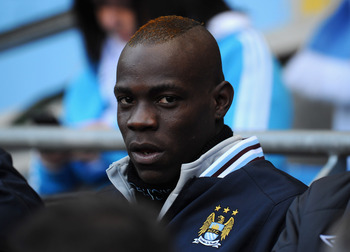 Clive Mason/Getty Images
OK, when I talk about Balotelli, I want to leave aside his antics that take place off the field and discuss his game itself.
Balotelli has tremendous amounts of pace and can beat opponents off the dribble, but he is also capable of using technical skill to get past defenders. As a great shooter too, the Italian international is considered a danger off of set-pieces, such as free kicks. At 21, Balotelli is expected to be good in the future if he can make something out of his talent.
Starting his club career at Lumezzane, Balotelli was given a trial at Barcelona, but that didn't work out, so he ended up in Milan to play for Internazionale.
Last year, he moved to Manchester City, and since then, he hasn't played much. Despite the fact that his absence was due to an injury, Mancini probably won't play him above Sergio Aguero and Edin Dzeko, both of whom are proving to be quite good.
This one isn't too much City's fault, since Balotelli is known to be egoistic, and many think that he can't use his talent well.
Alexis Sanchez -- Barcelona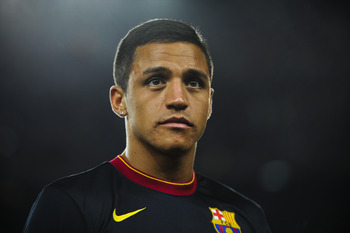 David Ramos/Getty Images
Alexis Sanchez arrived at Barcelona this summer.
In recent years, he has proved very effective running down the side and providing crosses for his teammates. He was successful as a winger given his tremendous speed, and he turned out to be a great shooter and dribbler too, as he has great skill and technical ability.
Sanchez started his career at Cobreloa, a Chilean team. His talent was immediately spotted by Italian club Udinese, who acquired him after only one year of playing professionally in Chile. Though he only made 95 appearances in five years for Udinese, he left his mark and was a target for several main clubs, among whom Barcelona were the most appealing.
It's quite possible that Sanchez won't start, given that Barcelona's attacking wealth includes Xavi Hernandez, Andres Iniesta, Lionel Messi, David Villa, and Pedro Rodriguez. If the Chilean were to replace one of those five, it would probably be Pedro, but Blaugrana manager Pep Guardiola seems to have much faith in Pedro.
Sanchez's talent might just be wasted on the bench.
Gonzalo Higuain -- Real Madrid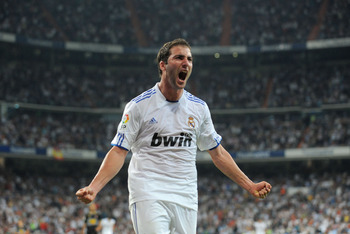 Denis Doyle/Getty Images
Of late, Gonzalo Higuain has been the subject of bench time.
Higuain is a world class player, what with his excellent speed, finishing ability, and dribbling skills. One of the Argentine's gifts is his knowledge of where to be; he is always in the right place at the right time, and it doesn't seem like a coincidence.
Higuain's career began in Argentina, as he played for River Plate, then one of the biggest clubs in the country. After a good two-year spell there, the teenager was identified by Real Madrid as one of the most talented players and they bought him for a mere €13 million, not what his market value is at this point in time.
There, the Argentine international has scored 69 goals in 128 appearances, an average of more than a goal every two appearances.
However, under Jose Mourinho, Karim Benzema is prioritized over Higuain, and therefore Gonzalo is used as a substitute.
Carlos Tevez -- Manchester City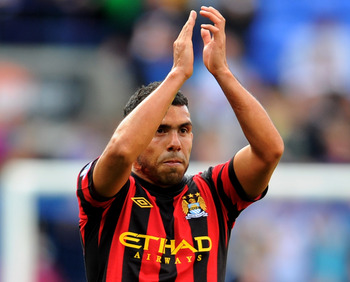 Michael Regan/Getty Images
Manchester City's recent signings have not helped Carlos Tevez.
The attacker, who measures only 5'8", is extremely quick, and since he is quite small, he combines size and pace to dart between and past defenders. He also has one of the best shots in the world, as he can shoot from thirty or thirty-five yards out.
Tevez's career began at Argentine squad Boca Juniors, where, after three years, he moved to Brazilian club Corinthians. Then in 2006, he transferred to West Ham, where he was spotted by Sir Alex Ferguson, and eventually moved to Manchester United. However, other great players such as Wayne Rooney and Ryan Giggs prevented him from becoming too successful, so he moved to the Eastlands.
There, he has done extremely well, scoring 43 goals in 63 appearances, as opposed to his career United, where he scored 19 goals in the same amount of appearances.
Lately, however, with Sergio Aguero and Edin Dzeko moving to City, Roberto Mancini has chosen those two over Tevez; they are both youngsters showing tremendous talent.
Expect Carlos Tevez to be sitting for a great part of the season.
Kaka -- Real Madrid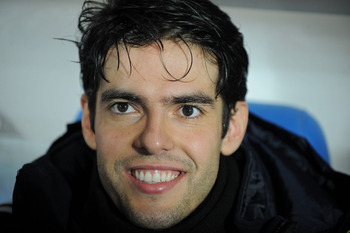 Denis Doyle/Getty Images
One of the biggest cases of too little playing time.
A few years ago, Kaka was widely considered the third best player in the world (behind Lionel Messi and Cristiano Ronaldo, of course). He had—and still has—fantastic vision, and the amazing ability to pick out a teammate with a pass. He was a great shooter too and was great at evading defenders off the dribble.
Like almost all Brazilians, Kaka started his career with a Brazilian team, in this case, Sao Paulo. After two years there, he had a fantastic six-year career at AC Milan, where he developed the reputation of being one of the world's best. Then, he made the move to Real Madrid, which completely changed his career.
He has only made forty appearances there, and though he was injured some of the time, Kaka seems to be a consistent sub for Madrid; he normally comes on in the middle of the second half. Since Los Blancos acqiured Mesut Ozil, Sami Khedira, Xabi Alonso, and others, he is playing behind them.
A player of his quality should not be seated through two-thirds of a match.
Cesc Fabregas -- Barcelona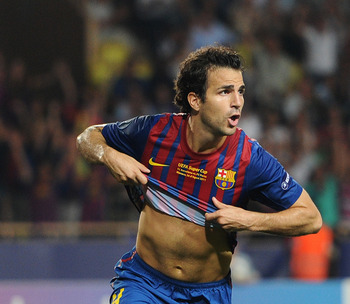 Jasper Juinen/Getty Images
How can this guy not be here?
Fabregas is one of the best passers in the world. A slightly worse version of Xavi Hernandez, Fabregas can see and create the runs of his teammates and can also land the ball right in their path. He always manages to dictate the team's play.
After his first few years at La Masia, Barcelona's youth academy, Fabregas' potential was spotted by Arsene Wenger, who brought Cesc to Highbury in 2003. After five or six years at the club, Fabregas won minimal silverware, and it became apparent that he wanted to leave the club.
Of course, it was a transfer saga that was dragged out over many years, and, just recently, the young Catalan made his move back to his hometown club. Xavi and Iniesta play Fabregas' position, so there isn't any way that he can start, but he has been coming on as a sub.
He wanted to move to Barcelona so badly that he took a pay cut that allowed him to move back to Spain.
Cesc seems so happy at Barcelona...but is it worth sacrificing playing time for the fact of being at Barca?
For him, yes.
Solutions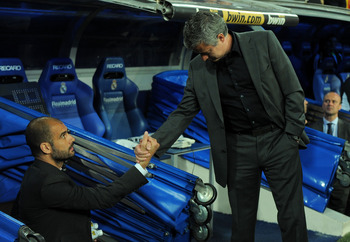 Pep Guardiola and Jose Mourinho
Denis Doyle/Getty Images
For most of these players, the answer is clearly to move.
Like in the cases of Berbatov, Balotelli, Tevez, and Kaka the answer could just be to move clubs. With Higuain, he is completely capable of improving, and if he can show Mourinho what he's worth, who is to say that he can't earn a starting spot?
Sanchez and Fabregas, however, just got to Barcelona, and they knew completely well that they would not be playing too much. But if they love it there that much, they should just stay there.
Unfortunately for the players who might move, the transfer window closed on Wednesday, and if they want to leave, they must wait a few months.
Keep Reading

Manchester City: Like this team?