Kenny Dalglish: Brave Decision Sees Liverpool Dominate Bolton Wanderers
August 28, 2011
There were two big stories for Liverpool going into this clash with Bolton Wanderers.
One was the dropping of big Andy Carroll from the starting XI and the other was the presence of one Sebastian Coates. While it remains to be seen which will have the biggest impact in the long run, certainly, Andy Carroll's departure proved to be the catalyst for one of the most fluid attacking performances by a Liverpool side in recent memory.
Kenny Dalglish kept faith in the 4-2-3-1 which has served him so well already this season, with Luis Suarez replacing Andy Carroll as striker, and Jordan Henderson, Dirk Kuyt and Stewart Downing providing the support from midfield.
The fluidity and interchanging of positions by Liverpool's front four proved to be too much for Bolton's defense to cope with. Cahill and Knight had no idea who they were supposed to be marking as the Reds clever movement and high tempo passing left the Trotters with more questions than answers. 
The writing was on the wall for Andy Carroll, with a series of sluggish performances, but it was a surprise to see Dalglish wielding the axe so early. Yet Liverpool hardly missed their big target man, outwitting and out-moving Bolton, rather than trying to out muscle them.
Luis Suarez was again at the heart of everything, however, his attacking aides Kuyt, Henderson, and Downing all had very good performances.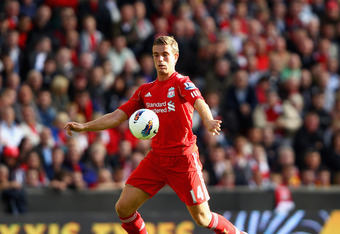 In truth, the entire starting 11 played very well. Charlie Adam picked out his team mates from all areas of the pitch, while Lucas went about his business in his usual professional manner. The back four looked solid with Kelly (later Skrtel), Enrique and even Agger occasionally foraging forward.
 
By the time 24 minutes was up, Liverpool could've scored through Downing, Kuyt and Suarez. All three had excellent chances that they probably should've put away, but it was Jordan Henderson—one of the more maligned summer signings due to his slow start to the season—who silenced his doubters with his first goal for the club.
Again, Luis Suarez was the creator, curving in a sublime cross from the left hand side with the outside of his right foot, which Stewart Downing met with a great volley only to be denied by Bolton keeper Jussi Jaaskelainen. The ball fell to Henderson, who curved the ball into the top corner with his weaker left foot, sending Anfield into a frenzy.
Amidst all the positives there were a few negatives.
Martin Kelly's hamstrung career hit another low note when the lanky right back felt a tightness in his left leg and was forced off early in the first half. Martin Skrtel was brought on to replace him and played well, scoring a brilliant headed goal from a pinpoint Charlie Adam corner.
Andy Carroll came on with 20 minutes to go, and by that time the game was already well won. However, it has to be said, while he looked a little better, there is still lots of improvement to come.
Looking a bit hungrier for the ball, possibly due to being dropped and having a point to prove, he managed to pull off a decent shot and a lay off for Dirk Kuyt, but again his movement left a lot to be desired.
Take these two key moments for example.
Firstly, Stewart Downing made a terrific run down the left hand side and put in one of the best crosses you're likely to see this season. It fell right in between the last defender and the goal keeper—any striker's most fervent wish.
Unfortunately, Andy Carroll was caught flat-footed and could only watch as the ball fizzed by him.
Secondly, Jose Enrique made another great run down the left hand side, however Carroll again didn't find space. Instead of changing directions to lose his marker, he kept jogging in a straight line, and Enrique was forced to try and play a difficult ball to find his teammate, when the big man could have made it much easier for the Spaniard.
There have been complaints about Carroll not receiving good enough service, but those arguments did not apply last night, as the service was exquisite.
As the commentator on Fox Sports put it after Enrique's cross:
"Looking at Andy Carroll again, I thought it was very average movement from him... He should be breaking his neck to get into that six yard box."
The question for Liverpool's next game will be, do they stick to the team that served them so well yesterday? Or will Kenny Dalglish be prepared to give Carroll another chance in the starting line up?
Aside from that, Liverpool were excellent. From Pepe Reina through to Luis Suarez and everyone in between, it was a real team effort.
Not everything came off, but the Anfield Crowd appreciated the one touch passes and clever ideas on show.
As the first half wore on, you wondered if Liverpool's failure to put away their chances would come back to bite them, or if they'd fade away as they did against Sunderland.
But the pressure was kept on, and the second and third goals were just reward for all the hard work, creativity and skill on show. 
It definitely looks like the good times are back at Liverpool. If performances like that will be the norm, this is going to be a great season.
Dalglish has got it absolutely right so far, and has shown he's not afraid to make the hard decisions like dropping an expensive but under performing striker for the sake of the team.
Apart from that though, the best thing about Dalglish as Liverpool manager is the fact that when Liverpool score he's celebrating just as much as the rest of the 40,000 fans in the stadium and those watching around the world.
Having that kind of passion from the manager certainly doesn't do any harm to team morale.
What a day for Liverpool. Irresistible at times going forward, and mostly solid at the back apart from a small mistake by Jamie Carragher late on that gifted Bolton a goal.
That performance was the template for how Liverpool should play football this season and beyond. Aggressive pressing and quick, intelligent passing on the floor once again proved to be more effective than trying to out-muscle our opponents.
We saw glimpses in the first half against Sunderland, late on against Arsenal and at Exeter, but this was the first time they were able to maintain their quality for the full 90 minutes.
If the other teams in the league didn't consider Liverpool top four challengers before this game, I'd imagine they do now. 
A great result and an even better performance that will leave the side brimming with confidence when they meet Stoke City. The only concern for Liverpool is whether the whole team will return injury free from the international break. 
Follow me on Twitter and Facebook, and subscribe to my blog for more.