FC Barcelona: How Strong Are They with Cesc Fabregas, Alexis Sanchez Additions?
August 25, 2011
The prodigal son has finally returned home. Cesc Fabregas' homecoming was met with ecstasy by the Catalans, but it struck fear across the rest of Europe. Prior to his arrival Barcelona had just snapped up the other hottest property in current world football, Alexis Sanchez. 
The addition of these two superstars blending in with oozing talent already running in the existing team gives the rest a shuddering thought to ponder, just how strong Barcelona will be with Fabregas and Sanchez in the squad? 
The results are already beginning to unfold. Pep Guarldiola won his 12th trophy in four years with a Super Cup victory over rivals Real Madrid and followed up with a 13th after a 5-0 rout of Napoli in the Gamper Trophy.  
Fabregas has won two trophies in less than a week with Barca, the decision to leave eight long trophy-less years with Arsenal never looked a wiser verdict. 
He has fitted in like a glove, instantly adapting to the visionary, short passing style he inherited at Arsenal ready to deliver the knock-out blow.
In Sanchez lies a pair of legs which could shimmy the living daylight out of any defender. Apart from being a direct-approach, fleet-footed player, Sanchez also possesses speed and delivers genuine width from the flanks.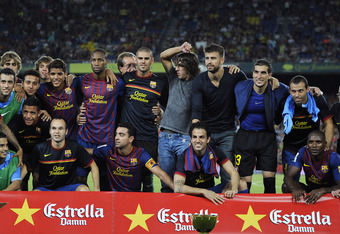 He is flexible on either one and contributes a significant number of goals, his 12 strikes for Udinese last season testifies his predatory instincts.
This two won't be the only ones adding to the tiki-taka. In Tiago Alcantara lies football's next best attacking midfielder, waiting in the reins to impress and give Xavi and Fabregas a run for their talent.
 A combination of Busquets—Xavi, Tiago can break up an attack like a hound dog or wait around the 20-yard region like a cougar ready to deliver the perfect strike.
Adriano is also certain to make more appearances compared to the few cameos he had last season. 
He impressed greatly in preseason, and what spell-bounds me is his adaptability to play anywhere across the pitch. 
Last season, he delivered a solid left-back performance against Arsenal, and last week he was found on the right wing turning Marcelo inside out. 
His stamina to track back and surge forward in attacks is truly captivating; it was no surprise that his cross led to Messi's winner which clinched the Super Cup.
In Spain, only Real Madrid are capable of competing with Barcelona, but based on last week's loss, it is evident they still have some catching up to do. 
They still maintain a stranglehold in Europe, a young vibrant Manchester United may be their closest obstacle to retain the Champions League. 
Bayern Munich may pose a threat if Robery (Robben and Ribery) are on fire, and Villas Boas might lose some of his hair under the threat of Abramovich to try and claim the elusive European honor. 
Whatever the case, Barcelona look an unimaginable force come this season. They appear the ultra-cool villains who are about to step in and destroy anything which gets in their way of football domination, no superheroes look capable of stopping them.
A Justice League should be formed soon to fight this magnificent, irresistible force or they may rule the world of the beautiful game for a very long time.