Arsenal 2-1 Udinese: How Szczesny's Save May Have Saved Arsenal's Season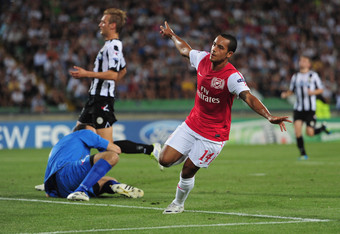 Well, we knew going into today's game that our club would fall into one of two scenarios at the end of the day. The first scenario was us advancing to the group stages of the Champions League, receiving a minimum of £25 million pounds because of it, and not having our stature as a club diminish with our participation in the Europa League. The second scenario was one that we did not want to think about, and it would have certainly fueled the fire for critic and "fan" alike who have been dooming Arsenal since the season began.
Luckily for Arsenal Football Club, a 2-1 victory today at the Stadio Friuli ensured that the first, and I would say better, scenario became a reality. The young Arsenal team played well and for large parts of the game, the likes of Ramsey, Frimpong, Walcott, and the rest of the squad looked very confident. Di Natale scored on a cross that was poorly defended, but we responded well after the half and Van Persie showed his quality and scored in front of goal.
It wasn't until the referee, rather harshly, awarded a penalty for Udinese that Wojciech Szczesny may have made his most important save in an Arsenal jersey so far. Tipping the penalty over the bar, momentum turned and Arsenal gained control of the game again. Later on, Walcott would use his pace and cool finishing to score the second goal for Arsenal.
The importance of the save by Szczesny cannot be stressed enough. There is every possibility that at 2-1 Udinese, the momentum would have turned in their favor and we could have seen our hopes for Champions League football flicker away faster than it takes Rafa Benitez to finish off an all you can eat buffet.
Szczesny has certainly impressed since last season, and he has continued his good form this year. The boy's confidence is very high and he knows he has the ability to be one of the best keepers in the league. I think a tweet during the game from @YoungGunsBlog really describes just how confident this young man is. After saving the penalty, they tweeted, "Szczęsny, the man who told the ref at a U18 game not to bother checking his nets, as the opponents wouldn't score, saves." Confidence is certainly something the side seems to have lost a bit of this season, and we haven't had a confident keeper in the net since mad Jens was playing in his heyday.
I'm reminded of a member's day at the Emirates a while back where the players were participating in a cross-bar challenge. Few players hit the cross bar, but Szczesny confidently ran to the ball and nearly broke the cross-bar. It's this kind of confidence that will ultimately lift the squad and also allow our team and our supporters to finally feel safe with the keeper we have in goal. If this season's Champions League pans out well for the Arsenal, we may have to talk about Szczesny's magic gloves rather than Wenger's magic hat.
Now that the game is over and we're in the Champions League, we can finally breath a little easier. Certainly we were all a bit worried and wondering if the worst would finally come for us. What we saw today can give faith to the supporters and quiet some of the other "supporters" whose only form of conversation seems to involve Wenger and the board being sacked.
Player signings will come. Wenger knows the squad needs improvement, the board knows this, and the fans certainly sing about it. It was Arseblog (www.arseblog.com), I believe, that made the good point that signings haven't come yet mainly because most players are waiting to see what kind of Arsenal team they would be playing for. With Champions League football ahead of us, signings will come, and it will be easier to attract the quality that we need, and with the money that we need, now that we have beaten Udinese.
Today we saw a young side that has lacked any faith in its ability grow in confidence with every touch of the ball. We had a tricky away game and our depleted team got the result that they needed. We play the Mancs on Sunday and certainly we would hope for a new face or two to join the squad before then, but we are beginning to see this team come together. I for one am cautiously optimistic. I realize we need to strengthen the squad, but I would make the point that all is not lost for Arsenal Football Club, and better days are coming soon.
Cheers,
Twitter-@pcammarata
This article is
What is the duplicate article?
Why is this article offensive?
Where is this article plagiarized from?
Why is this article poorly edited?

Arsenal: Like this team?