Manchester United: The Thrill of a New EPL Season at Old Trafford
August 24, 2011
Manchester United have a reputed 300 million fans worldwide. Only a fraction have managed to get to Old Trafford. What's it like to be at the first match of the season?
It's been exactly three months since I watched the Reds lift the Premier League trophy at Old Trafford. As I walk up Village Way, towards my spiritual home, it seems only a few days ago.
The sun is shining on a pleasant August evening, and I'm looking forward to our first home match against Spurs—who, like United, play attractive football.
Like many die-hard supporters, I'm always a bit nervous, because winning is a habit.
Last season, we won 18 and drew one EPL match at home and haven't lost for 16 months.
Against West Brom last season, Edwin van der Saar dropped the ball, and we conceded our only draw. One piece of bad luck can swing a match.
I like to get to Old Trafford up to two hours before kickoff. As I walk over the footbridge, there are the usual far-eastern visitors having their photo taken against the backdrop of the stadium.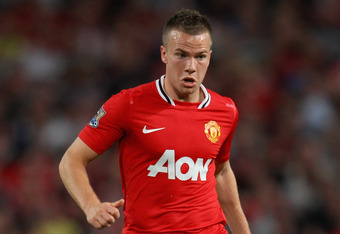 Once inside the ground, I glance at the MUTV screens before walking up the steps to my seat in the North Stand.
The experience never changes. I get a thrill every time. I read the programme for a few minutes before the stadium announcer gives out the teams. Each is greeted with a cheer.
Sir Alex has kept faith with his younger players and, in the absence of Vidic and Ferdinand, is starting Jones and Evans at centre-back. Again a flutter of nerves, but I'm looking forward to seeing Phil Jones under pressure.
The players come out to warm up, applauding the crowd as they do. I wonder what David de Gea is thinking. He gets a warm round of applause for everything he does, but as he leaves the pitch with fifteen minutes to go, he sees a stadium still less than a quarter full.
Preseason has gone exceptionally well.
I watched every match on MUTV and have already started watching the Academy and Reserves to see who is up-and-coming.
Fletcher looks fit but is still a shadow of himself. Otherwise, the players look as sharp as I've ever seen at this stage.
It showed with two more late winners in the Charity Shield and at West Brom.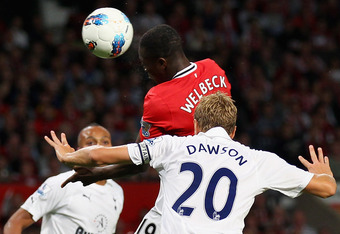 Everyone wants to chat about the various issues, the most common of which is whether Sneijder is coming.
We'll need another performance from Cleverley and Anderson tonight to calm the doubters.
As the teams enter the arena, we all raise the 19th Championship scarves that Sir Alex and David Gill have kindly had placed on every seat to say thank you for last season.
The match is under way, and there is a huge roar.
Cleverley almost scores early on, and you have the feeling it will have been an avalanche. But as the first half wears on, Danny Welbeck seems lost in midfield and the teams are sharing possession.
What will Fergie say at half-time?
Any crowd gets frustrated if their team doesn't score early to ease the nerves.
At Old Trafford, they tend to show it by going quieter. It always needs something exciting to get them going.
Phil Jones, Jonny Evans and Chris Smalling (average age 21 in Fergie's second-youngest team ever) have been outstanding at the back. Jones looks world class tonight.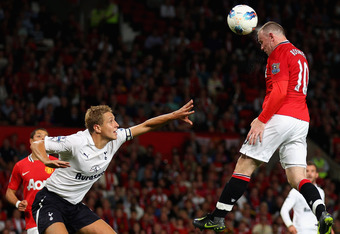 Wayne Rooney is at his sharpest and is all over the pitch.
Suddenly the ground is lit up by the two youngsters Cleverley and Welbeck combining to produce a superbly headed goal. The crowd goes mad.
From then on, the result is never in doubt.
Welbeck is far better now. He and Anderson produce a sublime move for the second goal.
Ashley Young has shown all match why Sir Alex paid £18 million, and Nani is at his buzz-fly best.
United bring on two wise heads and the inspiring Chicharito. Spurs are visibly tiring, and their excellent captain Michael Dawson is stretched for a third time as Rooney heads the last goal from a delightful chip by Giggs, ending a move started by Chicharito. Business as usual.
The crowd cheers and "Glory, Glory Man United" starts as the final whistle goes.
Many happy faces in the stands and eleven on the pitch. As we all stream away, there are many different conversations, with so much to talk about. No one's talking about City.
I overheard a friend of mine the next day—not a United fan—describe the performance as awesome.
If you want to look for glitches, De Gea was still a little uncertain, but Defoe could easily have got a red instead of a yellow for his very late kick towards the keeper's face on the ground.
Supporting United is a religion. For me it started at The Cliff, 55 years ago, meeting Sir Matt and the Busby Babes—and watching Duncan Edwards play.
I blubbed at the six o'clock news with the Munich crash.
Many people sadly resent United's success. If you're not from Salford, you don't count as a "proper supporter." Try telling it to people like me, who treasure their season ticket and the 300 million who thrill to every match and grasp every scintilla of rumour.
The first home match is out of the way.
Only 18 more to win. We've started well away, as well. Surely we'll win the title again.
City may add Samir Nasri to Kun Aguero, but United have a cohesion, team spirit, flair and energy as good as I've ever seen at this stage.
Roll on Sunday and the Arsenal.