Manchester United Needs Wesley Sneijder to Get to the Next Level in Europe
August 22, 2011
Manchester United has enjoyed a fantastic start to the Premier League campaign, recording victories against West Bromwich Albion (2-1) and Tottenham (3-0), in addition to their thrilling Community Shield victory over Manchester City (3-2).
The positives in their performances have far outweighed the few but potentially worrisome negatives, and the club has been buoyed by the performances of youngsters Danny Welbeck and Tom Cleverley, who both shined against Tottenham—with Welbeck scoring on a header for the first goal before delivering a lovely back-heel flick to an onrushing Anderson, who finished easily into the top corner of Spurs keeper Brad Freidel's net.
Fellow newcomers Ashley Young and Phil Jones joined Welbeck and Cleverley in starting against Tottenham. Young, signed from Aston Villa early in the summer, has been a revelation in his two league matches thus far, twisting and turning defenders inside out, as he runs rampant on the left wing.
Keeper David De Gea has been the primary focus of concern for the club, with shaky performances in all 3 competitive appearances for the Red Devils.
This brings us to to the main issue for United, and that is competing for the Champions League crown a year after they were swept aside in a comprehensive 3-1 thrashing by Pep Guardiola's magnificent Barcelona side in the final at Wembley Stadium.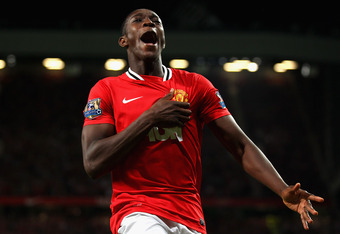 If Ferguson keeps the squad as presently constituted, it will be nigh impossible for United to seriously contend in Europe. The newcomers are an important component to improving the team's overall quality, but something else is needed should they reclaim that elusive mantle of best European side.
Sweeping aside West Brom is an expectation, as is defeating Tottenham (playing in their first competitive match after the raft of London riots canceled their fixture against Everton last weekend) convincingly at Old Trafford, but these teams simply aren't near the standard set by clubs such as Barcelona, Real Madrid, AC Milan, and Bayern Munich (who knocked United out of the CL in 2010) in Europe's premier tournament (The Community Shield victory over Man City was impressive, but must be treated essentially as a friendly due to the number of substitutions allowed and the time of year it is played in).
While teams such as Milan and Bayern may still be inferior to United at the moment, Barcelona and Madrid have only gotten better, and that is a sobering fact that the rest of the football world must deal with, including Manchester United. 
Here's where Wesley Sneijder could help.
While the Dutch No. 10's price tag might be prohibitive (according to Goal.com, Inter have set it at €35 million), and his wage demands possibly exceeding those of Wayne Rooney, Sneijder's presence in United's first team would provide the spark they need to ultimately overcome Barcelona in the Champions League.
Sneijder has already led a club past Barcelona, just two short years ago with Inter Milan en route to their treble-winning season, and seems the ideal candidate to bring another team, this years rendition of Manchester United, to the same place that he brought Inter. 
It is already known that United can make it to the latter stages of the Champions League as currently constituted, but it seems highly unlikely that the likes of Welbeck and Cleverley will be enough to lift this team past a side such as Barcelona. 
Questions remain as to whether Sneijder would be a good fit for Ferguson's 4-4-2, which relies on pacy wingers putting in extensive work, anchored by two low-lying central midfielders. When at his best, Sneijder thrives in the role of trequartista, or a No. 10 playmaker in the mold of an Alessandro del Piero.
Sneijder requires lots of time on the ball, and with his talent, that's what you want him doing. Whether he would cut into Wayne Rooney's tendency to wander about the attacking third would be a question that requires answering.
Manchester United's policy of not signing players over 26 years of age would be violated as Sneijder is 27, and according to the same Goal.com article Sneijder is asking for a five-year deal that would keep him at Old Trafford until he's 32, causing concern for those in Manchester as to whether the deal will continue to pay off in the latter two or three years of the contract when Sneijder will be approaching the wrong side of 30.
Regardless of the cost, adding someone with international pedigree such as Sneijder is the only answer to this quandary, and if Alex Ferguson wants to mount a serious challenge to Barcelona's European reign in the immediate future, this is a risk he must take.