Everton FC: 5 Talking Points to Emerge from the Defeat to QPR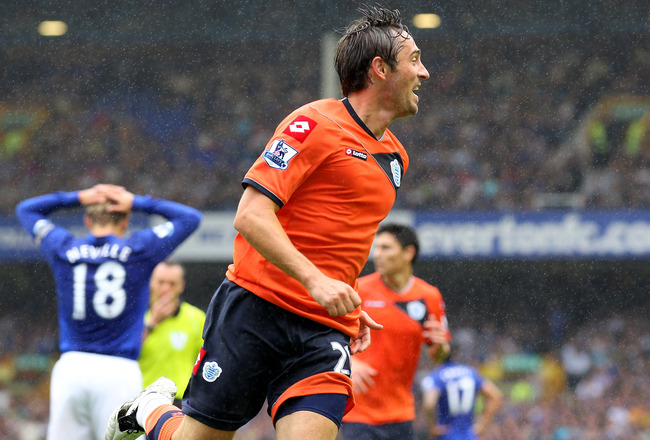 Alex Livesey/Getty Images
So another Premier League race begins with Everton already stuttering at the start. Yesterday's 1-0 loss at home to QPR has been difficult for many fans to digest.
Isolated, the defeat did not present any gulf in class, as Everton were unlucky. According to Opta Stats, they registered 14 shots to QPR's four, whipped in 28 crosses to QPR's five and were the superior passers, with a 75 percent completion rate.
Yet being the first game of the season, and coming after a tumultuous week in which the club have had their financial perils illuminated, the result was paramount for fans. Supporters craved a soothing win to blanket over the club's now transparent cash crisis. Unfortunately, it did not transpire.
The frank reality is that this season will test fans, the players, David Moyes and the club as a whole. Moyes has already tried to quash expectations, stating how a top 10 finish may not be reachable this year. That seems a tad dramatic when the squad used yesterday is fully dissected. However, Everton are in a scrap this season, and they need everyone pushing in the right direction.
Here are five talking points to debate, all triggered by yesterday's setback.
1. Was Ross Barkley's Debut the Best Since Wayne Rooney?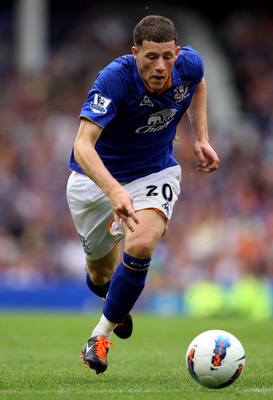 Alex Livesey/Getty Images
Let's start with the positives for Everton, of which there were sadly very few.
The performance of Ross Barkley on debut, in a position not wholly familiar to him, was a highlight for all Evertonians.
The youngster, just 17, oozed confidence whilst displaying pace, power and a sound touch. He registered more shots at goal than any other Everton player and looked a constant menace to QPR's defence.
Fabio Capello appeared intrigued by his potential when studying his performance during "Goals on Sunday". He even went as far as labelling him as the next Wayne Rooney. "Match of the Day" also made note of his arrival, predicting an exciting future for the teenager.
With Everton's resources so stretched, Barkley may quickly become an integral part of Everton's creative artillery this season. Not since a certain Rooney have Evertonians been so enthused by a young prospect at Goodison Park.
2. Five Central Midfielders Across Midfield?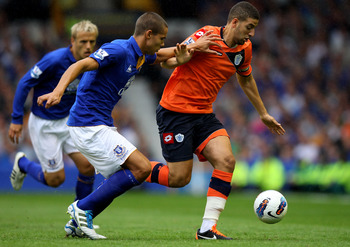 Alex Livesey/Getty Images
Hamstrung financially, Everton have been unable to supplement their squad. With Diniyar Bilyaletdinov suspended and Seamus Coleman out injured, yesterday David Moyes was left with a glut of central midfielders but not a single winger.
Of the options he had, Victor Anichebe, Mikel Arteta and Leon Osman are the players that would perhaps be more familiar in a wider role. Yet Moyes opted to cast youngsters Jack Rodwell and debutant Ross Barkley out wide.
Whilst Barkley produced an impressive display, and has the characteristics to adapt quickly to a wider berth, the rigidity of five central midfielders severely debilitated the Toffees and their attacking threat. Rodwell at times looked lost and was rarely involved in any link-up play. Barkley cut in to influence the game, making the central areas more compact. Despite his strong individual showing, it deprived Everton of an outlet and played to QPR's strengths.
Centrally, and admittedly also out of position, Johnny Heitinga was a passenger for most of the game. His partner, Leon Osman, produced a dismal final quarter and failed to rekindle any of his late-season form of last year. Slightly further forward, Tim Cahill linked up play nicely but lacked real chemistry with Jermaine Beckford. He also missed some glaring openings.
If Everton had width, they may well have won yesterday. The Toffees adapted well to QPR's close marshalling of Leighton Baines by often being able to shift the ball on and present another player with an opportune moment to cross.
However Phil Neville, Osman, Rodwell, Arteta and others, when poised to deliver, were wasteful. Only six of 28 crosses found an Everton player. Everton did open QPR up, but had nobody to play in the killer ball with Baines often tied up. On the rare occasion they did, Cahill, Beckford and Marouane Fellaini were guilty of some glaring misses. If wingers cannot be loaned in, Everton must monitor their plans for the flanks this season. Delivery is a crucial aspect and Moyes will have to accept the potent Leighton Baines is likely to be harassed far more this season.
3. Jack Rodwell Needs to Find His Position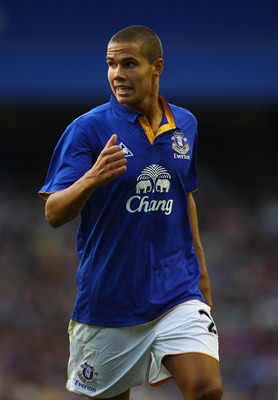 Clive Brunskill/Getty Images
To continue with midfield dilemmas, Everton will jeopardise the future of Jack Rodwell if they continue to spread him over midfield in various contrasting capacities. Yesterday, playing out right, he resembled a player bereft of confidence, bemused at his current plight. This has caused Rodwell to become hesitant in the tackle, tentative at taking players on and guilty of predominately passing the ball laterally, at a leisurely pace.
Rodwell emerged from Everton's youth team as a central defender, comfortable on the ball, sound in the tackle and unyielding when pressed by attackers. Thrust into the first-team fold at just 16, to phase him in he was sporadically used as a holding midfielder.
As he became more comfortable in his surroundings, Rodwell began delivering some impressive displays. At times, his pace and power compared favourably to some of the best box-to-box midfielders in the country. He also demonstrated ability to thunder in some rasping shots at goal.
His double against Sigma Olomouc was especially memorable, and who can forget his run and finish against Manchester United? Everton promptly began envisaging him as a genuine midfielder and any talk of him eventually reverting back into defence began to cease.
Yet last season he endured a season punctuated by injury. His appearances where scattered and when he got on the pitch he lacked consistency. At times, playing without training, his performances dipped and he received some feisty criticism from the Goodison Park faithful.
For the first time in his career he has stagnated, and with his prospects continually rising since he was a boy, he has evidently been thrown off track by this dip. At such times one would reflect on personal strengths and look to play to them. However, Rodwell was brought up as a central defender and his inexperience in midfield may have limited his ability to do this.
Could a return to defensive duties be in order? To help him, Everton should at least momentarily use him as a defensive midfielder, and certainly over Johnny Heitinga, who Everton used yesterday. Rodwell remains one of the brightest talents in the English game, still just 20, but currently his potential is only being smothered.
4. Everton Were Far Too Quick to Resort to the Long Ball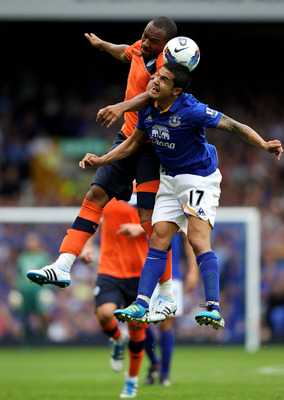 Alex Livesey/Getty Images
When QPR scored after half an hour, for 10 minutes Everton resolutely launched the ball to Jermaine Beckford, who predominantly lost possession. As they calmed down, from 40 minutes to 52 minutes, Everton cut QPR apart four times by more creative methods. Tim Cahill (twice), Jermaine Beckford and Jack Rodwell all should have scored.
However, when those misses flew by and the crowd's anxiety surged up a few notches, the players again became all too keen to bypass midfield and directly hit Beckford, Cahill and later Marouane Fellaini or Louis Saha. This is reflected by QPR's surprising 53 percent share of possession despite Everton's excess of openings and chances. Out of the 35 balls that Everton hit forward, only 16 found a man, as QPR continually wrestled possession back.
It was notable too that out of the 14 shots Everton unleashed, 12 of those openings were carved out before the 67th minute. Despite countless crosses being over hit and missing the target, there were still plenty of opportunities being produced.
When Everton resorted to pinging the ball downfield, using six attacking players, they only fathomed two further efforts on goal in the final 25 minutes of the game. As mentioned, hitting it long, Everton squandered possession far too frequently. Players felt the weight of expectation and wilted under the pressure of it.
The game replicated countless displays from last season where Everton created copious chances yet finished on the wrong end of the result. The Toffees must somehow maintain their patience, as the top teams do, and stick with their principles.
If you are creating chances, your attacking methods are functioning well. Without a colossus in the air, Everton lack potency when they attempt an aerial assault and should consider this only as a last resort.
5. Everton's Opening Day Woes Continue
Alex Livesey/Getty Images
It is now four seasons in a row that Everton have prepared during the summer months in various continents, taken up countless new techniques to prepare them for the rigorous nature of the Premier League, only to be found wanting on the opening day of the season.
For a team that have occupied the top eight for most of the last decade, that record is unacceptable. How can a team that has always produced such impressive late-season form and togetherness continually lack structure and unity on the first day of a new season?
Two losses to Blackburn, an annihilation by Arsenal, and this latest defeat to QPR have all been dismal displays for fans to endure. Regardless of the lack of new faces, the personnel on display for all of those matches should have produced far more that the frugal offerings served up for the fans.
Whether it is motivational issues, a lack of preparation or flawed training methods, Everton must rectify this growing trend of poor early season form. One of the premier sprint finishers each year, Everton badly need to find a pacemaker to be more competitive early on.
If you liked this article, follow me on Twitter: @Matt_Cheetham for more chat
Keep Reading

Everton: Like this team?