Liverpool FC: Review and Analysis of the Reds' Victorious Trip to Arsenal
August 20, 2011
The first mouth-watering encounter of the 2011-12 season saw Arsene Wenger's Arsenal side play host to a resurgent Liverpool side under Kenny Daglish.
All outfield players signed by Liverpool walked out the tunnel as starters with Left Back Jose Enrique, midfielders Charlie Adam, Jordan Henderson and forward thinking winger Stewart Downing all featuring in their first away game in a Liverpool shirt.
The line-ups both came with minor shocks, with Samir Nasri starting a game which may be his last due to heavy transfer speculation concerning a move to Manchester City for the Frenchman.
While on the other side, Suarez, who scored the lone goal for Liverpool last week, was limited to a substitute appearance.  
The first half was a somewhat cagey battle with both teams seemingly intent on nullifying the opposition threat rather than going for an all-out attacking style of play. 
Highlights of the first half included a brilliant save from Szczesny following a powerful Andy Carroll header, and new-boy Emanuel Frimpong forcing a save from Pepe Reina after a 25 yard drive before Samir Nasri (who's move to Manchester City move has reportedly broken down) skipped past Lucas and Agger before unleashing a shot that curled just wide. 
Lowlights consisted of an injury to Arsenal centre back Laurent Koscielny.
Overall Liverpool would have been the happier of the two at half-time, with Arsenal's midfield disjointed and not particularly ambitious, in contrast to a Liverpool side who were moving the ball much faster and with more confidence.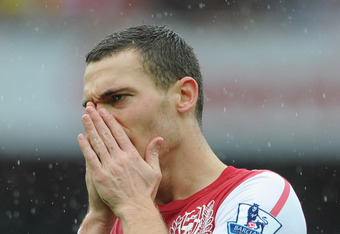 Thomas Vermaelen impressed upon his team-mates how important he is, blocking dangerous crosses and throwing his body on the line. 
As the Sky Sports commentator said, "He is to Arsenal what Vidic is to Manchester United."
The beginning of the second half followed the trend of the first, with both teams intent on keeping a clean sheet.  However thing livened up when Frimpong, who had been impressive, received a second yellow for a harsh challenge on Lucas in clear sight of the referee.
Sensing blood, Kenny Dalglsh immediately brought on Luis Suarez and Raul Meireles in place of or 'Working Class Hero' Dirk Kuyt and a tiring Andy Carroll.
Immediately Liverpool looked to exploit the 10 men of Arsenal, and saves were produced from efforts from Stewart Downing and Luis Suarez.
The pressure paid off six minutes later, with Liverpool taking the lead thanks to a defensive catastrophe. Suarez was tackled by Koscielny's replacement Miquel, only for the ball to rocket of Suarez's boot onto Ramsey's head, and loop over Szczesny's head into the net.
Dalglish celebrated while Wenger was left incredulous. Bendtner was brought on in place of Theo Walcott to try and equalise.
However ten minutes later, a brilliant team move saw Suarez latch onto a very un-selfish Raul Meireles cross to make it 2-0; the goal saw the Uruguayan double his goal tally.
The key to the game was the midfield battle, with Liverpool coming on top.  Lucas and Adam has quiet but effective games, dampening the Arsenal threat.  Jordan Henderson was also quiet, but a generally good display helps his case for more starts.
The standout performer at the Emirates was Jose Enrique.  Theo Walcott was almost non-existant thanks to the Spaniard, who also offered a lot going forward. 
Ahead of him was Stewart Downing, who also impressed.  His mazey runs and intelligent passing ensured the fans can relax knowing his transfer fee was money well spent, as he created chances with dangerous crosses and produced saves from the Arsenal keeper.
Luis Suarez, who wasn't included in the starting line-up proved to be an excellent impact player, as did Raul Meireles. The two kept the ball well, closed players down and linked up for the goal that killed the game.
Daniel Agger was brilliant in defence, using his height to block crosses and marking Van Persie to subdue his threat.  His attacking runs also won free kicks for Liverpool, which have now finally become a real opportunity thanks to powerhouse Andy Carroll.
Despite consistent performances from the Liverpool side, Arsenal shot themselves in the foot with Frimpongs red card. 
The midfielder was the stand-out performer in Arsenal's midfield, trying in vain to grab the game by the scruff of the neck.  His red card may have been due to a rash challenge, but frustration was boiling within him thanks to Arsenal's lack of movement and options in midfield.
The lack of creativity today showed Arsenal fans exactly how important and how valuable Cesc Fabregas was to the team, as a player and captain. 
Tomas Vermaelen took the captains responsibility upon his own shoulders despite not carrying the armband, but even the towering centre-back couldn't impose leadership and organisation upon his team-mates.
Three points today are worth their weight in gold as four points from the opening two fixtures would have been Kenny Dalglish's target.  Moreover more importantly, a win away from home against Liverpool's greatest big-four challengers  may be significant come next May.
As for Arsenal, being booed off on their first home game doesn't bode well for the future. 
Nasri played well despite all the chaos concerning his potential transfer, and emphasised the importance he has within the squad.
While Arsenal were unlucky to concede the first goal, a general lack of flair resulted in Liverpool deservedly coming out on top, and the Reds will be looking to push on next week against Bolton.
Whatever your take on the game was, one things for sure: Wenger needs to spend.