Real Madrid: Is It Time to Find a Replacement for Jose Mourinho?
August 18, 2011
Laurence Griffiths/Getty Images
It's sad that even though we just witnessed 180 minutes of brilliant soccer over the past couple days between two of the best clubs in all of Europe, it will all be overshadowed by the final four minutes of today's game.
The Supercopa just finished with FC Barcelona beating arch-rival and nemesis Real Madrid on a 5-4 aggregate. It was really a brilliant display by both sides and would make any casual fan excited for the upcoming season. 
In my opinion, although an extremely difficult loss, Real should be happy with the result. I know Real, and the rest of the world, is sick of losing to Barcelona, but dethroning the Catalan giants will take some time.
Barcelona has unquestionably been the kings of the football world for the past couple years and have dominated Real Madrid last year in La Liga and the Champions League. Manchester United convincingly won the Premier League last year but even they were hardly a match for Barcelona in the Champions League final.
Now, Real kicks off this season by holding form against Barcelona for 170 minutes and only losing after a wonder goal by one of the world's best players. Again, a tough loss, but a great performance against one of the best teams of all time.
Yet Real's solid performance will be overshadowed by a late, and very hard tackle by Marcelo on Cesc Fabregas.
Marcelo's tackle was somewhat surprising as you expect a tackle like that from Sergio Ramos or Pepe "the back scratcher."
But in my opinion, the most surprising thing wasn't that Marcelo made the tackle, but rather the reaction by Jose Mourinho. I understand that a manager needs to stick up for his players—I'm not expecting Mourinho to go out there and yell at Marcelo over the tackle. He should defend his players. 
But instead of calming down his players and separating them from the fight, he went over and pushed a Barcelona coach to further incite the fighting flame that was already burning. 
It was a rather petty and cheap move. 
And it only makes one wonder if Mourinho was orchestrating Marcelo's actions.  He may not have directed Marcelo to make that specific tackle, but if a coach is willing to push other coaches, he is likely condoning it when his player makes a cheap tackle. 
I realize that dirty and cheap tackles are part of football.  I also realize that you can't attribute all actions by every player to their coach.  Almost always a player is acting on their own volition.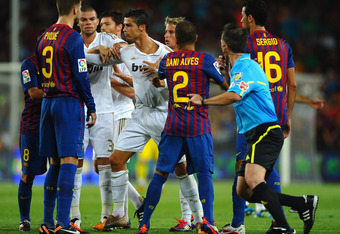 Laurence Griffiths/Getty Images
While I don't think a coach puts "a hit" out on a certain player, I do think that a coach definitely creates a culture within a club; and I think Marcelo's actions are representative of the culture Mouinho is developing at Madrid. 
I like Mourinho. I was excited when he came to Madrid because I thought he was just what we needed. A few years ago we were embarrassed by Barcelona as they scored five goals on us at home. 
Two seasons ago Real lost to Barcelona in both their meetings. And last season the two teams collided a few times in La Liga, Copa del Rey and the Champions League. Even though Real couldn't beat Barcelona in the coveted Champions League, they did pull off the victory in the Copa del Rey and salvaged some pride.
Real is making progress, but at what expense? If the only way to beat Barcelona is through cheap shots and shoving, I'd rather lose.  
When Real beats Barcelona I want it to be because we had superior players and/or a superior game plan.
A few years ago Mourinho's Inter Milan took down Barcelona in the Champions League and Real was surely hoping for the same magic at Madrid. 
Mourinho hasn't been quite as successful and seems frustrated. Yet, instead of channeling that frustration to improving the squad, he seems to direct his frustration to cheap shots on the sidelines and trash talking with the press. 
That was all fun and entertaining when he first arrived, or before the first couple clashes with Barcelona when Real seemed deflated and needed a spark; but now it's just getting old and Real fans prefer victories. 
If Mourinho can't do it, or if his best tactic is to shove opposing coaches and then run away, then maybe it's time to bring in someone else.