Manchester City Transfer Rumors: Samuel Eto'o, Samir Nasri In? Carlos Tevez Out?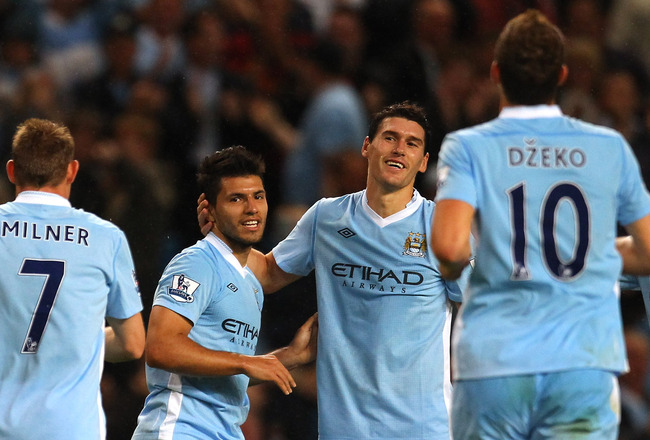 Alex Livesey/Getty Images
With the first game of the English Premiership in the books, Manchester City made an impressive debut beating EPL newcomer Swansea City decisively 4:0.
Manchester City is looking to keep last year's momentum alive in which they finished tied for second place in points with Chelsea, and were crowned the FA Cup champions after beating Stoke City 1:0 at the famed Wembley Stadium.
Man City also was tied for first in the EPL for least goals allowed with Chelsea, having only allowed 33. So it was clear City was going to do their best in adding some more firepower up front.
And so they did by acquiring Sergio Aguero from Spanish club Atletico Madrid with a transfer fee of nearly $58 million. Aguero did not disappoint in his debut scoring two goals and assisting on another in not even a full half of play.
So what other players is Manchester City looking at to help bulk up their strikeforce before the August 31st transfer window shuts? Let's break down some of the possible additions, likely departures, as well as just plain empty rumors.
Possible Additions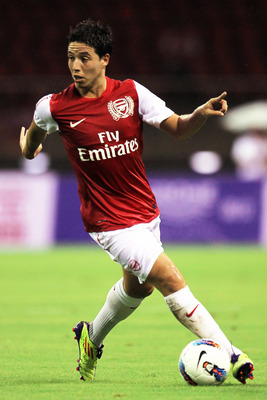 Lintao Zhang/Getty Images
The signing of attacking midfielder Samir Nasri is on the brink of being a done deal. Look for the French international to join Roberto Mancini's side by this weekend. Nasri is currently in the final year of his contract with Arsenal, which he already said has no intentions of extending. Instead a deal worth $41 million is in place which will send Nasri to Manchester City.
Wesley Sneijder of Inter Milan has also come up various times in connection with Manchester. The only question seems to be which Manchester? United or City? Sneijder openly made himself available for transfer, and had a preference towards the EPL.
Manchester United has looked great thus far up front with players such as Wayne Rooney, Nani, Danny Welbeck and Ashley Young showcasing excellent play. That opens the question of where would Sneijder fit in? Of course Sneijder is a great player who will get his run where ever he decides to go, but why jeopardize the great chemistry ManU has going?
As for Manchester City, they have been rumored to be interested quite a while now for Sneijder's services. But it has been the heavy price tag that have kept City at bay.
Instead, City has shown a lot of interest in Sneijder's teammate Samuel Eto'o. Eto'o issued a statement saying that money will not be a huge factor, being that he is nearing the end of his career and therefore has made plenty of financial gain.
In addition, Manchester City is willing to trade one of their premier strikers in return to make it less of a fiscal challenge to acquire Eto'o. We will get to that potential striker in the next part.
Likely Departures
Clive Brunskill/Getty Images
That elite striker who could possibly be involved in a swap for Inter Milan's Sameul Eto'o is none other than Carlos Tevez. The Argentine superstar finished Premier League play last year tied for first place on the scorers list with ManU's Dimitar Berbatov, at 20 goals apiece.
Tevez has also been linked to rivals Arsenal, once again via swap for the seemingly done deal of Samir Nasri. It is somewhat unlikely that Tevez will be moved due to the hefty $66 million dollar price tag. The team in most realistic contention are the Corinthians of Brazil, which will also help cure Tevez' home sickness issues, as he frequently flies back to Argentina to see his daughters.
Last season Tevez' name was a given in Mancini's starting XI, but this year things will clearly be different as he not only will be forced to compete for a spot, but will probably miss significant playing time due to some of Manchester City's additions.
Another player who already has one foot out the door is striker Emmanuel Adebayor. Coach Roberto Mancini has made it clear that Adebayor had no future with the club due to last year's fallout between the two. Real Madrid has showed serious interest but the Tottenham Hotspurs are front runners who should be completing the deal very soon.
After Liverpool failed to acquire the services of Everton defender Leighton Baines, they switched gears and are now in heavy pursuit of Man City's Wayne Bridge. Before Liverpool entered the picture it seemed like a move to Newcastle seemed to be just a matter of time. It will be interesting to see which team will get the leverage, which currently lies with Liverpool.
Shaun Wright-Phillips has come up in connection to a number of teams. This list includes Bolton, Stoke City, Aston Villa, Fulham, Wigan and Sunderland.
The Bolton Wanderers have managed to emerge as the most likely scenario. Since SWP has limited chances at Manchester City, he has been allowed a transfer. Bolton is adamant in signing the ex-England international but the hold up at the moment is his salary which the club seemingly can't quite afford. Bolton boss Owen Coyle has said he will do whatever it takes to bridge the gap.
Dismissed Rumors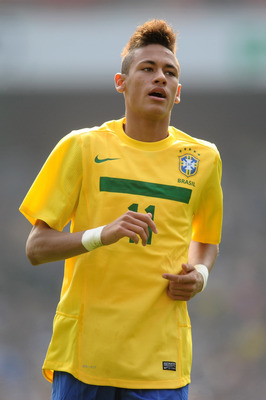 Mike Hewitt/Getty Images
Another highly touted striker Manchester City is looking to sign is Brazilian wonder child Neymar who is said to be the next Pele. Bold statement? Well, Pele himself is the one who predicted Neymar will be that good.
This seems to be a long shot though. Teams such as Real Madrid, FC Barcelona and Chelsea seem to be front runners for acquiring the young gunner's services.
Brazilian soccer great Rivaldo, has urged the uber talented striker to make his move to Europe as soon as possible, and leave his current club, FC Santos of Brazil.
Europe features by far the best talent worldwide. Significant exposure is garnered only while playing in one of the elite leagues in Europe such as La Liga, The EPL, Bundesliga or Seria A. But as rumor has it, Neymar will most likely take his talents to Spain's La Liga. And if it does happen to be the Premiership, it most likely will be Chelsea rather than Manchester City.
Keep Reading

Manchester City: Like this team?