Arsenal FC: Crisis or Media-Fueled Hype ?
August 17, 2011
Shaun Botterill/Getty Images
Is there a chance that anyone in the media might have something positive to say about Arsenal and, in particular, Arsene Wenger ?
Watching from the director's box, we saw a fidgety and agitated Wenger.
Arsenal themselves were sometimes nervous and unsettled. This was also represented in the crowds as Arsenal inched their way to a one-goal advantage to take to Udinese next Wednesday for the second leg of the Champions League qualifier.
The result itself was very acceptable against dangerous opponents, with no away goal conceded.
But with Cesc Fabregas finally back in the arms of Barcelona, Jack Wilshere injured, newly-appointed captain Robin van Persie suspended and Samir Nasri also banned and on his way to Manchester City, it did little to dispel the mood of uncertainty hanging over Arsenal.
Had a similar result been achieved by Manchester United or Chelsea, their ability to play in an ugly fashion and win would have been praised.
Arsenal played in an ugly fashion and won.
When they played beautifully and lost, everyone complained that they couldn't play in an ugly fashion and win. When the defense wasn't solid, everyone complained.
Yesterday, the defense was solid—last year Udinese would have scored two with the same amount of chances.
Arsenal need a few signings. We all agree upon that.
A tough defender should be first priority, it is said. But he did try to address that problem with Koscielny and Squillaci.
As with so many other players impressing in other leagues and failing here, they found it tough to show to others what Wenger saw in them.
Wenger has allowed his squad to thin out without securing like-for-like replacements and reinforcements.
It is understandable that the lack of urgency being shown in filling the gaps is a cause for anxiety. At the end of last season, the media were saying Arsenal needed to clear out the deadwood (i.e. Almunia, Eboue, Denilson, Bendtner, even Clichy).
Now Clichy and Eboue have been sold, Denilson has been sent out on loan, and Bendtner and Almunia are on their way out. However, now it is being projected as an exodus.
But the problem does not lie with the media alone. Wenger, has become obsessed with winning the title on a shoe-string budget.
While his policy to buy young and stay clear of big-money signings is appreciable, he needs to understand that the contradictory comments he comes out with almost on a daily basis is the reason that Arsenal fans are fed up.
You can't say that you are willing to spend £30-£40 million on a player one day and then say that there aren't players of Cesc's/Nasri's quality out there for a good price. It makes no sense.
His policy over the last few years has landed him in a right big mess with Fabregas and (in particular) Nasri, losing faith in the project and its prospects of success.
The silver lining is the fact that there is money, and the transfer window hasn't closed yet. It is possible that in two weeks time, three good signings can have been made and the squad might look a bit stronger.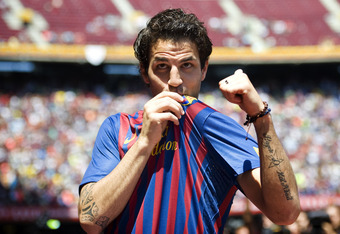 David Ramos/Getty Images
But why has Wenger left it so late to formulate his plans for this season?
The departure of Fabregas and the certain departure of Nasri have hardly crept up on him.
He may now face a problem encountered by other managers when he finally makes his move—namely that other clubs know he has a bucket load of cash lying in the bank and will try to take large portions of it off him.
He has his faults.
But to deem the man unfit for Arsenal, to suggest that the man who transformed them from "boring, boring" Arsenal into the most attractive attacking team seen in the premiership, the man who has won premiership titles and FA cups, taken them to a Champion League final and produced the only team in premiership history to go through a season unbeaten hasn't got a clue what he is doing and does not "understand" his team's failings is plain immature, knee jerk reactions.
The point is that, unless someone has got hold of an illegal shipment of crystal balls, it is far too early to determine that Arsenal "will finish outside the Top Four."
Wenger has gone from nobody, to somebody, to someone great, and (in the space of a single transfer window) back to square one. It doesn't add up.
Arsenal don't necessarily need a change in manager, they just need a change in their manager, and a small change at that.
It's still very early in the season, and while it seems like everything is happening at the wrong time for Arsene—what with the disciplinary fines, players leaving and Walcott releasing an "autobiography," it all seems a bit of a joke and the players seem a little unconvinced that things are going to be okay.
But Arsenal fans should show confidence and back their team, otherwise the doom may spread and be self-fulfilling.
Have faith that Wenger will take them to where they want to be.
Really keen to hear the views of all Arsenal fans on all shades of this debate. The floor, as always, is yours.