Emmanuel Adebayor to Tottenham Hotspurs: A Signing to Reach Champions League
August 17, 2011
Jasper Juinen/Getty Images
If rumors are to be believed, a deal has been agreed on between Manchester City and the Tottenham Hotspurs for Ex-Arsenal and Man City Reject Emmanuel Adebayor. He could play as early as the Spur's season opener against Manchester United next week.
Last summer, Harry Redknapp was allegedly after Craig Bellamy, but eventually City loaned him to Championship side Cardiff City. It looked as if City would never sell/loan a player to Tottenham.
In the January transfer window, Tottenham came for Adebayor on loan but was again turned down. He eventually joined Real Madrid. At that time, signing Adebayor sounded ridiculous, especially with his 170k pounds a week (rumored) salary.
But today, such a deal seems to be a reality.
The rumour is that it will be a loan deal with Manchester City paying half of his weekly wages and Tottenham paying the rest (85k pounds a week). Tottenham will pay around 2m as loan fee, which would enable City to cover some of his wages (38k pounds), effectively paying Adebayor 42k pounds a week. There was strong competition for him, with Marseilles in the race. But, it seems that Adebayor's wish to return to the Premier League has tilted the deal towards Tottenham.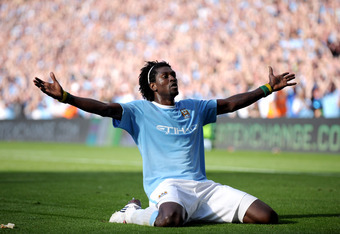 Shaun Botterill/Getty Images
If this deal goes through it will be a major transfer coup for Daniel Levy and will once again reinforce the belief that he is a extremely tough negotiator and a strong operator in the transfer market.
To put things into perspective, Tottenham will be landing the man who scores at will against them, from one of their rivals, in a loan deal in which their rival pays for him to play for them.
Some critics say Adebayor is a bad influence on the squad. Adebayor's time in Madrid is a testimony in itself that this is a myth. Jose Mourinho paid a glowing tribute to him when he attended Madrid's friendly against Leicester City.
Mourinho said: "No. He is here because he is our friend and he belongs to us. He is one of us. It doesn't matter if he is playing at Real Madrid or Manchester City or another club, he is one of us. He was with us for six months and went to the heart of everybody. He is a great lad and everybody loves him.
"When he called us asking permission to come here today, there was not one second of thought. He was with us in the dressing room and he is always welcome."
In Harry Redknapp he could have the perfect manager who would give him the freedom to play. Last season, William Gallas, an ex-Arsenal player, also came in with a similar reputation. Initially, Spurs fans didn't warm up to him, but eventually he won over the fans.
Redknapp took the gamble and made Gallas his captain against Arsenal, eventually resulting in a classic come-from-behind victory in Emirates. The irony is that Gallas was booted out in favor of Nasri. But now Nasri seems to be the real problem, showing no loyalty towards Arsenal and annoying their fans in Twitter.
As for as Adebayor, even if his ego prevails and he is a bad influence, the Spurs can simply give him back to City and they don't lose anything. It's a clear win-win situation for the Spurs. In the past, some Tottenham fans have given him a hard time, but I believe he will largely be welcomed.
Adebayor himself had side stepped the issue after the Real Madrid CL game and had said that Tottenham was his first choice before joining Madrid and that he was still open to moving to White Hart Lane. This set the ball rolling and since then the Spurs have been looking to sign him.
While City doesn't want to gift a player to its rival, it now seems it's the only way out.
With Kun Aguero impressing as a super sub in his debut, and with Dzeko, Tevez and Balotelli, City has enough ammunition to challenge for the league title and go far into the Champions League. I believe that City has now raised the bar so much that they only view Chelsea & Man United as their immediate rivals. In fact, the odds of City winning the title has now been shortened by the punters after the Swansea game.
I don't believe that this signing will go down well with Arsenal supporters, who already despise Adebayor for his notorious goal celebration at Emirates. If rumours are true, Man City will not only sign Nasri but will also be gifting an ex-Arsenal player to Tottenham. There is no doubt that this move by City would not only weaken Arsenal but also strengthen their local rivals.
It is a well known fact that Spurs forwards failed miserably last season and were the prime reason the Spurs missed out on a champions league spot. There is a suggestion that the Spurs have a leaky defense, but the fact is that Tottenham lost just one home game last season and had drawn a record nine home games. Too many defenders were injured, so there was no settled back four.
By Christmas, the Spurs had fielded 11 combinations of center backs with Woodgate & King spending more time on the treatment table. 
The Spurs midfield of Bale—Sandro—Modric—Lennon—VDV created numerous chances only to see it go begging. I still remember games against Blackpool & West Ham in which there were so many chances created, but the forwards simply could not score from four yards out.
Van der Vaart was the best player, scoring numerous goals and assists. But he was also a problem, creating imbalance in the side with his lack of discipline. Van der Vaart thrives in a roaming role, but needs an ideal forward to work with him.
No forward from the Spurs could compliment him.
To make the best use of Van der Vaart, a lone man forward was required who would hold the ball, strecth the defense, make the runs and take the shot. Pavlyuchenko could not hold the ball and Crouch could not take the shot whereas Defoe was not sharp and couldn't convert the chances.
With Adebayor, the Spurs would have the perfect striker. One who could compliment Van der Vaart and Bale.
Adebayor's ability is unquestionable. His form could look patchy in the last season, but the fact is, when he starts he creates goals and scores. In 2010/11, he started 16 games for City & Real Madrid and he scored 12 goals.
His minutes per goal statistics is 145, a healthy one goal in every 1.5 games. Adebayor is a super fit player who has had minimal injuries. In Tottenham, he would get enough starts and could be a big threat with a quality midfield behind him.
If the rumors are true, it seems Harry is looking for a striker, a defensive midfielder, a right-wing forward and a center back. It is not known whether Modric will remain as a Spurs player. The fact is, Spurs came 4th in the 2009/10 season when Modric was injured for around 4 months.
I would say that he is irreplaceable.
Regardless of the presence of Modric, with some astute signings the Spurs could challenge for top 4, and signing Adebayor would be the first step in reaching the goal.