5 Things We Learned from the Premier League Weekend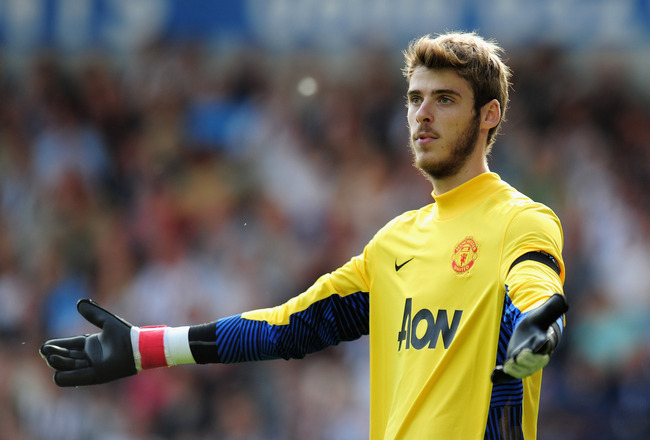 Shaun Botterill/Getty Images
The first weekend of the 2011-2012 Premier League season is (almost) finished, and truth be told, it wasn't all that thrilling.
There were three goal-less draws over the weekend, plenty of controversy surrounding the officials and a lot of new faces getting used to their new colors.
Despite a somewhat sputtering start to the season, there were still plenty of talking points from the eight games played.
Here's five things we learned from the opening Premier League weekend.
5. Foreign Players Still Getting Accilmated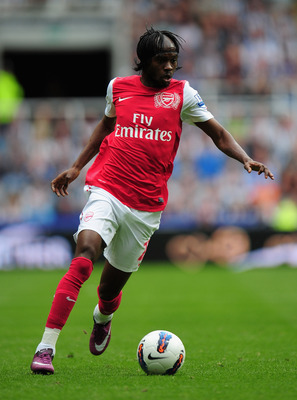 Shaun Botterill/Getty Images
The Premier League is the toughest league in the world according to many, and it's certainly tough to get used to coming from abroad.
Two of the biggest foreign imports this season (Sergio Aguero will likely make his Manchester City debut Monday against Swansea) showed early signs of nerves this weekend, but that's nothing to worry about.
Arsenal's only big-money signing (so far), Gervinho looked bright at times up front for Arsenal against Newcastle, but he showed a bit of indecision in the final third, making some slack passes and not linking up very well with Robin van Persie.
That shouldn't worry Gunner fans though. It wasn't a great performance from either team, and Gervinho has given plenty of reasons to suggest he'll find his scoring boots quickly.
Unfortunately, the Ivorian got sucked into Joey Barton's antics and won't be able to find his feet for at least three more matches after receiving a straight red card.
The other big import of the summer gave fans a little more to be concerned about. Manchester United's new goalkeeper David de Gea was superb for Atletico Madrid the past two seasons, but the 20-year-old has been anything but solid for the 19-time champions so far.
Like in last weekend's Community Shield, he allowed a soft goal at West Brom on Sunday because he didn't move his feet in time to stop a tame shot from Shane Long.
But de Gea is a still a very good keeper who is just getting used to his new surroundings and high expectations.
If I'm a United fan, I'm much more worried about Nemanja Vidic coming off early in the second half and Rio Ferdinand being ruled out for the next six weeks than I am about de Gea's goalkeeping.
4. Manchester United Still Getting Lucky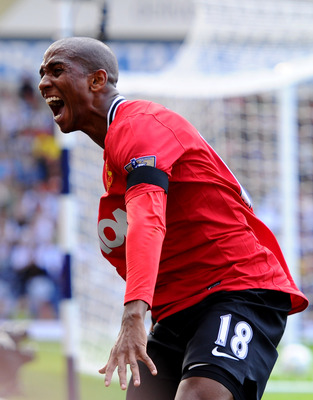 Mike Hewitt/Getty Images
Manchester United have always been a very talented team, but they've also had that all-important trait to put them over the top. Luck.
The champions looked anything but for much of the second half against West Brom Sunday, and they were very lucky to come away with all three points when Ashley Young's slide pass across the face of goal deflected off West Brom defender Steven Reid and into the back of the net.
Dimitar Berbatov and Fabio were the farthest forward for United, and they were still a step or two back.
It's not a game United deserved to win (or especially one West Brom deserved to lose), but that's what champions do: They find a way to win games, even when they really shouldn't.
3. Fernando Torres on His Way Back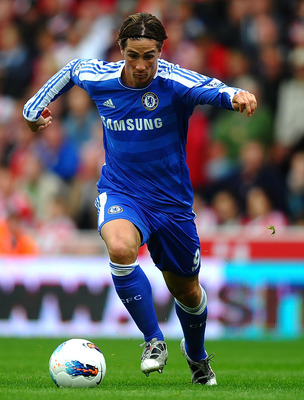 Laurence Griffiths/Getty Images
Fernando Torres has still only scored one goal for Chelsea since his £50 million move from Liverpool last January, but he had arguably his best performance in Blue at Stoke on Sunday.
He looked lively and fit leading the line, but did not receive enough support from the likes Florent Malouda and Salomon Kalou.
Torres showed new coach Andres Villas-Boas that he certainly still has the abilities, but if he doesn't start turning that into goals, it won't matter.
Starting the season off with a 0-0 is a nightmare for Chelsea, and Villas-Boas needs someone who can put the ball in the back of the net, not close to it.
Meanwhile, at Manchester United, two players at the heart of transfer rumors this summer, Dimitar Berbatov and Nani, really didn't do a whole lot to inspire manager Sir Alex Ferguson.
Berbatov was a complete afterthought after coming on in the 65th minute at West Brom, and Nani missed several chances in the match and was largely overshadowed by new signing Ashley Young on the other wing.
2. Officials Still Don't Have It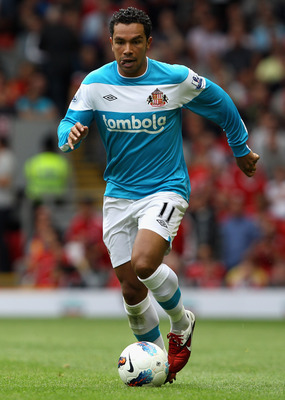 Clive Brunskill/Getty Images
The were some big decisions over the weekend as usual, and the officials left plenty of fans wondering what they could've been thinking after the final whistle.
In the fifth minute of Sunderland vs. Liverpool, Uruguayan Luis Suarez was off after Kieran Richardson's error gifted him the ball, and the Sunderland defender pulled Suarez down in the box.
Phil Dowd awarded a penalty (which Suarez missed spectacularly), but only a yellow card to Richardson, presumably because Suarez was moving away from goal at that point. But he was moving away to get around the keeper, so he could slot the ball easily into the empty net. The rule clearly needs some defining.
Over on Tyneside, Arsenal and Newcastle were battling out a dreadfully boring 0-0 draw, when Peter Walton put himself in the middle of the action (much to Joey Barton's displeasure).
Arsenal striker Gervinho went down looking for a penalty in the 76th minute, and Barton came up and pulled the Ivorian up by his shirt, yelling at him. Gervinho tapped Barton across the face and was rightly sent off, but Barton only received a yellow card when he was at fault for starting the whole melee!
Walton also missed an earlier moment when Alex Song clearly stamped on Barton's leg when he was already down.
On Sunday, Chelsea were held to a stalemate, but they had one very big penalty claim when Frank Lampard was brought down by Marc Wilson in the second half against Stoke.
Lampard was on his way down, but overall, the officials were not incredibly inspiring in the opening round of fixtures this season.
1. Joey Barton Is Out of His Mind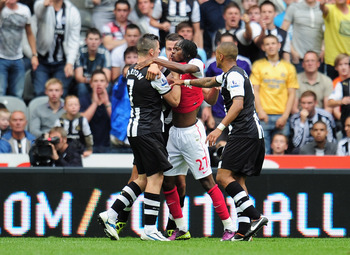 Shaun Botterill/Getty Images
We already knew this, but in case you had the slightest inkling that maybe he could change, no. Joey Barton is absolutely out of his mind.
Yes, Gervinho took a dive, but lots of players would have in the scenario, and Peter Walton didn't fall for it.
Barton, you cannot go up to a player and pull him up by the scruff of the neck. And it certainly doesn't help your street cred that you went down like a feather and claimed that Gervinho punched you when he actually tapped you across the cheek.
Barton was very lucky not to see red in the match, and if he keeps going like this, he's got El Hadji Diouf written all over him.
Keep Reading