English Premier League: Rating All 20 Captains from a Fantasy Perspective
August 16, 2011
Paul Gilham/Getty Images
There's no doubt that choosing the right player to captain your fantasy side is a huge part of your decision making, since that player is earning double his points in the Barclays and ESPN games.
But how reliable are the 20 captains of the English Premier League this season from a fantasy perspective?
Unlike some good players who might not be automatic first choices (I'm looking at you, Didier Drogba) to start, the captains are, for the most part, going to be on the starting team sheet. Captains are more likely to be involved in the build-up and set pieces.
While starting and probably playing most of the match, which captains do you want on your side? We'll rate the 20 captains on a value-to-money scale, rather than pure talent and skill. As with my first story, we'll consider the players from three fantasy formats: Barclays Fantasy Premier, ESPN Premier Fantasy and Yahoo! Eurosport Fantasy Football.
BUY/START
Bolton: Kevin Davies—The forward is very affordable in the Barclays at 6.5, which explains why he is the fourth-most owned striker. He would make an ideal third striker.
Manchester City: Vincent Kompany—Wearing the armband in place of Carlos Tevez, this defender might be poised to disappoint. He racked up 18 clean sheets last season, but only six bonus points in the Barclays, which speaks to his individual quality (or lack thereof).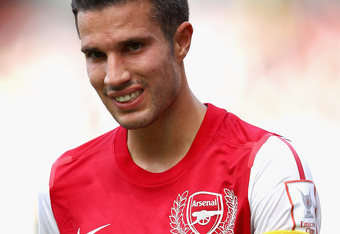 Richard Heathcote/Getty Images
Chelsea: John Terry—You'll pay full price, but you'll get a top-10 defender.
Arsenal: Robin van Persie—When he's healthy, he's lethal. But his injury history makes him a risky player to own at his high price tag.
BUY/BENCH
QPR: Adel Taarabt—He was seemingly a great value based on his success in Championship, but the team's 4-0 thrashing at the hands of Bolton must worry owners. Still, the midfielder is worth a spot on the bench, as evidenced by the fact he's the fifth-most owned player in Barclays fantasy.
Norwich City: Grant Holt—He's a starting striker for an attack-minded manager and very affordable at 5.5 to boot. You could do far worse than Holt as your third striker.
Stoke City: Ryan Shawcross—Two years ago he was a breakout sleeper, then came the infamous leg-breaking tackle on Aaron Ramsey. He's still part of a stout defense, and is an especially good start at the Brittania.
WATCH LIST
Liverpool: Steven Gerrard—His quality cannot be doubted; only his ability to stay healthy is. He might be back by mid- to late September, where he will be an automatic start, no matter how well Charlie Adam is playing in the middle.
Manchester United: Nemanja Vidic—He's injured, but when the center back is recovered, you should consider that his goalkeeper might cost him clean sheets.
Tottenham: Michael Dawson—Spurs defenders won't make a lot of fantasy rosters, but Tottenham did  conced the eighth-fewest goals in the Premiership last season. Perhaps Brad Friedel's presence will increase the value of the team's backs.
Sunderland: John O'Shea—Fantasy owners are interested to see whether the former United player can thrive with regular playing time. He's injured now, but he looks to be part of an improved defense.
West Brom: Chris Brunt—He plays in the middle of the park and did earn 18 bonus points in the Barclays game last season. The midfielder was sucked into a deeper role against United, but normally plays in a more advanced position.
Wolverhampton: Roger Johnson—Like Brunt, he was another bonus baby in the Barclays, as his 20 was among the best for a defender. Beware that Johnson goes from playing for a fantasy-friendly defense and manager at Birmingham, to Wolves, a side which barely stayed up and conceded a lot of goals in the process.
Fulham: Danny Murphy—The midfielder has had an eye for goal, tallying five in each of the last three before a goalless 2010/11. He's affordable at 6.0 and takes free kicks.
Everton: Phil Neville—This veteran's affordability explains why he's owned as much as he is; otherwise he doesn't add much value beyond his 5.0 price.
Aston Villa: Stiliyan Petrov—The midfield departures of Ashley Young and Stewart Downing open up a small opportunity for a more offensive role for Petrov; it bears watching how new manager Alex McLeish will deploy him.
Blackburn: Ryan Nelsen—A knee injury has blunted his effectiveness, but he shown he can be useful with his goals and assist totals adding up to six each of the last two seasons
IGNORE THEIR ARMBAND 
Newcastle: Fabricio Coloccini
Wigan Athletic: Gary Caldwell
Swansea City: Garry Monk
If you'd like to join one of my leagues, here is the info you'll need:
Barclays Fantasy Premier: The league code is 309444-90209.
ESPN Fantasy Premier: Group name is Bleacher Report.
Yahoo! Eurosport: Group ID is 11593; the password is slideshow.
As always, feel free to comment on whether you agree or disagree. Cheers!