Arsenal Transfer News: 'We've Got Cesc Fabregas'…No More
August 11, 2011
Laurence Griffiths/Getty Images
Dear Cesc,
The news that every Arsenal fan has dreaded for the past two years has been confirmed.  You've decided to go back to the club where you took your first, formative steps in football and turn your back on an eight-year association with the club that made you a man.  Fair enough. 
Who doesn't want to play for Barcelona?  They're world champions.  They play the most attractive football there is.  And in addition, they're your "local" team.  Half of your Spanish teammates play for them.  Fabregas to Barca was an obvious eventuality, wasn't it?  Well, almost…
Before you misunderstand, let me clarify that I am not a disgruntled fan about to heap only bile and abuse on you.  Far from it.
I first want to thank you for eight fantastic years of service to Arsenal Football Club.  When you wore the red and white shirt, you wore it with pride and passion.  You played your heart out. 
If I'm honest, I'll say that if even half your teammates had half your pride in their own and the team's performance, our great club wouldn't have been on the wrong end of a six-year trophy drought. 
I will never forget your maturity and composure at the age of 16.  I will never forget how you mastered the legend, Patrick Vieira, on his return to Highbury with Juventus.  I will never forget that away goal at AC Milan in the Champions League.  I will never forget the 20-minute cameo against Aston Villa.  I will never forget the solo goal from the halfway line against Spurs, straight from the restart.  I will never forget the screamer past Paul Robinson at White Hart Lane.  And I will definitely never forget the penalty with a broken leg against Barcelona at the Emirates.  Being a Gooner from overseas, I feel lucky that I was able to watch you live at the Emirates over two dozen times.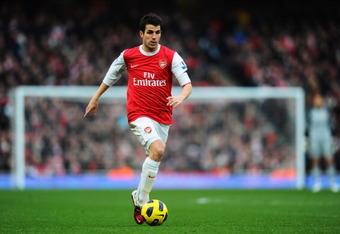 Mike Hewitt/Getty Images
Above all else, Cesc, I will miss your sheer quality.  You were a cut above every other player in the Premier League in your position.  You could make an exceptionally difficult pass look ridiculously easy.  You could shimmy past an opponent without ever being a dribbler.  You were always available to receive the ball, an oft underrated aspect of the game. 
In the last few seasons, you have added a goal-scoring dimension to your already overflowing skill set.  And for almost every one of your 303 appearances for Arsenal, you showed up with your A-game, in terms of quality, commitment and leadership.  It would be an understatement to say that I am a massive fan.
But above all else, I am a Gooner.  And I have an issue with this whole transfer situation.
My issue is that in this entire business, the ones that got the worst deal were Arsenal and Arsenal's fans (who are your fans, too).  And while a lot of it probably centred around the club's incompetence as a negotiator, I believe that you had your part to play in it.
There is no doubt in my mind that you know that your real value in the transfer market is closer to £50 million—probably higher than that.  I am also completely certain that the club, the fans and Arsene Wenger wanted you to stay, and you knew that, too.  It is abundantly clear that while you had nothing against Arsenal, you wanted to go to Barcelona.  Which, as I've said before, is fair enough.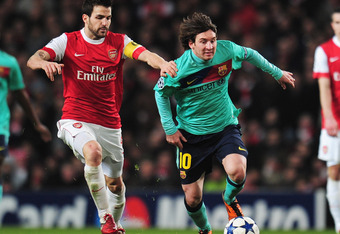 Shaun Botterill/Getty Images
But what is not fair enough is that as the captain of Arsenal, you did not do enough to safeguard the club's interests.  You could have set your own deadline for this transfer.  You could have told Barcelona that if they didn't do a fair deal by July 31st, then the transfer was off—for this year at least. 
Think about it, Cesc, how easy will it be for Arsenal to replace you?  How quickly can the team regroup?  And who will cop the blame if we end August with one point in the Premier League and a spot in the Europa League? 
Not you.  You will be cooling your heels on the Barca subs' bench (sorry, that was a cheap shot, but I'm upset).
And what of the finances?  I know that Arsenal are in great financial health while Barca are flirting with bankruptcy.  But charity is not what we're here for.  That's what the Qatar Foundation and UNICEF do (sorry, another cheap shot).  
£35 million!!  I think that's what bugs me the most.  The fact that a combination of Barcelona's relentless, unethical pursuit, Arsenal's softness and ineptitude and your stubbornness and misplaced loyalty has denied Arsenal at least £15 million of what is rightfully theirs.  And speaking of loyalty, how you can go and play for a president who has repeatedly undervalued and insulted you is beyond me.
I suppose I, and the rest of your disappointed Arsenal fans, need to go away and make our own peace.
All said and done, I thank you and wish you well, Cesc, as you go.  And I hope, for football's sake, that you don't end up like Jose Reyes, Alex Hleb or Emmanuel Adebayor…
Good luck!!